Open invitation to the Biopharma Industry as Almac's experts continue to showcase expertise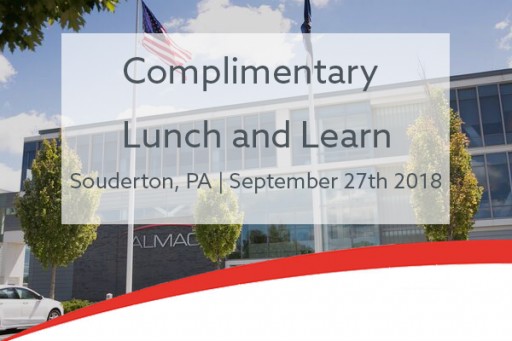 SOUDERTON, Pa. - September 10, 2018 - (
Newswire.com
)
​Almac Clinical Services, part of the global contract pharmaceutical development and manufacturing organization, the Almac Group, is delighted to invite participants from the Biopharma Industry to join its fourth consecutive North American and seventh global "lunch and learn" seminar this year, building on its unique global knowledge share series.
Hosted at Almac's North American headquarters in Pennsylvania on Thursday, Sept. 27, the complimentary seminar will examine "Clinical Trial Supply and Technology: A proven approach to achieve supply chain harmony." Leading the seminar will be Almac's subject matter experts, including Andy Thress, Supply Chain Manager, Cheryl Kole, Director of Technical Solutions, and Luke Moyer, Supply Chain Solutions Manager.
Almac understands the challenges faced by Biotechnology and Pharmaceutical companies in an ever-evolving industry. Using real-life scenarios and interactive group discussion, participants will learn how to achieve an integrated, simplified and optimized clinical supply chain as well as discuss how to overcome the barriers posed by the management of clinical supplies. 
Seminar speaker, Luke Moyer, comments on the upcoming seminar:
"We are excited to be continuing with our knowledge share series. This on-site experience will give participants a chance to view our facility and unique services in action. The primary goal of this seminar is for attendees to leave with a wealth of knowledge on how to execute their trials more effectively based on a solid understanding of having a harmonized physical and digital clinical supply chain."
As industry leading experts, Almac hopes that the information presented during this complimentary lunch and learn seminar (and future seminars) can help to guide clinical supply professionals throughout their clinical supply journey. 
To find out more and to sign up, please visit: https://www.almacgroup.com/lunch-and-learn-seminar-souderton-2018
About Almac Group
'Partnering to Advance Human Health'
The Almac Group is an established contract development and manufacturing organization that provides an extensive range of integrated services to the pharmaceutical and biotech sectors globally. The services range from R&D, biomarker discovery development and commercialization, API manufacture, formulation development, clinical trial supply, IRT (IVRS/IWRS) through to commercial-scale manufacture.
The international company is a privately-owned organization that has organically grown over 50 years and now employs over 5,000 highly skilled personnel.
Almac is headquartered in Craigavon, Northern Ireland with 17 operations across Europe, the US (Pennsylvania, North Carolina and California) and Asia (Singapore and Tokyo).
Almac would like to acknowledge and thank all those organizations who have provided support over the last 50 years, including Danske Bank, Invest NI, PWC and IDA.
To keep up to date with our latest news, follow us on Twitter and LinkedIn or visit almacgroup.com/50-years
Press Release Service by
Newswire.com
Original Source:
Almac Group to Host Clinical Trial Supply Lunch and Learn at North American Headquarters