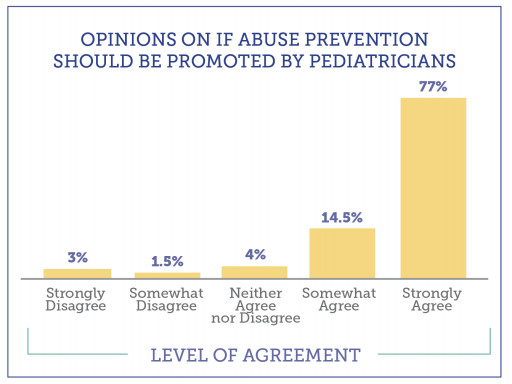 Parental Survey on Pediatric Involvement in Sexual Abuse Prevention Education
91.5% of parents agree pediatricians should be educating families on sexual abuse prevention.
BOSTON, February 21, 2023 (Newswire.com) - A 2023 report, Parental and Caregiver Perspectives on Child Sexual Abuse Prevention, conducted by The Mama Bear Effect, a nonprofit organization committed to raising awareness and improving child sexual abuse prevention efforts, highlights an appeal from adults to receive guidance on protecting children from sexual abuse. 
Significant research has examined the prevalence of child sexual abuse and the impact on those affected, an estimated 1 in 10 children in the United States. To gain perspective on how to better support parents in protecting their children, a survey was conducted to assess adult knowledge and interest in prevention. With over 90% of abuse being perpetrated by people known to the child, it is purported by abuse prevention experts that adult awareness and education can significantly reduce the prevalence of abuse. 
The results revealed: over 90% of parents want their pediatricians to provide resources on child sexual abuse prevention yet only 10% of participants received such guidance; with 50% stating that their child's pediatrician never brought up the risk. Education of adults is critical to help identify and minimize situations that can enable abuse; pediatricians, being foremost experts on all issues relating to child health and safety, are a predominant source for parents to seek such guidance. 
Dr. Janet Rosenzweig, author of The Sex-Wise Parent, and former Executive Director of the American Professional Society on the Abuse of Children supports the report's findings, "This is a screaming call to action for all segments of society to rally around parents with support and information. This is especially true for medical professionals, long shown to be trusted and respected sources of information. Community leaders must step up by making resources easily accessible to parents and those wishing to support them."

Research participants were also surveyed regarding their own experiences of abuse, with 45% of respondents disclosing sexual abuse during their childhood; 35% of those who experienced sexual abuse and disclosed it during their childhood shared they were "very disappointed" with the reaction of the person they disclosed to. Parental education is, arguably, important to prevention efforts but also for the support and healing of children affected by sexual abuse. A 2019 report conducted by the University of Massachusetts in Lowell, The Prosecution of Child Sexual Abuse, indicates an estimated 3% of child sexual abuse cases result in a criminal trial, with parental support of the child being a significant factor in cases moving forward through the criminal justice system.

The Parental and Caregiver Perspectives Report on Child Sexual Abuse Prevention is a call to action for all community leaders and especially the medical community to work to improve outcomes for children by investing and collaborating to raise awareness and improve access to prevention education resources. The report is available at no cost through https://themamabeareffect.org/parental-and-caregiver-perspectives-report.

Contact Information:
Adrianne Simeone
President, The Mama Bear Effect
info@themamabeareffect.org
6175716802


Original Source: Research Reveals: Parents Eager for Pediatricians to Address Child Sexual Abuse Prevention