Holium Corp closes $2.9 million in seed funding and acquires Third Earth in record pace.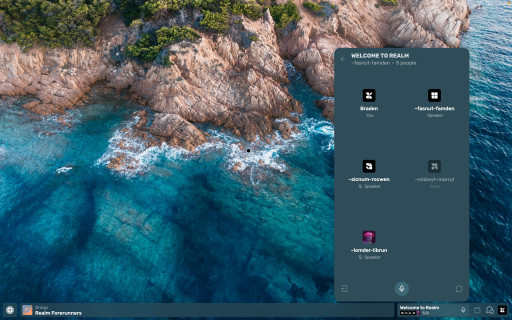 Realm OS
Voice chat room within Realm OS on desktop.
AUSTIN, Texas, February 20, 2023 (Newswire.com) - Earlier this month, Holium Corporation the developers of Realm, announced the acquisition of Third Earth, an Urbit hosting platform. After just one short year in operation, Holium is nearing the official launch date of Realm, a full-service operating system designed for the future of computing. While currently in Alpha stage, Realm has over 5,000 users on their waitlist eager to be granted access and begin utilizing the feature set. The official launch is slated for Summer 2023 with an aggressive development cycle currently underway. Having raised $2.9M in seed funding, Holium deployed resources to build integrated apps such as a crypto wallet, a video conferencing platform, and collaborative document creation. To date, 10 Urbit apps have been pushed live by the Holium team with more on the near horizon including a group messenger for mobile.
Holium Corporation Details:
Realm operating system will be available for download on MacOS, Windows, and Linux.
With the acquisition of Third Earth, Holium will provide Urbit hosting and seamless onboarding.
A complimentary mobile app is in development and will launch along with Realm.
Realm will move from Alpha to full release in Summer 2023, forgoing the Beta phase entirely.
"Our goal at Holium is to create a collaborative computing experience which fosters community growth while maintaining user autonomy. Urbit allows us to do so as it is truly peer-to-peer without any form of data collection or distribution. With a single Urbit ID and access to Realm, individuals can easily eliminate 5 to 8 applications from their personal and professional software stack." 

CEO Trent Gillham is a featured speaker at the upcoming Urbit Volcano Summit, taking place in El Salvador from March 6 to 10.

About Holium Corporation: Holium is a software company based in Austin TX and was founded by Trent Gillham (formerly GE). Holium has designed and developed a brand-new operating system named Realm with a focus on collaborative computing and community building. Users can enjoy a full suite of services with a single login, drastically decreasing their personal and professional software stack. Holium aims to provide all the necessary tools for Web 3 companies, DAO's, and internet communities to securely compute on Urbit.

Holium Twitter: https://twitter.com/holiumcorp

Holium Website: https://www.holium.com/

About Third Earth: Third Earth hosts Urbit IDs and simplifies the process for users to connect to the Urbit network - a decentralized internet space to call your own, without any influence from megacorporations. Third Earth is a team of qualified professionals, committed and passionate about digital innovation. Their pillars are commitment to the customer, fast service and support, and providing a welcoming environment. Third Earth aims to make Urbit an inclusive and increasingly accessible environment.

Third Earth Website: https://third.earth/

Third Earth Twitter: https://twitter.com/ThirdEarth3

Contact Information:
Zayne X
Marketing Consultant to Holium
zayne@xmerkaba.com
+18258630011


Original Source: Trailblazing Urbit Startup Makes Earth Shaking Acquisition