--News Direct--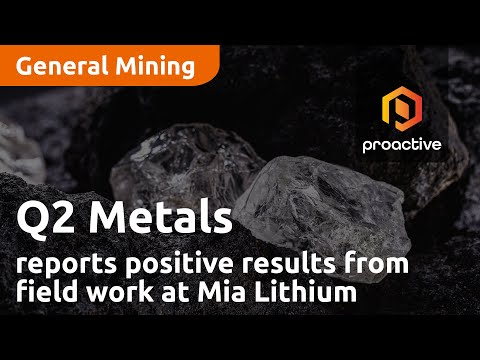 Q2 Metals CEO Alicia Milne joined Steve Darling from Proactive to share exciting updates regarding the company's surface mapping and rock sampling activities at the Mia Lithium Property in Quebec.
Milne revealed that the exploration efforts have yielded promising results, with the discovery of four new spodumene pegmatite occurrences along the Mia Exploration Trend. Three of these pegmatite zones are situated between the previously known Mia and Carte mineralized zones, while the fourth discovery is located 1,400 meters northeast of the Carte Zone.
This remarkable development extends the distance between lithium mineralized occurrences along the trend to an impressive 9.7 kilometers.
These discoveries represent a significant step forward in Q2 Metals' exploration efforts, further underscoring the vast potential of the Mia Lithium Property. To capitalize on these findings, the company has plans to commence drilling activities and will continue until weather conditions become unfavorable.
The intention is to resume drilling during the frozen ground conditions in January 2024, reflecting the company's commitment to advancing its exploration program in an efficient and strategic manner.
Q2 Metals' pursuit of new lithium resources is aligned with the growing demand for lithium in various industries, particularly in the electric vehicle and renewable energy sectors. The expansion of the Mia Exploration Trend and the company's ongoing exploration efforts position Q2 Metals as a key player in the critical supply chain of lithium, a pivotal element in the transition to cleaner and more sustainable energy solutions.
Contact Details
Proactive Investors
+1 604-688-8158
na-editorial@proactiveinvestors.com
View source version on newsdirect.com: https://newsdirect.com/news/q2-metals-reports-positive-results-from-field-work-at-mia-lithium-property-405091131