--News Direct--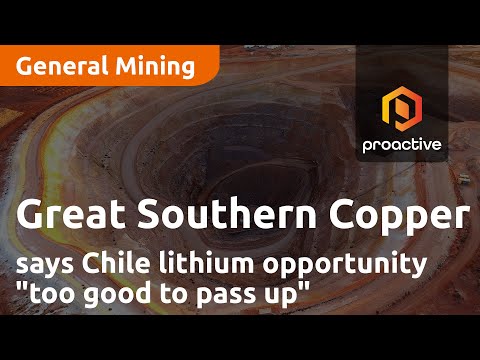 Great Southern Copper PLC (LSE:GSCU) CEO Sam Garrett speaks to Thomas Warner from Proactive on his return from a trip to Chile, where the mineral exploration company already has two projects and is now in the process of adding a third.
Garrett gives an overview of how work is proceeding in the country, highlighting that the company is on the verge of commencing drilling at the Especularita Project, targeting high-grade copper and gold mineralisation at the Abundante and Terra Sita prospects, targeting high-grade copper and gold mineralization.
The commencement of drilling will be represent a significant milestone as it's the first drilling the company will have done at the Project. Additionally, Great Southern Copper is expanding its portfolio by venturing into lithium exploration with the addition of the Monti Lithium Project.
The 23,500-hectare application in the Atacama region presents a promising opportunity in a competitive market that Garrett describes as "too good to pass up." The drilling campaign at Especularita is poised to kick off once the necessary permits are secured, with results anticipated within two to three months.
Contact Details
Proactive UK Ltd
Proactive UK Ltd
+44 20 7989 0813
View source version on newsdirect.com: https://newsdirect.com/news/great-southern-copper-ceo-says-chile-lithium-opportunity-too-good-to-pass-up-167524427