--News Direct--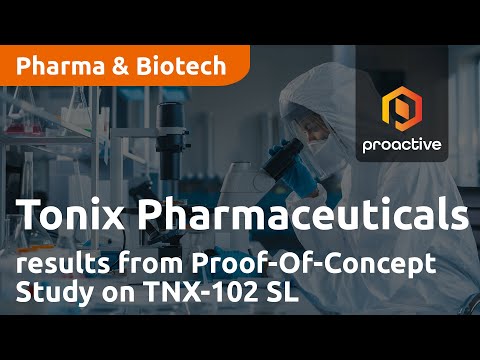 Tonix Pharmaceuticals CEO Dr Seth Lederman joined Steve Darling from Proactive to share significant news regarding the Phase 2 proof-of-concept PREVAIL study of TNX-102 SL 5.6 mg for the management of fibromyalgia-type Long COVID. Dr Lederman provided an overview of the study's topline results and the implications for future development.
Dr Lederman announced that the study showed a robust effect size in improving fatigue, a key symptom of Long COVID. The results also demonstrated consistent activity trending towards improvements across secondary endpoints, including sleep quality, cognitive function, disability, and patient global impression of change. However, Dr Lederman noted that TNX-102 SL did not achieve the pre-specified primary endpoint of improving Long COVID pain intensity scores at Week 14.
Despite this, the proposed mechanism of TNX-102 SL, which aims to improve sleep quality, aligns with recent announcements from the National Institutes of Health (NIH) that sleep quality is a target for future clinical trials in Long COVID.
Dr Lederman highlighted that there is currently no approved drug for the treatment of Long COVID, making these findings important for potential future treatments. The company's plan is to request an End-of-Phase 2 meeting with the U.S. Food and Drug Administration (FDA) to discuss the possibility of a Phase 3 program. They intend to propose a primary outcome measure using the PROMIS Fatigue scale, which is widely recognized and validated for assessing fatigue across various conditions.
Dr Lederman also told Proactive the company is committed to meeting potential increased demand for its Tosymra nasal spray 10 mg following GlaxoSmithKline's planned discontinuation of Imitrex nasal spray 5 mg and 20 mg products after January 2024.
This move by Tonix is to be ready in case of possible drug shortages for patients who suffer from migraines.
Contact Details
Proactive Studio
+1 347-449-0879
na-editorial@proactiveinvestors.com
View source version on newsdirect.com: https://newsdirect.com/news/tonix-pharmaceuticals-releases-positive-results-from-proof-of-concept-study-on-tnx-102-sl-959108196