--News Direct--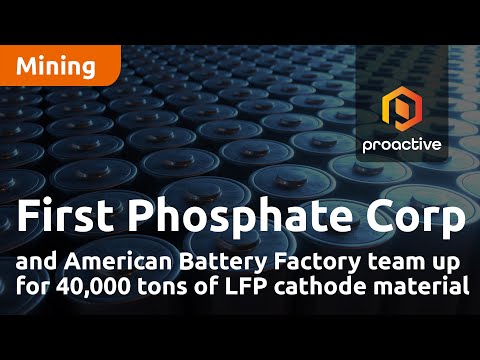 First Phosphate Corp CEO John Passalacqua and American Battery Factory of Utah (ABF) President John Kem joined Steve Darling from Proactive to discuss a recently announced pivotal agreement aimed at advancing the production of up to 40,000 tonnes of lithium iron phosphate (LFP) cathode active material (CAM) in North America.
This groundbreaking collaboration comes with significant implications, as it seeks to establish a robust LFP battery production ecosystem for the burgeoning battery storage sector in North America. The partnership involves a strategic approach to address various aspects of LFP CAM production.
Under this agreement, the annual value of LFP CAM production is expected to range from $500 million to $1 billion, contingent on future raw material prices. The objective is clear: to bolster North American manufacturing capacity for critical battery materials and contribute to the growth of the energy storage industry.
The collaboration between First Phosphate Corp and ABF involves several key components, including sourcing an established LFP technology partner to assist in servicing ABF's LFP CAM production needs in North America. First Phosphate Corp will take on the responsibility of sourcing and supplying local raw materials and managing the logistics associated with the LFP CAM production process. The seamless integration into ABF's production workflows is a crucial aspect of the partnership.
American Battery Factory envisions sustained annual demand for LFP CAM, beginning in 2026 and increasing to a significant 40,000 tonnes annually by 2028. This demand will underpin ABF's ambitious plans for an LFP battery manufacturing facility in Tucson, Arizona.
The agreement exemplifies the unwavering commitment of both companies to strengthening North American production capabilities for essential battery materials, which are integral to the clean energy transition and the proliferation of energy storage solutions.
Contact Details
Proactive Investors Canada
+1 604-688-8158
na-editorial@proactiveinvestors.com
View source version on newsdirect.com: https://newsdirect.com/news/first-phosphate-and-american-battery-factory-team-up-for-40-000-tons-of-lfp-cathode-material-937896770