--News Direct--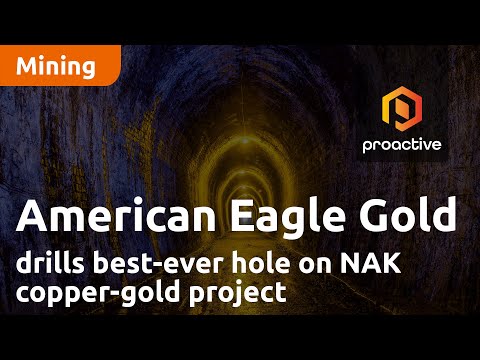 American Eagle Gold CEO Anthony Moreau joined Steve Darling from Proactive to share shared significant news regarding the company's NAK copper-gold project.
The company has recently achieved remarkable drilling results, marking a significant milestone for the project. Hole NAK23-11, in particular, produced exceptional results, with an intersection of 102 meters containing 1.04% copper equivalent (CuEq), within a broader interval of 473 meters with 0.62% CuEq, starting from the surface. This represents the best hole drilled to date on the project and underscores the substantial mineralization potential.
Furthermore, Moreau revealed that another hole, NAK23-10, encountered a substantial 359-meter section with 0.43% CuEq within a larger interval of 830 meters at 0.36% CuEq, also starting from the surface.
These results provide strong evidence of the considerable scale of the NAK mineralizing system, suggesting the potential for substantial growth in both size and grade. The company is continuing its drilling efforts, with plans for several more holes during this season.
American Eagle Gold's ongoing exploration activities and the remarkable results achieved thus far highlight the project's significant mineral resource potential, positioning it as a valuable asset in the company's portfolio.
These developments underscore American Eagle Gold's dedication to unlocking the full potential of the NAK copper-gold project and contributing to the exploration and development of vital copper and gold resources, which are in high demand for various industrial applications and renewable energy technologies.
Contact Details
Proactive Investors
+1 604-688-8158
na-editorial@proactiveinvestors.com
View source version on newsdirect.com: https://newsdirect.com/news/american-eagle-gold-drills-best-ever-hole-on-nak-copper-gold-project-320929184