--News Direct--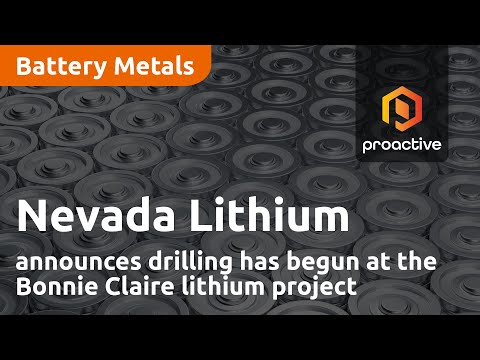 Nevada Lithium CEO Stephen Rentschler joined Proactive's Stephen Darling with the latest developments at the company's Bonnie Claire lithium project in Nevada.
The company has initiated drilling activities as part of a comprehensive program aimed at supporting a Pre-Feasibility Study for the project.
The Bonnie Claire project has already undergone a Preliminary Economic Assessment (PEA) that yielded impressive results. With a Net Present Value (NPV) of $1.5 billion USD and an Internal Rate of Return (IRR) of 23.8%, assuming a lithium carbonate equivalent (LCE) price of $13,400 USD per tonne¹, the project demonstrates substantial economic potential.
Rentschler explained that the drilling program at Bonnie Claire serves two primary objectives. First, it aims to refine the understanding of the existing sediment by drilling two holes to a maximum depth of 3,000 feet or the geological basement. This will provide valuable data for a more comprehensive assessment of the project's geology and resource potential. Second, the drilling program will assess the potential for lithium-bearing brines at the site, which is essential for evaluating the overall lithium resource.
The Bonnie Claire lithium project represents a significant asset for Nevada Lithium, and the company's commitment to advancing it further underscores its dedication to harnessing the abundant lithium resources in Nevada. The results of the drilling program will not only contribute to the Pre-Feasibility Study but also shed light on the project's potential to play a pivotal role in the lithium supply chain, given the increasing demand for lithium in various industries, particularly in electric vehicle batteries and renewable energy storage.
Contact Details
Proactive Investors
+1 604-688-8158
na-editorial@proactiveinvestors.com
View source version on newsdirect.com: https://newsdirect.com/news/nevada-lithium-announces-drilling-has-begun-at-the-bonnie-claire-lithium-project-in-nevada-351685998