--News Direct--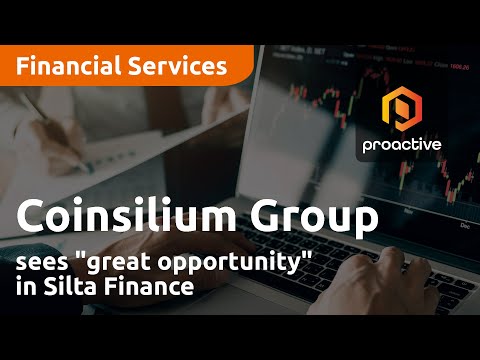 Coinsilium Group Ltd (AQSE:COIN, OTCQB:CINGF) CEO Eddy Travia and Silta Finance co-founder and CEO Ben Sheppard speak to Thomas Warner from Proactive after Coinsilium announced it has joined up as a cornerstone investor in a funding round into the Switzerland-registered, AI-powered infrastructure finance platform.
Silta Finance's Ben Sheppard describes what Silta does and how its been performing since it was founded in 2021, explaining that Silta Finance offers an AI solution that streamlines due diligence for infrastructure projects - a process that traditionally consumes extensive time and resources. He says the company has a strong sales pipeline with $12 million in potential deals, including advisory work and future plans for a Software as a Service (SaaS) model. They also offer a white-label solution for customising assessments for major financial institutions.
Coinsilium's Eddy Travia explains that Coinsilium's investment in Silta Finance is driven by their confidence in the team's expertise and the potential for AI-driven solutions in the critical infrastructure finance sector. He highlights the growing importance of sustainability in finance, making Silta's offering particularly timely, and describes it as a "great opportunity" for Coinsilium.
Looking ahead, Silta Finance is focused on integrating AI into their bankability assessment tool and plans to expand its capabilities to aid in project preparation. By leveraging existing data, they aim to significantly reduce time and costs in the infrastructure project development process, ultimately accelerating the implementation of crucial initiatives like renewable energy and social housing projects.
Contact Details
Proactive UK Ltd
+44 20 7989 0813
View source version on newsdirect.com: https://newsdirect.com/news/coinsilium-group-sees-great-opportunity-in-silta-finance-246970493