--News Direct--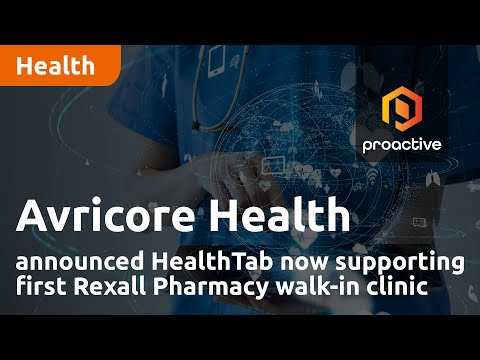 Avricore Health CEO Hector Bremner joined Steve Darling from Proactive to share news regarding the company's flagship health-data management platform, HealthTab.
The company has made a significant move by partnering with Rexall Pharmacy, one of Canada's largest pharmacy retailers, to integrate HealthTab into its walk-in clinic services.
Bremner revealed that patients can now access testing through HealthTab at the first Rexall Pharmacy Walk-In Clinic located in Sherwood Park, Alberta. This collaboration enables HealthTab to offer both the Afinion 2™ blood-chemistry analyzer and the ID Now™ molecular platform by Abbott Rapid Diagnostics. This means that patients can receive rapid test results and immediate consultation with their pharmacist, facilitating timely healthcare interventions.
HealthTab has played a crucial role in the last year by assisting pharmacists in screening patients for diabetes and cardiovascular conditions, as well as supporting those already diagnosed in better managing their health.
With Rexall Pharmacy joining the HealthTab network, patients now have more accessible care options, empowering them to make meaningful and impactful changes to their health.
This partnership underscores Avricore Health's commitment to leveraging technology to improve access to healthcare services, particularly within the pharmacy setting. The integration of HealthTab into Rexall Pharmacy's walk-in clinics not only enhances patient convenience but also contributes to early detection and management of health conditions, aligning with the broader goal of improving healthcare outcomes in Canada.
Contact Details
Proactive Studio
+1 347-449-0879
na-editorial@proactiveinvestors.com
View source version on newsdirect.com: https://newsdirect.com/news/avricore-health-announces-healthtab-now-supporting-first-rexall-pharmacy-walk-in-clinic-949040085