--News Direct--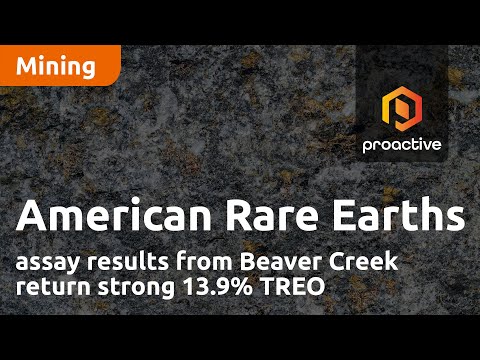 American Rare Earths CEO Donald Swartz joined Steve Darling from Proactive to share news regarding the company's Beaver Creek rare earth project in Wyoming, which is located north of their flagship Halleck Creek Project.
Swartz revealed that the company has received the final assay results from ALS Global, and they confirm the presence of substantial Total Rare Earth Oxide (TREO) grades ranging from 5.8% to 13.9%. Additionally, the assays for valuable magnetic rare earths, specifically neodymium and praseodymium, were found to be within the range of 1% to 2.2%.
These results underscore the significant potential of the Beaver Creek project and the valuable rare earth elements it contains. Importantly, the deposit at Beaver Creek remains open at depth, and historical reports suggest that the rare earth mineralization extends for a considerable distance, possibly up to 457 meters.
American Rare Earths is now in the process of planning and executing further fieldwork to define JORC Exploration Targets. This step will help delineate the full extent of the resource and its economic viability.
American Rare Earths' commitment to exploring and harnessing rare earth resources in the United States is not only strategically important but also reflects the growing demand for these critical elements in various industries, including renewable energy, electronics, and defense. The Beaver Creek project represents a significant step forward in the company's mission to contribute to the domestic supply chain of rare earths, reducing reliance on foreign sources.
Contact Details
Proactive USA
+1 347-449-0879
na-editorial@proactiveinvestors.com
View source version on newsdirect.com: https://newsdirect.com/news/american-rare-earths-assay-results-from-beaver-creek-return-strong-13-9-treo-521707571