--News Direct--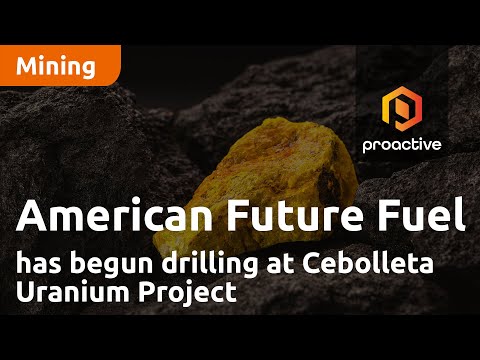 American Future Fuel CEO David Suda joined Steve Darling from Proactive to discuss the company's exciting developments.
Suda shared that the company has started drilling on its flagship Cebolleta Uranium Project in New Mexico, marking a significant milestone as it represents the company's first drilling for this project.
The Cebolleta Uranium Project is an advanced uranium exploration project with a historical uranium Inferred Mineral Resource. This historical resource comprises approximately 5.6 million tons with an average grade of 0.17% eU3O8, containing 18.98 million pounds.
Suda detailed the company's three-phase drilling plan aimed at confirming historical drilling data. The Phase 1 drill program will consist of 22 holes in Area I of the Cebolleta Project. These holes will target several generations of historical drilling that identified seven shallow mineralized horizons.
Planning is already underway for Phase 2, which is expected to involve 20 to 30 confirmation holes in Area III of the project.
American Future Fuel's progress at the Cebolleta Uranium Project underscores its commitment to advancing uranium exploration and development while contributing to the energy sector's growth and sustainability. The company's phased approach to drilling is a strategic move to validate historical findings and unlock the project's full potential.
Contact Details
Proactive Investors
+1 604-688-8158
na-editorial@proactiveinvestors.com
View source version on newsdirect.com: https://newsdirect.com/news/american-future-fuel-has-begun-drilling-at-cebolleta-uranium-project-in-new-mexico-308865744