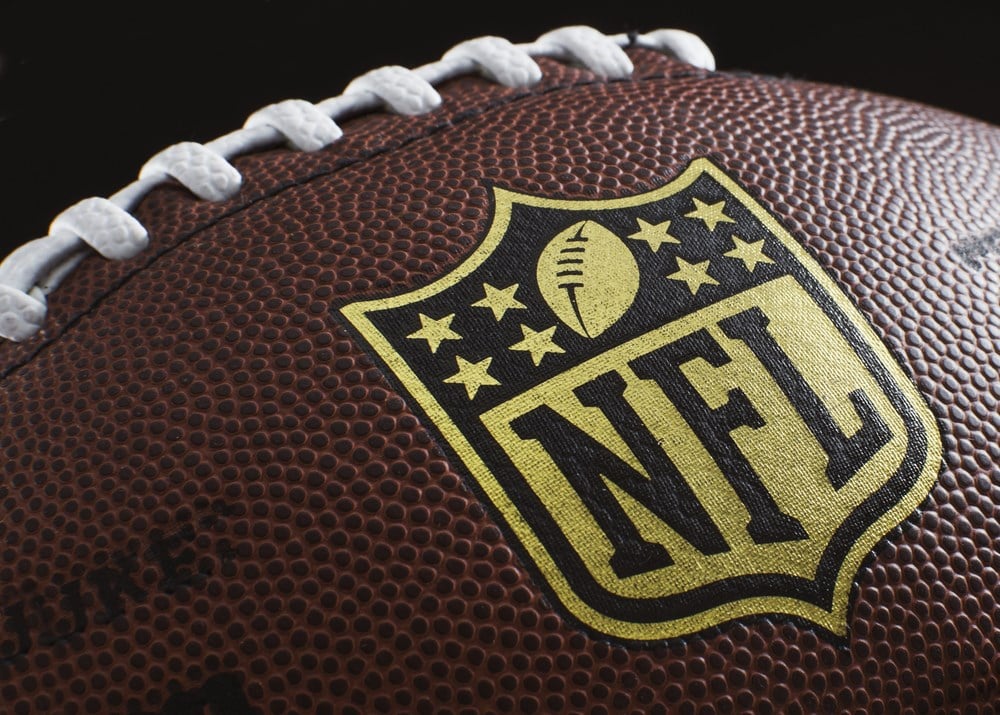 Tickets. Flights. A new 72" TV. A retro jersey for your favorite player. 
With just a few weeks before the National Football League (NFL) season kicks off, preparations are well underway for football fans. For some, formulating a fantasy football strategy won't be the only research taking place.
The NFL season presents an annual ritual of a different sort for stock investors — figuring out which publicly traded companies could benefit over the next five months. Since the only publicly owned team, the Green Bay Packers, doesn't trade on an exchange, a different approach is required. 
From beverage makers and apparel manufacturers to media outlets and sports betting apps, there are several ways to indirectly invest in the billions of dollars that will circulate around the pigskin. The NFL names 15 businesses as official 'partners,' but many more will be clamoring for a piece of the action.
Will Paramount Global Get an NFL Boost? 
With Super Bowl viewership back on the upswing, Paramount Global (NASDAQ: PARA) could get a major NFL boost come February 11, 2024. That's because this year's spectacle will air on cable networks CBS and Nickelodeon as well as streaming platform Paramount+. All are owned by Paramount Global. 
Last year's Super Bowl LVII between the Chiefs and the Eagles attracted over 113 million viewers. The event's TV rating rebounded from an all-time low with Fox and the Fox Sports App hosting. This time around it will be Paramount's show. And with the NFL an increasingly global brand and multiple platforms to choose from, viewership looks poised to trend higher.
This could bring serious advertising revenue Paramount's way — even with Super Bowl commercial prices soaring to ridiculous levels. In 2023, a 30-second spot cost a record $7 million.
But Paramount won't have to wait until the main event. Plenty of regular season games will be on CBS, which has long had a stranglehold on airing America's most popular sport to watch.
Paramount's NFL rights extend through 2033, and while they come at a steep price ($1 billion annually, according to some reports), the contract is 'paramount' to the company's success. With Amazon Prime Video getting in on the game, the rights to both cable and digital NFL distribution are a crucial competitive advantage for the next 10 years. That drive starts this fall. 
Why Did PENN Strike a Gambling Deal With ESPN?
Last week, PENN Entertainment, Inc. (NASDAQ: PENN) announced a 10-year online sports betting agreement with Disney's ESPN that will give it an exclusive right to the 'ESPN Bet' name. The logistics of the $1.5 billion deal will see PENN's struggling Barstool Sportsbook be rebranded as ESPN Bet in the fall of 2023 — just in time for the NFL season. 
The move will not only enhance PENN's competitive positioning in the lucrative sports betting market but also help it diversify beyond its core casino and horse racing operations. More importantly, PENN will gain access to all ESPN platforms on which its OSB products can be promoted. The partnership will give the company exposure to the roughly 641,000 daily ESPN viewers worldwide, many of which will undoubtedly become ESPN Bet users. 
PENN estimates that the deal will generate $500 million to $1 billion of EBITDA yearly. In 2022, the company recorded EBITDA of $1.55 billion — so at the midpoint, ESPN Bet could improve EBITDA profitability by nearly 50%. Attaching itself to the country's top sports media brand and its 370 million social media followers should be a big win for not only NFL betting but betting on all other major league sports. 
Is Bud Light Still an NFL Sponsor?
In a turbulent year for Bud Light owner Anheuser-Busch InBev (NYSE: BUD), one thing that hasn't changed is its sponsorship of the NFL. Bud Light will once again be the league's official beer sponsor, which means tons of print, TV and online marketing in the weeks ahead. Staying connected to a sport generally perceived as 'masculine' may give Bud Light the opportunity to restore an image rattled by the Dylan Mulvaney fiasco.
It is a process that began this April when Bud Light sponsored the 2023 NFL Draft. While this did little to quell the controversy of its use of a transgender influencer to promote its core light beer, the issue has subsided over the last few months — and Anheuser-Busch InBev shares have stabilized. 
With the market seemingly evaluating the company on its growth prospects rather than its political ties again, BUD could be lining up for a fourth-quarter comeback. In its Q2 earnings presentation, management highlighted a plan "to concentrate on platforms that all our consumers love," including the NFL, music and disabled military and first responders non-profit Folds of Honor, with most analysts calling the undervalued stock a buy, the NFL season could kickoff a new chapter for BUD shareholders.