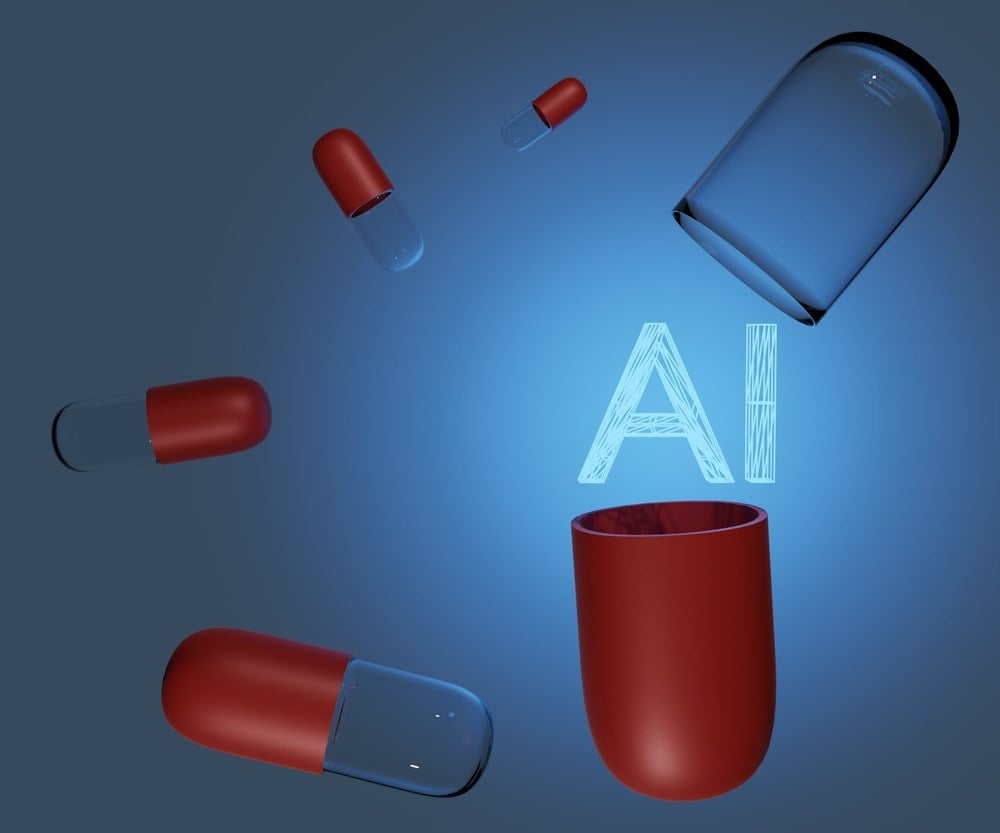 Clinical-stage biotechnology company Recursion Pharmaceuticals Inc. (NASDAQ: RXRX) saw its stock double on the announcement of a $50 million investment from artificial intelligence (AI) leader Nvidia Co. (Nasdaq: NVDA). The news generated volume not seen in years, bringing the spotlight onto the AI-powered drug discovery that Recursion engages in.
Its AI platform is notable for its massive proprietary biological and chemical datasets spanning over 23 petabytes and aptly called the Recursion Data Universe. Its Recursion Map is a collection of hundreds of billions of searchable biological and chemistry inferences enabling millions of weekly wet lab experiments. The company competes with AI-powered drug discovery leader Schrodinger Inc. (NASDAQ: SDGR).
Clinical Trials and Partnerships
Recursion has four clinical trials and multiple preclinical projects targeting various cancers and diseases. The company acquired two leading AI drug discovery companies, Cyclica (leading digital chemistry software suite) and Valence (AI/ML powered state-of-the-art chemical property prediction), for $87 million.
Recursion has partnered with pharmaceutical companies like Roche Holding AG (OTCMKTS: RHHBY). They have up to 40 collaboration programs that have the potential to generate upwards of $300 million in royalties from Roche.  
How AI Powers the Drug Discovery Process
The process of drug discovery is long and tedious. It can take up to 15 years and $2.5 billion to bring a new drug to market, from the discovery process to identifying and optimizing lead compounds, preclinical testing to clinical trials to be submitted for regulatory review by the U.S. Food and Drug Administration (FDA) and, if lucky, an FDA authorization.
AI and ML can accelerate this process infinitely faster using exceptionally large datasets of biological data to identify new drug targets.
It can help design new molecules that could engage specific drug targets by analyzing oceans of data to find matchable components. AI can be used to predict the efficacy and safety of new drugs ahead of clinical trials, which can cut down on time and money.
It can be instrumental in personalized drug therapy utilizing a patient's medical data and genetic makeup. The beauty is that the more it's used and the more data is created, the more it improves.
Data: Where Watson Failed, Recursion Can Succeed
Earlier attempts by International Business Machines Co. (NYSE: IBM) with its AI platform Watson failed miserably after years of training attempts with 2,000 employees and $5 billion spent. The problem was the limited and lacking data required to train the ML algorithms.
Watson couldn't correctly pare drug treatments for cancer patients and, in many cases, resulted in potentially fatal recommendations. Recursion fills this gap with its massive 28 petabytes of biological and chemical data, which include data on the pathways, genes and proteins associated with a disease.
Nvidia Investment
On July 12, 2023, Recursion announced a $50 million investment from GPU maker Nvidia through a private investment in public entity (PIPE). PIPEs are private placements to raise capital quickly. This inspires more confidence in the platform and bolsters the credibility of Recursion's AI-powered drug discovery strategy.
The Nvidia investment is a major vote of confidence in Recursion's technology. Recursion will use Nvidia's cloud platform to train its AI models. Recursion is considering commercially licensing or releasing its AI models using Nvidia's BioNeMo platform, a generative AI cloud service for accelerating drug discovery. This could be a lucrative future revenue stream for Recursion.
Recursion Pharmaceuticals analyst ratings and stock price targets are at MarketBeat.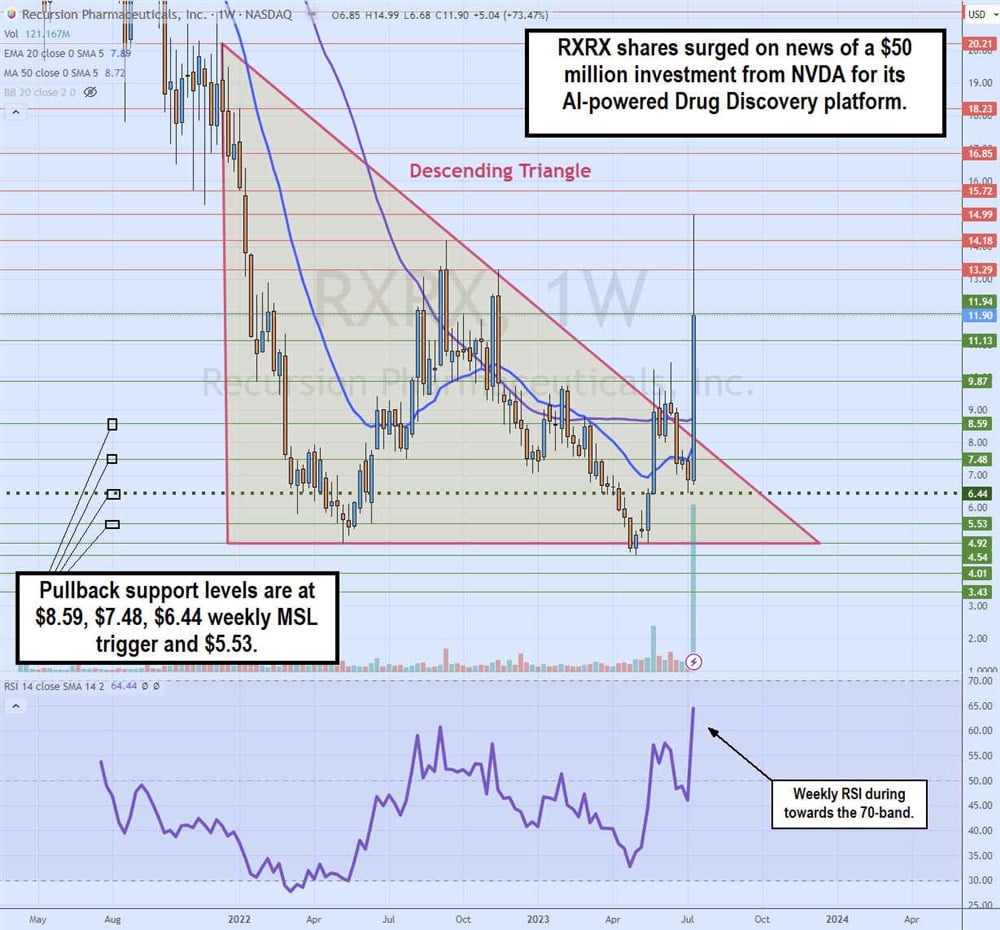 Weekly Descending Triangle Breakout
The Nvidia investment news triggered the weekly descending triangle breakout pattern for RXRX. The weekly triangle commenced formation upon peaking at $20.21 in December 2021. Shares collapsed to a low of $4.92 by May 2022. RXRX staged a rally that peaked at $14.18 and $13.29 from September to November 2022.
Each subsequent rally attempt continued to fail at lower highs. This created a descending trendline when it converged with the flat-bottom lower trendline at $4.92. RXRX triggered a weekly market structure low (MSL) breakout through the $6.44 trigger in May 2023 as it made four failed attempts to break out through the descending trendline.
The $6.44 MSL trigger was able to hold support on the pullback leading up to the Nvidia news, which surged shares straight through the descending trendline and out of the descending triangle. The weekly relative strength index (RSI) momentum oscillator rises towards the 70-band. Pullback supports are at $8.59, $7.48, $6.44 weekly MSL trigger and $5.53.