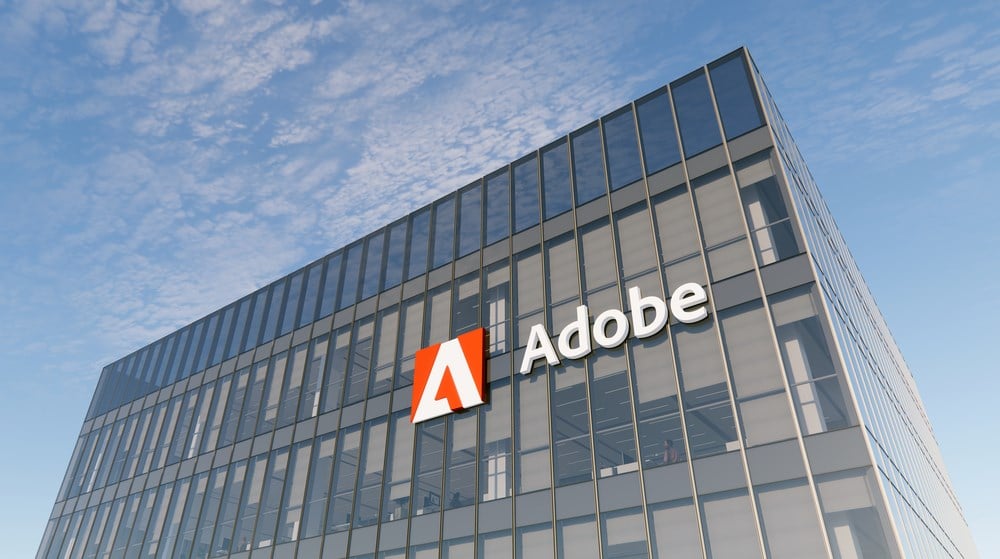 A few decades ago, a comedian named Murray Langston made a splash with an alter ego he dubbed "the unknown comic." Langson was funny, but nobody knew who he was, since he performed with a bag over his head.
You could think of Adobe Inc. (NASDAQ: ADBE) is the unknown tech that's one of the most heavily weighted Nasdaq 100 stocks. 
However, the stock has been on the rise, due to, you guessed it: The company's growing investments and capabilities of leveraging generative AI.
Beyond The Magnificent 7
While the so-called "Magnificent 7," including  Apple Inc. (NASDAQ: AAPL), Microsoft Corp. (NASDAQ: MSFT), Nvidia Corp. (NASDAQ: NVDA), Tesla Inc. (NASDAQ: TSLA), Amazon.com Inc. (NASDAQ: AMZN),  Alphabet Inc. (NASDAQ: GOOGL) and Meta Platforms Inc. (NASDAQ: META) have been leading the market, even to the point of CNBC's Jim Cramer telling his viewers to continue holding those stocks; investors would be wise to keep an eye on other big growth names, as well. 
Adobe is well known for its content-creation and business software but not so well known as a stock these days, despite being a mega-cap with the 12th largest weighting in the Nasdaq 100. 
If you do any kind of online content creation or office work, you've undoubtedly run across Adobe, whose products include Photoshop, Illustrator, and Acrobat. Its video editing software, Premiere Pro, is widely used by YouTubers and other creators. 
Adobe stock has posted the following returns:
1 month: 6.90%
3 months: 37.17%
Year-to-date: 50.76%
The company's earnings growth gradually accelerated over the past three quarters, from 9% to 17%. Revenue grew 10% in the most recent quarter, to $4.816 billion, the highest quarterly revenue in the company's history. 
Its business is organized into three reportable segments:
Digital Media
Digital Experience
Publishing and Advertising
The first two business units are focused on cloud-based technologies for video editing and design. 
Publishing and advertising is home to legacy products, such as Adobe PostScript, which enables accurate printing and rendering of complex graphics, fonts, and documents on various devices and platforms. It's sold via licensing arrangements with printer manufacturers. 
The Future Is In The Cloud
But clearly, the future is in evolving digital media that allow users to create images and videos. 
The company has migrated customers to cloud-based services, and now incorporates AI into its analytics and content management offerings. 
Its cloud-based strategies are designed to make workflow easier for customers. The company generates revenue through subscriptions and licensing. 
In the most recent quarterly earnings call, digital media president David Wadhwani referenced one of the company's biggest opportunities as a growing number of content creators turn to digital video.
5X Increase In Content Production 
"We're sitting at a moment where companies are telling us that there's a 5x increase in content production coming out in the next couple of years. And you see a host of new media types coming out," he said. 
In addition to organic growth, Adobe has a strategy of acquiring companies. In the fourth quarter of fiscal 2021, it completed the acquisition of Frame.io, a privately held company that provides a cloud-based video collaboration platform for approximately $1.24 billion. It's now part of Adobe's Digital Media segment. 
That same year, it acquired Workfront, a privately held company that provides a workflow platform, for approximately $1.52 billion in cash. It's now part of the Digital Experience segment. 
Adobe is in the midst of trying to acquire Figma, a collaborative cloud-based design tool. Regulators in the U.K. have not OK'd the deal, citing concerns about reduced competition. 
That hasn't hurt the company's share price, though. 
Bolted Out Of Tight Formation
The Adobe chart shows the stock bolting out of a three-weeks-tight formation the week of July 10. As of July 13, it was hovering just below a structure high of $518.74. It's currently in buy range, although investors should use caution, as recent big price moves occurred in light trading volume. 
In the second-quarter conference call, CEO Shantanu Narayen spoke at length about Adobe's ability to leverage its expertise in creative software and digital content workflows through the use of AI.
Adobe recently incorporated generative AI features into its Creative Cloud and Experience Cloud platforms. It's not difficult to imagine how the technology might be incorporated into Adobe's design and editing software. 
Adobe analyst ratings show a consensus view of "moderate buy," with 18 analysts boosting their price targets or ratings after the June 16 quarterly report.