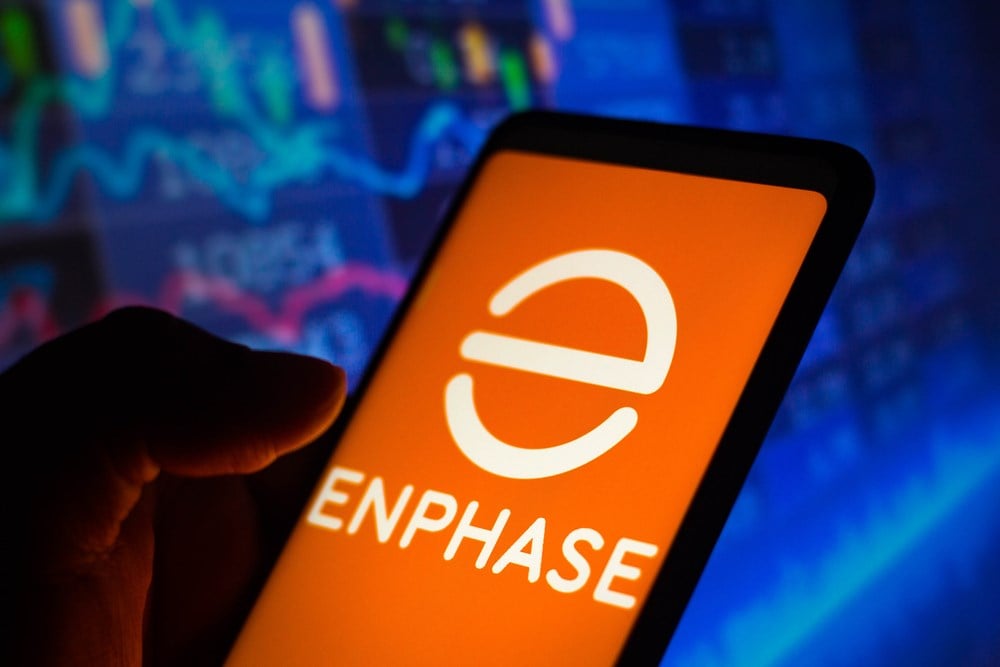 Solar energy products maker Enphase (NYSE: ENPH) stock has fallen from grace after hitting all-time highs near $340 in December 2022, losing more than half its value by July 2023. The company was firing on all pistons just over a year before lowering its guidance in its Q1 2023 earnings report. Despite revenues growing 64.5% from a year ago, shares collapsed on the guidance and are still trading down (34.4%) year-to-date (YTD).
The company is a leading provider of microinverters, which convert direct current (DC) solar energy from panels into alternating current (AC) electricity to power homes and offices. Its microinverters can be found on solar panels around the world. The company competes with the global investor and monitor systems provider SolarEdge Technologies Inc. (NASDAQ: SEDG).
Inflation Reduction Act Incentivizing U.S. Manufacturing
Investors must wonder if there's a disconnect between the company's performance and stock. The company has also started shipments of its U.S.-manufactured microinverters from Columbia, South Carolina. It expects to make 18 million microinverters in the U.S. annually from three U.S. locations. The company credits the Inflation Reduction Act for incentivizing U.S. production for some of its products. It still manufactures the majority of its products in China and Malaysia.
Solar Energy Pure-Play
The company is a pure-play in solar energy and one of the few profitable companies in the clean and renewable energy space. The global solar energy market is expected to have a compound annual growth rate (CAGR) of 15.7%, growing to nearly $608 billion by 2030. The company has expanded its footprint into the electric vehicle (EV) energy space through its partnership with Tesla Inc. (NASDAQ: TSLA) and Volkswagen AG (OTCMKTS: VWAGY).
Tesla and VW Partnerships
Enphase partnered with Tesla in 2022, integrating its microinverters into Tesla's Powerwall Battery and adopting the Enphase Enlighten cloud-based solar energy monitoring platform. This enables Tesla EV owners to charge their EVs with solar energy even if the electrical grid is down. It's also working with Volkswagen on a bidirectional charger that enables homeowners to store solar energy in their EVs.
Robust Revenue Growth
On April 25, 2023, Enphase released its fiscal Q1 2021 results for the quarter ending in March 2023. The company reported an earnings per share (EPS) profit of $1.37, excluding non-recurring items, beating consensus analyst estimates for a profit of $1.22 by $0.15. GAAP net income was $146.9 million. Revenues grew 64.5%  year-over-year (YoY) to $726 million versus $720.5 million consensus analyst estimates.
Enphase shipped out 4,830,539 microinverters for 1,957.2 megawatts DC and 102.4-megawatt hours of Enphase IQ Batteries. GAAP gross margins were 45%, while non-GAAP gross margins were 45.7%. The company generated $223.8 million in free cash flow and ended the quarter with $1.78 billion in cash and cash equivalents.
Lowered Guidance
Enphase lowered revenue guidance for fiscal Q2 2023 from $700 million to $750 million versus $760.42 million consensus analyst estimates. Non-GAAP gross margins are expected to be 42% to 45%, excluding stock-based compensation and acquisition-related amortization. Non-GAAP operating expenses are expected to be $98 million to $102 million, excluding $57 million in stock-based compensation and restructuring charges.
CEO Insights
Enphase CEO Badri Kothandaraman commented that Enphase shipped over 8.6K EV chargers in the quarter. They will introduce the IQ smart EV chargers in Q2 2023. These chargers have Wi-Fi connectivity enabling green charging and visibility of the Enphase solar plus storage and EV charger system through its mobile app. He concluded, "The fundamentals are intact for our industry. 30% ITC for the next decade, the rising utility rates, the focus on climate change and the desire for resilience will push the need for solar plus storage more than ever before.
With our differentiated products, high quality and exceptional customer experience, we are in a strong position to capitalize on this trend."
Enphase Energy analyst ratings and price targets are at MarketBeat.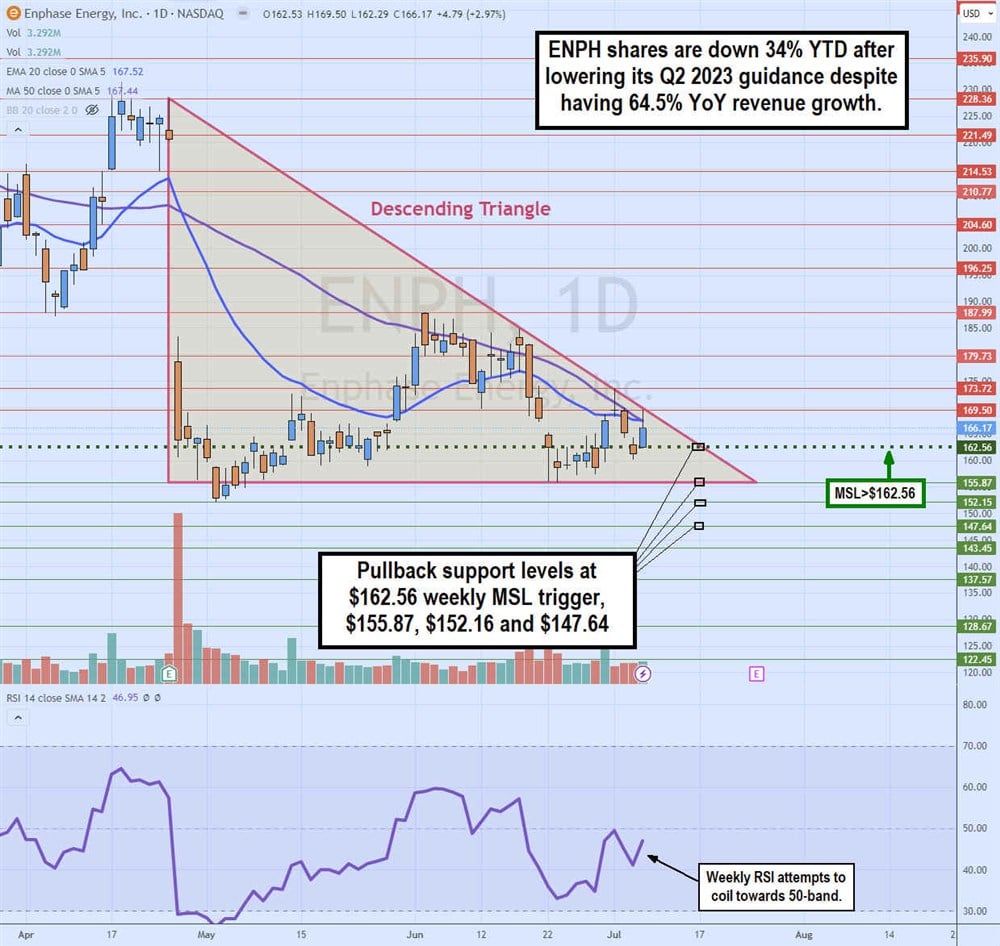 Daily Descending Triangle Pattern
The daily candlestick chart on ENPH shows a descending triangle pattern. It started after peaking at $228.36 on April 25, 2023, before plunging on its fiscal Q1 2023 earnings report. ENPH sold off to a low of $152.15 before attempting to stabilize a flat-bottom support trendline at $155.87.
Meanwhile, each bounce attempt got shallower, with lower highs forming the descending trendline. Its most recent bounce attempt formed a daily market structure low (MSL) buy trigger on the $162.56 breakout but was rejected off the descending trendline twice. The descending trendline is the unstoppable force, and the flat-bottom trendline is the immovable object, both meeting at the apex. ENPH will resolve in either a breakout through the ascending trendline or a breakdown brought through the flat-bottom trendline as the channel continues to get smaller.
The weekly RSI is attempting to bounce to the 50-band. Pullback support levels are $162.56 weekly MSL trigger, $155.87, $152.16 and $147.64.