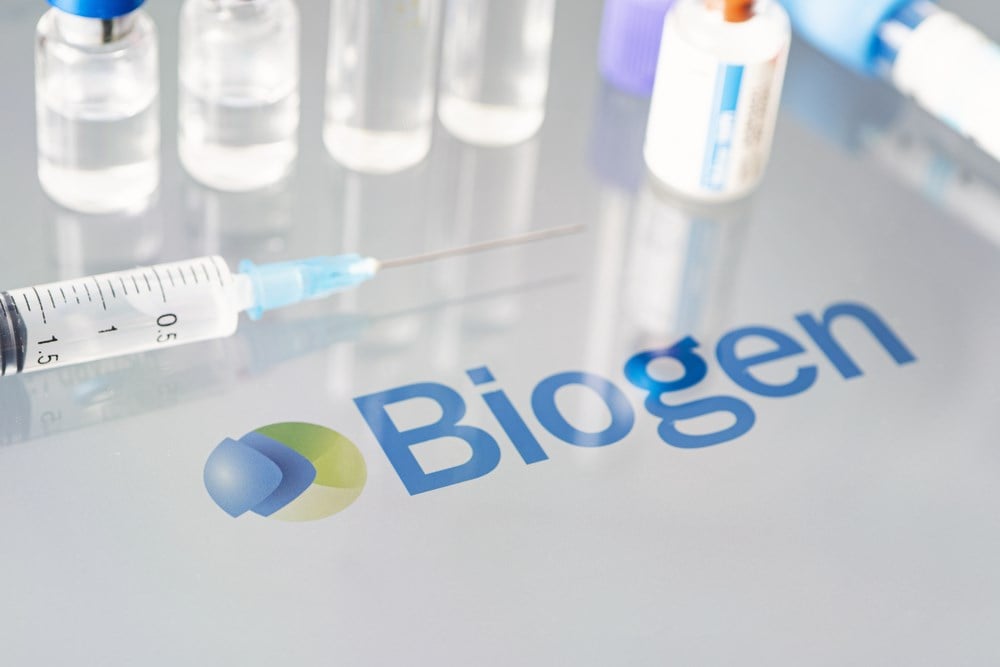 Stocks often react differently from the way you think they might. That happened on July 7 as shares of Biogen Inc. (NASDAQ: BIIB) swooned 2.88% in heavy trading volume following news of full regulatory approval for its Alzheimer's treatment, Leqembi. 
Biogen was the biggest percentage decliner within the Health Care Select Sector SPDR Fund (NYSEARCA: XLV) on July 7. As a whole, the healthcare sector was one of the session's few losers, along with defensive sectors, utilities and consumer staples. 
Leqembi does not serve as a cure for Alzheimer's disease, nor does it enhance memory or cognitive functions in patients. Additionally, the drug does not halt the progression of the disease. 
However, for patients in the early stages of Alzheimer's, Leqembi has shown a modest ability to decelerate cognitive decline. Extensive clinical trial data indicate that the drug may potentially slow down decline by approximately five months within an 18-month window.
FDA Approval Means Medicare Reimbursement
A couple of developments were behind the selloff: First, Leqembi was previously granted accelerated approval from the Food & Drug Administration. However, the full, traditional approval means Medicare will reimburse patients 80% of the drug's cost. 
Its current price tag is $26,500 a year, meaning reimbursement is crucial for any significant patient uptake. 
In early June, an FDA review committee offered full support, noting that risks inherent in the drug's use would be minimal. That led investors to anticipate approval with no strings attached. 
A look at the Biogen chart shows a price bump of 1.47% on June 12 in heavy volume following the news. 
Regulators Concerned About Side Effects
However, with the July 6 full approval, the FDA said it was, indeed, concerned about possible side effects, although the product's label already contains a warning about the possibility of abnormal brain scans associated with the drug's use. 
The FDA wants additional monitoring and scans for higher-risk patients, including testing patients before the drug is prescribed. That directive applies particularly to patients who, due to their age, are at increased risk for Alzheimer's. 
Those steps are likely to be a substantial burden on doctors and clinics, which could inhibit prescriptions. That was a factor in the selloff, as some analysts, including those at Raymond James and Wedbush, wrote in research notes that logistics and bottlenecks could be impediments. 
The drug is administered intravenously twice a month, with treatments done at hospitals or clinics.  
MarketBeat's Biogen analyst ratings show a consensus of "moderate buy," with a price target of $330.27, an upside of 19.65%.  
Biogen's Partner Sees Hurdles Ahead
A second factor, related to the first, may have contributed to Biogen's July 7 price drop. 
Biogen's commercialization partner, Japan-based Eisai Co. Ltd. (OTCMKTS: ESAIY), may face hurdles in rolling out the drug, due to some of the logistical challenges. 
In an appearance on CNBC, Eisai U.S. CEO Ivan Cheung acknowledged some of the inherent roadblocks to a fast ramp-up.
However, there's still plenty of optimism about the prospects for Leqembi. In particular, Medicare reimbursement is one obstacle that's been lifted. In a statement, Chaquita Brooks-Lasure, administrator for the Centers for Medicare and Medicaid Services, said the approval was "welcome news." 
Lilly Skids On Concerns About Its New Drug
In a related market move, shares of Eli Lilly & Co. (NYSE: LLY) skidded 1.80% in light turnover on July 7. 
Leqembi's journey could affect Lilly's Alzheimer's treatment donanemab, which is in clinical trials. FDA officials previously noted they may heavily scrutinize the drug's safety data. Analysts expect additional data from Lilly's trials will be revealed later this month, but the surprise caveats for Biogen put Lilly shareholders on notice. 
Biogen attempted a breakout from a flat base in June, following news of the FDA committee's optimism about Leqembi, but hit resistance at $319.76 before rolling over into a new correction. 
That previous high of $319.76 is the new buy point at the moment, but the stock has some work to do before regaining that level. In the July 7 price action, Biogen shares were trading below their 200-day line for the first time since September. 
Because the company pays no dividend, there's not even a "high yield" play at this moment, meaning it's a stock to watch when it begins climbing out of its base.