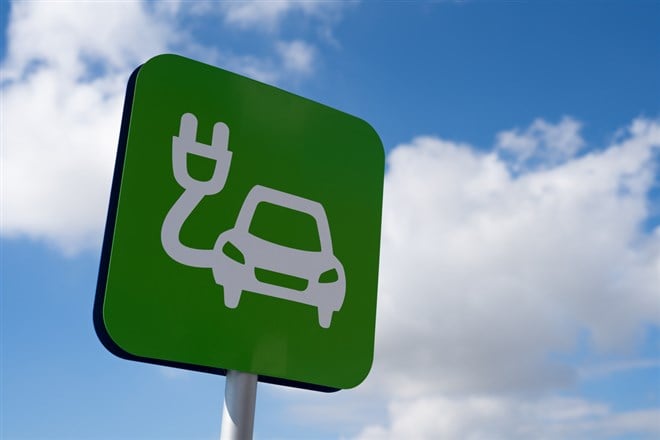 EVgo Inc. (NYSE: EVGO) operates a growing clean energy network of direct current (DC) fast charging stations. The Company offers both level 2 and level 3 charging stations located throughout the U.S. It competes with charging networks operated by ChargePoint Holdings Inc. (NYSE: CHPT), Blink Charging Co. (NASDAQ: BLNK), and Telsa Inc. (NASDAQ: TSLA) supercharging network. The EV trend continues to grow despite a weakening economic climate.
The supply chain shortage is clearing up as semiconductor supplies ramp up to meet the demand from automakers.
Automakers like the General Motors Company (NYSE: GM) and Ford Motor Company (NYSE: F) are expected to spend nearly $1.2 trillion through 2030 developing and producing EV lines. Volkswagen AG (OTCMKTS: VWAGY) plans to build 1.3 million EVs in 2023 and expects half of its vehicle production to be comprised of EVs by 2030. The EV market is only expected to grow, and EVgo should benefit from the trend. 
Who Needs Charging Stations?
What EV companies need to tell you when comparing their cars to internal combustion engine cars is the time it takes to charge up versus fueling up the car. Filling up your gas tank can take five minutes or so, but charging up your EV can take from 20 minutes up to two days, depending on your charging level.
EVgo operates fast-charging direct current (DC) stalls that employ commercial grade level 3 charging with 50 kW to 350 kW of output at a 25% to 40% premium. These can charge an EV in 20 minutes to an hour.
Level 2 charging stations take three to eight hours to charge an EV, depending on the battery capacity and level of charge you begin with. They can be found in shopping centers, housing complexes, parking garages, and office parks.
Level 1 charging is the slowest and cheapest method most users use at home to charge their vehicles overnight. It can use a 125-volt outlet to charge an EV in eight to 20 hours fully.
Growing But Leaking Money
On Nov. 3, 2022, EVgo released its fiscal Q3 2022 results for the month ending in September 2022. The Company reported an adjusted earnings-per-share (EPS) loss of ($0.19), excluding non-recurring items versus consensus analyst estimates for a loss of (-$0.12), Missing estimates by $0.07.
Revenues rose 70% year-over-year (YOY) to $10.5 million, driven by high retail charging revenues, missing analyst estimates of $13.27 million. Network throughput hit 12.1 gigawatt-hours (GWh), up 51% YoY.
EVgo Network Growth
The Company added 188 new stalls to the network resulting in 2,625 charging stalls in operation or under construction. The Company added 54,000 new customer accounts for a total of 498,000 customer accounts by the end of the quarter.
The Company launched Autocharge+ service nationwide, enabling compatible EVs, including some Tesla Inc. models, to charge by simply plugging in an EVgo fast charger into their vehicles. EVgo also closed new hosting agreements with national brands, including Lowes (NYSE: LOW).
Losses Expected to Grow
The Company reaffirmed its full-year 2022 revenues to come between $48 million and $55 million versus $49.28 million consensus analyst estimates. Adjusted EBITDA is expected to come in between (-$80 million) to (-$85 million).
CEO Comments
EVgo CEO Cathy Zoi commented, "During the third quarter, we continued to execute our growth plans on the back of a continued electric vehicle ("EV") adoption and market development. Our latest results and our expanding fleet and site host partnerships reinforce our position as a leader in EV fast charging.
We saw continued growth across our core charging business, with strong retail and rideshare throughput increases, delivering higher revenues. We recently launched Autocharge+ nationwide, simplifying the charging experience, as we continue setting a new bar in our rapidly expanding network."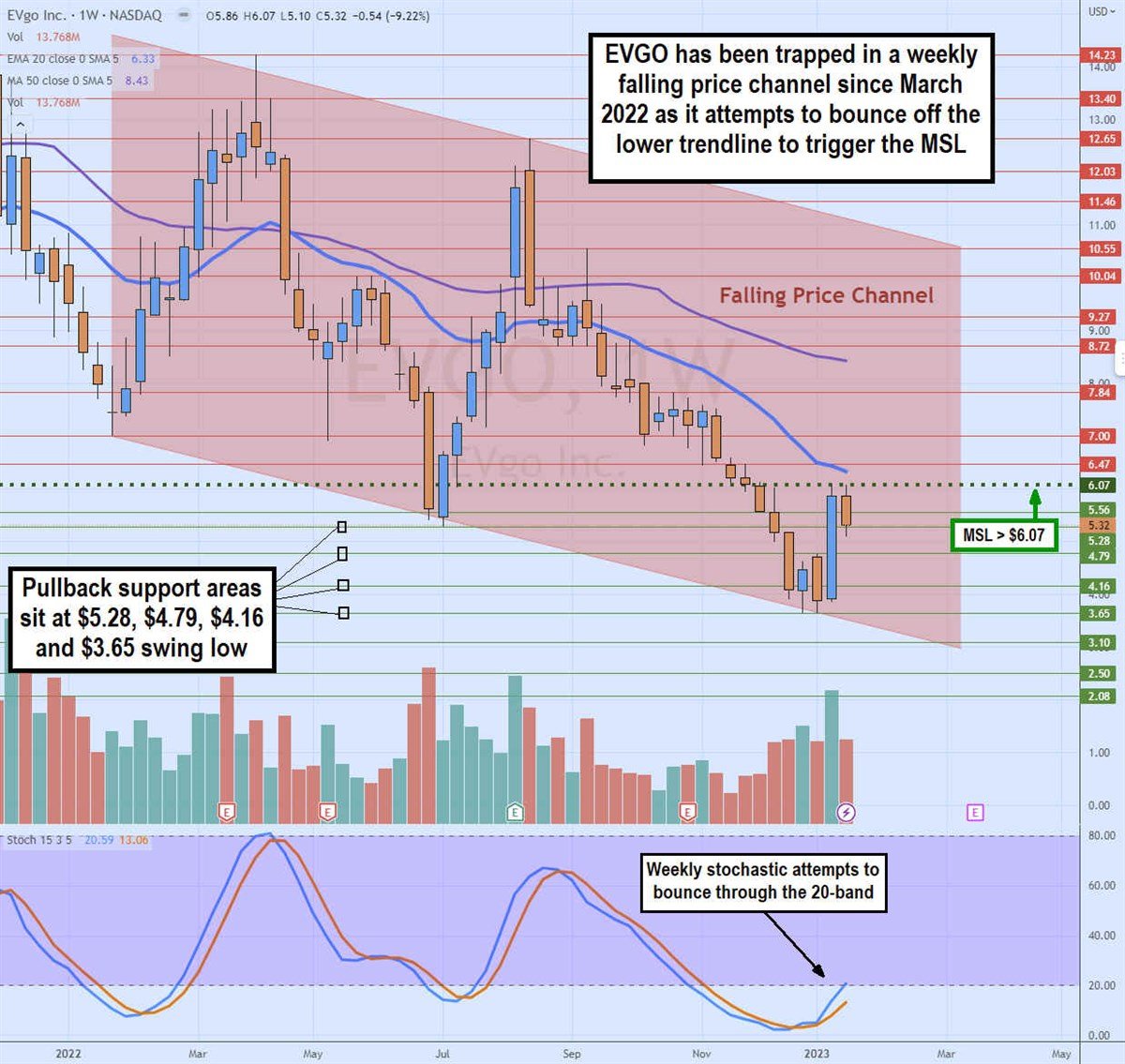 Weekly Falling Price Channel
EVGO stock has been making lower lows since peaking at $14.23 in April 2022. Shares fell to a swing low of $3.65 on the falling price channel in December 2022. Shares staged a rally to form a weekly market structure low (MSL) buy trigger above $6.07 in January 2023 before pullback to the $5.28 level.
The weekly stochastic attempts to cross through the 20-band as the weekly MSL trigger acts as a resistance. The weekly 20-period exponential moving average (EMA) resistance continues to fall lower at $6.33, followed by the weekly 50-period MA at $8.43. Pullback support levels sit at $5.28, $4.79, $4.16, and the $3.65 swing low.