Empowering Retailers: Bridging the Gap between Physical POS and Digital Commerce.
San Jose, CA, United States, 18th Sep 2023 – 24Seven Commerce, a global leader in integrated e-commerce solutions, and Osprey Retail Systems, a renowned point-of-sale solutions provider, have announced a strategic partnership. This collaboration aims to transform how OspreyPOS users scale their businesses, giving them unprecedented access to global e-commerce platforms and marketplaces.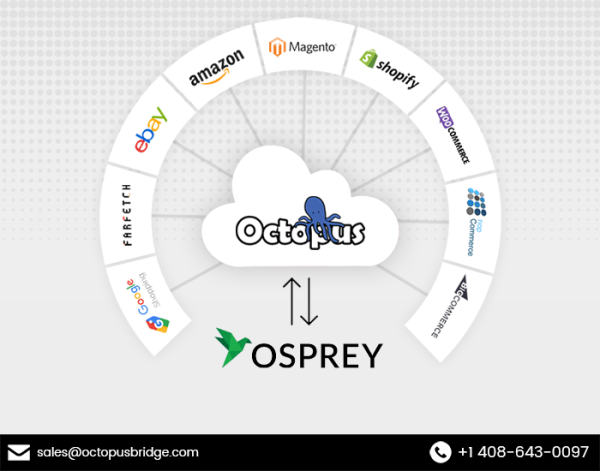 OspreyPOS users are set to greatly benefit from this partnership. A single integration between OspreyPOS and Octopus Bridge means retailers can now effortlessly connect with leading e-commerce platforms such as Shopify, Woocommerce, Bigcommerce, Magento, as well as major marketplaces like Amazon, eBay, and Walmart.
24Seven's CEO, Anil 'AJ' Jindal, expressed his excitement about the partnership: "This collaboration isn't just about integration; it's about transformation. Together, we are equipping retailers with the tools they need to expand their reach and seamlessly operate in both the physical and digital retail worlds."
Echoing the sentiment, Osprey's President, Roger Blanchard, stated: "In our pursuit to offer the best to our customers, our partnership with 24Seven Commerce has been a pivotal decision. Their IaaS product, Octopus Bridge, is nothing short of remarkable, creating a seamless bridge between OspreyPOS systems and the vast digital marketplace. The depth of innovation and mastery 24Seven brings to the table, backed by Octopus Bridge, assures that our clients always have a competitive edge. It's not just a product, but a reflection of 24Seven's profound understanding of the modern retail landscape and their commitment to excellence."
Advantages of Octopus Bridge:
One Publisher: Retailers can now publish product listings from their OspreyPOS to all major e-commerce platforms and marketplaces without hassles.
One Order Format: No matter the platform, Octopus Bridge ensures all orders are streamlined into a uniform format for ease of processing.
Safety Net Rules: To safeguard retailers from the risk of overselling, Octopus Bridge has inbuilt rules ensuring optimal stock management.
Affordability: Tailored for small – to – medium sized businesses, Octopus Bridge offers a cost-effective solution to bridge physical retail and online commerce.
Quick Deployment: Say goodbye to long waiting periods. With Octopus Bridge, integration is a matter of hours, not days or weeks.
About 24Seven Commerce:
24Seven Commerce is the leading global provider of Integration-As-A-Service. The company provides POS/eCommerce integration services to retailers of all sizes, in nearly every corner of the world. Our cloud-based integration platform – Octopus Bridge – is backed by more than 20 years of eCommerce experience. Our integration platform has been developed specifically for brick-and-mortar retailers that need their in-store point-of-sale (POS) software to synchronize with eCommerce platforms and marketplaces.
About Osprey Retail Systems:
With a reputation for delivering robust and user-friendly point-of-sale solutions, Osprey Retail Systems has been a trusted name for retailers for over a three decades. Founded with the vision of simplifying in-store transactions and operations, Osprey's suite of products has continually evolved, ensuring retailers are always equipped with cutting-edge technology. Headquartered in Massachusetts, Osprey Retail Systems serves a diverse clientele, from small boutiques to large retail chains.
Website: https://ospreyretail.com/
This partnership signifies a forward leap in simplifying retail operations, ensuring businesses can operate efficiently and reach customers wherever they shop.
Media Contact
Organization: 24Seven Commecre
Contact Person: Marketing Manager
Website: https://www.24sevencommerce.com/
Email: sales@24sevencommerce.com
Contact Number: +1 408-643-0097
Address: Octopus Bridge, Inc. (DBA 24Seven Commerce)
City: San Jose
State: CA
Country: United States
Release Id: 1809236439
The post 24Seven Commerce and Osprey Retail Systems Announce Monumental Partnership appeared first on King NewsWire. It is provided by a third-party content provider. King Newswire makes no warranties or representations in connection with it.

Information contained on this page is provided by an independent third-party content provider. eTrendystock make no warranties or representations in connection therewith. If you are affiliated with this page and would like it removed please contact contact@etrendystock.com