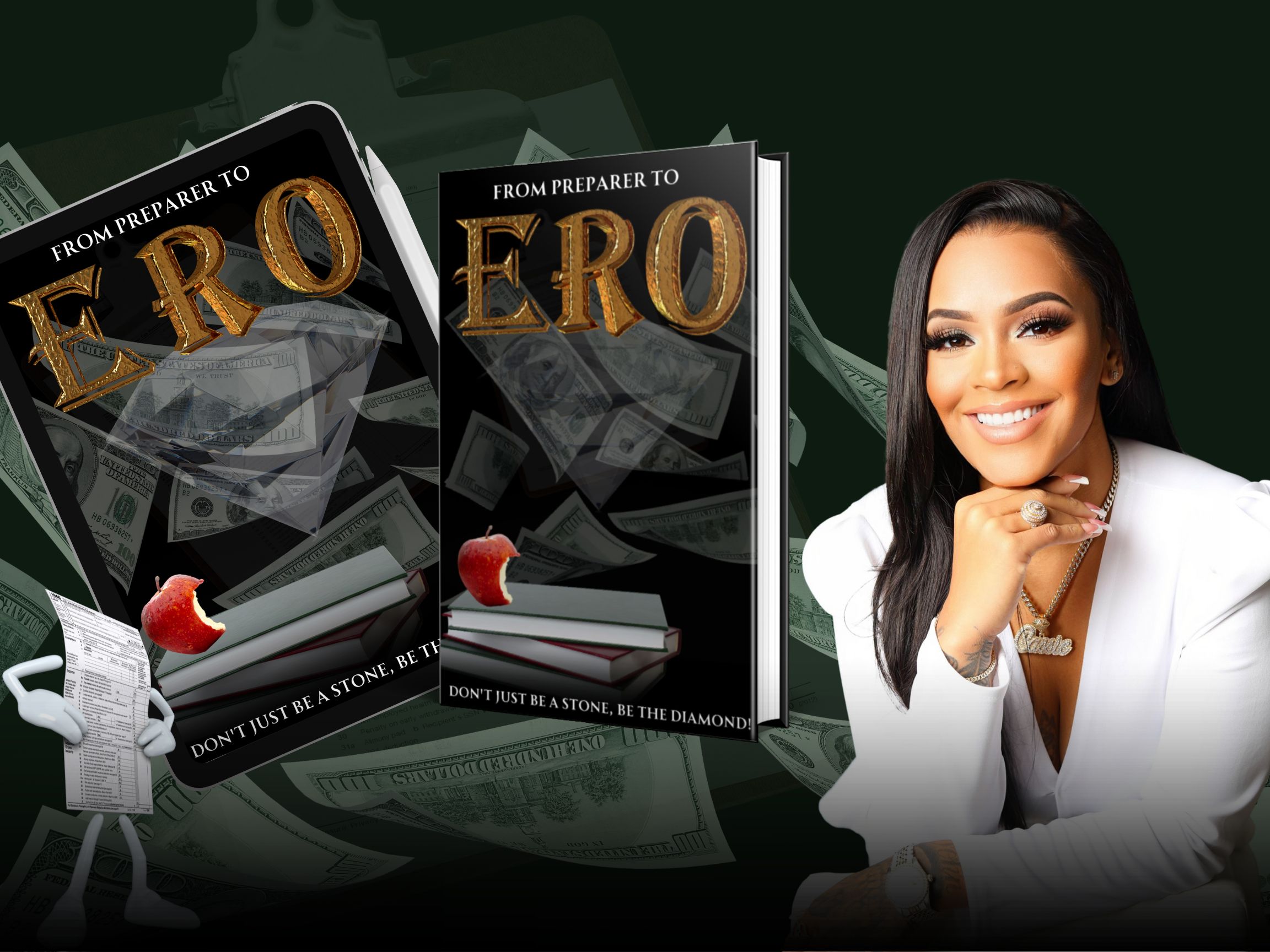 New Author Cassandra Jackson Unveils Transformative Guide "From Preparer to ERO"
Atlanta, GA - September 24, 2023 - Renowned author Cassandra Jackson is thrilled to announce the release of their highly anticipated book, "From Preparer to ERO". This groundbreaking guide is set to empower tax professionals, enthusiasts, and aspiring experts in the field with valuable insights and expert knowledge on the evolving landscape of tax compliance.
In "From Preparer to ERO," Cassandra Jackson shares their years of experience as a seasoned tax professional, unraveling the intricate world of tax compliance with clarity and precision. The book is a comprehensive roadmap for anyone aiming to excel in the field, whether you are a tax preparer looking to expand your horizons or an aspiring (ERO) striving to make your mark in the industry.
Key Highlights of "From Preparer to ERO" include:
Expert Guidance: Cassandra Jackson draws upon their extensive experience to provide readers with practical advice and strategies for navigating the complex world of tax compliance.
Industry Insights: Discover the latest trends, regulations, and best practices in tax preparation and compliance, ensuring you stay ahead in an ever-changing environment.
Career Development: Learn how to advance your career and build a reputation as a trusted tax professional, with tips on networking, client management, and professional growth.
Certification Process: Gain invaluable insights into the Enrolled Agent certification process, along with study tips and resources to help you succeed in the Enrolled Agent exam.
Ethical Considerations: Explore the ethical responsibilities of tax professionals and the importance of maintaining integrity in tax practice.
Cassandra Jackson commented on the book's release, saying, "I am thrilled to share my knowledge and experiences in the world of tax compliance with readers who are passionate about this field. 'From Preparer to ERO' is more than just a guide; it's a roadmap for success and professional growth in the tax industry."
"From Preparer to ERO" will be available on October 14, 2023 in both print and digital formats on Amazon and online For more information about the book and to purchase your copy, visit https://payhip.com/HighEndRefunds
About Cassandra Jackson
Cassandra Jackson is a highly respected tax professional with over 6 years of experience in the field. She is renowned for their expertise in tax compliance and have helped numerous individuals and businesses navigate the complexities of tax regulations. Cassandra is dedicated to sharing her knowledge and empowering others to excel in the tax industry.
Media Contact
Company Name: HER Black Diamonds
Contact Person: Cassandra Jackson
Email: Send Email
Country: United States
Website: https://payhip.com/HighEndRefunds