sheheme, the brand synonymous with innovative and aesthetically superior phone accessories, proudly introduces the sheheme Magnetic Case specifically designed for iPhone 15/14/13 Pro Max. This magnetic case, marked by its patented design and advanced features, is set to elevate the standards of phone protection and user experience, ensuring maximum satisfaction for iPhone users.
Exclusive Design and Maximum Protection
The sheheme Magnetic Case is not just another phone case; it is the epitome of superior craftsmanship and meticulous design, featuring the brand's independently developed and patented appearance design. This classic full lens protection camera cover magnetic case is tailor-made for iPhone, offering an unmatched level of protection to the device while maintaining its sleek and elegant appearance.
The bumper of the case is expertly crafted from skin-feeling TPU, providing not only enhanced grip and comfort but also adding an extra layer of protection to the phone. This ensures that the phone is safe from the daily wear and tear, accidental drops, and impacts, making it a perfect companion for your iPhone.
Excellent Adsorption Capacity
Setting itself apart from conventional external magnetic ring phone cases, sheheme's Magnetic Case boasts a 2nd gen built-in magnet ring that aligns impeccably and locks into place, optimizing wireless charging speed with minimal loss. It houses 48 super N52 magnets ring, allowing easy attachment to various accessories such as power banks, card holders, and car magnetic brackets, enhancing its versatility and user convenience.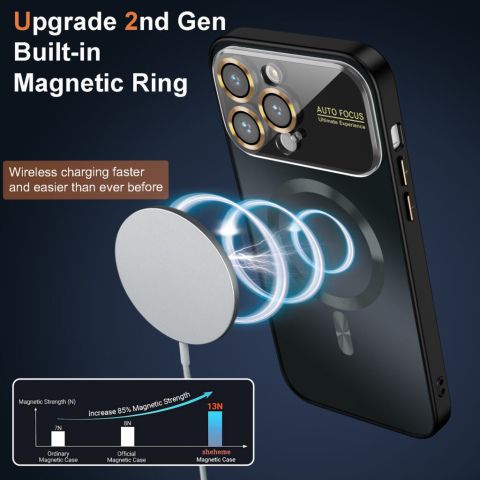 Unique Camera Lens Protector
The sheheme Magnetic Case comes equipped with a unique high-hardness plexiglass full lens protection, featuring an 8K HD tempered glass camera lens protector. This protector effectively shields the lens from hand sweat, fingerprints, stains, and other potential damages, ensuring the preservation of crystal-clear photo quality. This advanced protection guarantees 100% safeguarding of the phone's camera lens, allowing users to capture their moments without compromise.
Convincing Military Grade Protection
This exquisite case has undergone rigorous testing to exceed military standards for drop protection. It features 1.5mm extra raised edges, 360° all-round airbags, and an upgraded dust plug design, all working in unison to absorb and disperse 99.99% of shock forces effectively. This ensures maximum protection from drops, bumps, and scratches. Additionally, the case's bottom plate employs a honeycomb heat dissipation design, offering 360° all-round protection for the iPhone.
Exclusive Responsive Metal Buttons
The ergonomic design of the case's independent, two-color metal buttons feels sensitive and is easier to press, ensuring all features and functions work perfectly. Precise cutouts guarantee that all buttons and ports are in the exact position, and the slim, skin-feeling bumper provides the best grip, making the interaction with the device comfortable and user-friendly.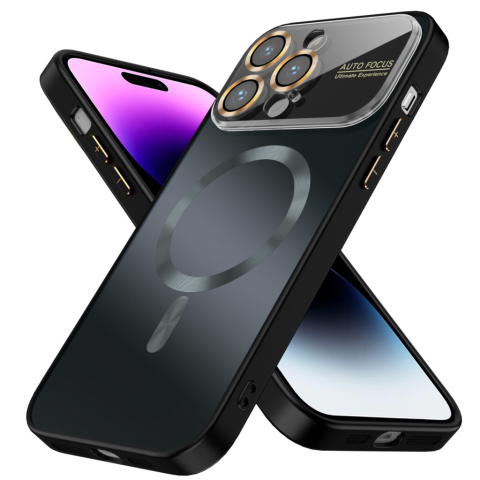 About sheheme
sheheme is a trailblazer in the realm of high-quality, innovative phone accessories. The brand is renowned for its commitment to delivering products that combine aesthetic appeal with advanced features, ensuring optimum protection and user experience for smartphone users. sheheme continues to set new benchmarks in the industry with its revolutionary designs and unparalleled craftsmanship, catering to the evolving needs of tech-savvy consumers worldwide.
The sheheme Magnetic Case for iPhone 15 Pro Max and the sheheme Magnetic for iPhone 14 Pro Max Case with MaSafe Full Camera Lens Protector are available for purchase on Amazon. For more information or to make a purchase, please visit sheheme Magnetic Case for iPhone 15 Pro Max Case and sheheme Magnetic for iPhone 14 Pro Max Case with MaSafe Full Camera Lens Protector.
Media Contact
Company Name: Shenzhen Hehuafeng Technology Co.Ltd
Contact Person: Mr Huang
Email: Send Email
Country: United States
Website: https://www.amazon.com/gp/product/B0C7H1W2DG