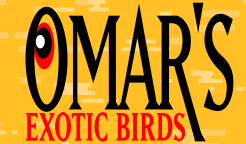 CALIFORNIA - Sep 22, 2023 - Omar's Exotic Birds, a household name in the world of avian enthusiasts, has been serving exotic bird lovers since its inception in 1984. With a rich history of excellence in the exotic bird retail sector, Omar's Exotic Birds has garnered a reputation for quality, uniqueness, and a commitment to customer satisfaction.
Established in 1984, Omar's Exotic Birds has continuously set the bar high in providing a diverse range of exotic birds, from charming cockatiels to majestic macaws. In recognition of its outstanding contributions to the pet industry, Omar's Exotic Birds was awarded the prestigious title of "Retailer of the Year" by the national publication, Pet Product News, in 2002. This accolade stands as a testament to the company's dedication to offering unparalleled service and an exceptional selection of avian companions.
Omar's Exotic Birds is thrilled to announce the grand opening of its newest location in Vista Village, California. This addition marks the company's continued commitment to bringing the joy of exotic bird ownership to even more enthusiasts in California. The Vista Village location promises the same outstanding selection, service, and commitment to quality that customers have come to expect from Omar's.
One of the hallmarks of Omar's Exotic Birds is its unwavering commitment to the health and happiness of its feathered residents. Each bird sold at Omar's comes with a comprehensive money-back health guarantee, ensuring customers' peace of mind. Additionally, the store offers free grooming services for as long as the bird is under your care, reinforcing their dedication to the well-being of every bird in their flock.
Omar's Exotic Birds prides itself on maintaining hospital-grade cleanliness at all locations. Shelves are meticulously stocked with the finest products, including Omar's brand of gourmet seed blends, personally developed by Omar himself. The stores also feature an enormous TOY WALL that displays hundreds of handmade bird toys, ensuring that your feathered friend is entertained and happy.
At Omar's, the dedication to customer service is over the board. Their knowledgeable and friendly staff are well-versed in bird care. They can answer a wide range of bird-related questions, including behaviour and diet concerns. Unlike many stores, birds are never pushed on customers at Omar's; instead, potential bird owners are
Omar's Exotic Birds offers a shopping experience like no other. Customers are encouraged to interact with the birds, creating a unique opportunity to connect with these remarkable creatures. This hands-on approach ensures that customers take home a beautiful bird and a well-socialized and happy companion.
About Omar's Exotic Birds
Omar's Exotic Birds has been a leading name in the exotic bird industry since 1984. They have been connecting parrots and people for decades. With a commitment to quality, health, and customer satisfaction, Omar's Exotic Birds has become the go-to destination for bird enthusiasts in California. Their newly opened Vista Village location continues this tradition of excellence, offering a unique shopping experience and a diverse selection of exotic birds.
Omar's Exotic Birds currently operates three convenient locations throughout California, including Lake Forest, Brea, and now Vista Village. With three destinations, bird lovers across the state can experience the magic of Omar's for themselves.
Check out their website for more details and amazing information.
Media Contact
Company Name: Omar's Exotic Birds
Contact Person: Omar Gonzalez
Email: Send Email
Phone: (949) 472-3962
Address:LAKE FOREST, 23507 El Toro Rd.
City: Lake Forest
State: CA 92630
Country: United States
Website: https://omarsexoticbirds.com/