IKITS, a renowned leader in product development specializing in safety-centric solutions, proudly presents the groundbreaking IKITS CCS1 Charger Adapter for Tesla. This innovative product redefines the charging experience for Tesla owners, offering not only exceptional speed but also unmatched safety.
IKITS has a proven track record of creating cutting-edge adapters, energy storage equipment, and solar solutions, all prioritizing safety and performance. The IKITS CCS1 Charger Adapter for Tesla takes charging to the next level by seamlessly integrating both AC and DC charging technologies into a single, intelligent interface. With charging rates of up to 175-200 kWh, Tesla owners can enjoy swift recharges anytime, depending on their vehicle's battery capacity and the charging station's specifications.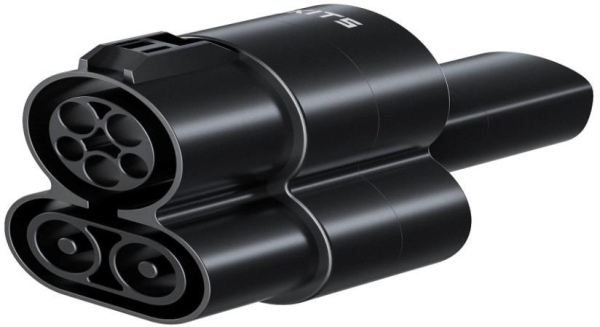 This adapter effortlessly connects to fast charging stations, exemplified by its ability to charge a Tesla from 15% to 60% in approximately 15 minutes at a 175kW charging station. Safety, reliability, and performance are at the core of its design, featuring advanced power electronics that efficiently convert incoming AC or DC power to levels compatible with the vehicle's battery system.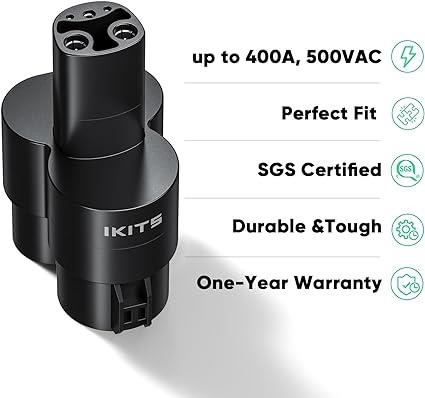 Key Features:
CCS1 Charging Standard: The IKITS CCS1 Charger Adapter adheres to the CCS1 charging standard, enabling both AC and DC charging through a unified plug. This intelligent system ensures fast and secure charging, with Tesla Model 3 RWD/SR+ reaching an 80% charge in just 25 minutes.


Efficiency and Performance: The adapter optimizes energy conversion to minimize losses, with an operating temperature range of -30°C to 50°C. It's FCC and ETL approved and equipped with safeguards against overheating, overvoltage, overcurrent, and overload. IP55 certification makes it suitable for outdoor use.


User Interface and Accessibility: The user-friendly design includes bright LEDs and a touch screen display to provide users with vital information. Simply plug the CCS plug into this adapter and your car as usual, and it's compatible with any fast charging station.


Circuit Design and Integration: The adapter's circuit design includes a microcontroller for communication management, ensuring seamless data exchange between the EV and the adapter. Safety features like over current and overvoltage protection are integrated.


Communication Protocols: The adapter employs essential communication protocols to interpret charging station signals and ensure compatibility with various EV models and charging stations.

The IKITS CCS1 Charger Adapter for Tesla represents a fusion of technology and creativity, facilitating the EV revolution. By seamlessly merging AC and DC charging capabilities into a single interface, this adapter contributes to a greener and more sustainable transportation future. Its adherence to CCS1 standards, meticulous circuit design, and unwavering commitment to safety make it an indispensable tool for Tesla owners.
For more information about the IKITS CCS1 Charger Adapter for Tesla and to make a purchase, please visit our Amazon product page here.
https://www.amazon.com/dp/B0BRQ61MY6/ref=twister_B0CG54YB58?_encoding=UT F8&psc=1
Media Contact
Company Name: IKITS CCS1 Charger Adapter for Tesla
Email: Send Email
Country: United States
Website: https://www.amazon.com/dp/B0BRQ61MY6/ref=twister_B0CG54YB58?_encoding=UTF8&psc=1