Crafted in Seki, the indestructible Kurenai knives are rooted in the Samurai sword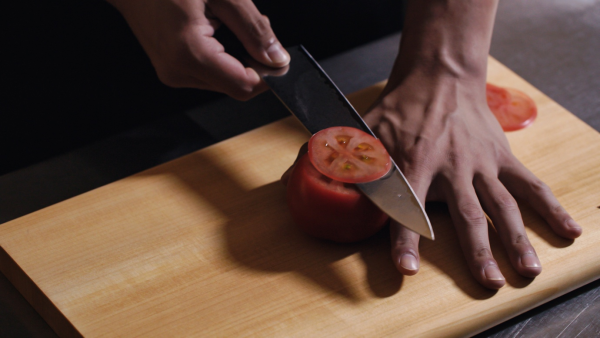 TOKYO - September 21, 2023 - Kurenai, a genuine Japanese kitchen knife crafted by skilled artisans in the same region that has produced Samurai swords across history, has launched on Kickstarter. This beautiful Japanese knife seamlessly blends the exceptional sharpness, functionality, and beauty of a Japanese sword into a tool designed to turn cooking into an enjoyable experience.
Since more people are cooking at home following the onset of the COVID-19 pandemic, and Japanese cuisine is getting more popular, there has been a surge in the demand for Japanese knives. Japanese kitchen knives have gained a reputation for being precise and long-lasting. In a market that has been flooded with imitations, douzo inc. has introduced Kurenai – a genuine Japanese kitchen knife whose design is rooted in the Samurai sword.
"We're aiming to introduce a real "Made in Japan" kitchen knife into every home," says douzo inc. CEO Toru Ueda. "With Kurenai, we can not only pass on the legacy of Japanese craftsmen but also give households a knife that can be handed down from generation to generation."
Over centuries, Japanese blades forged in Seki have earned global recognition for their exquisite craftsmanship, quality, and artistry. Seki's history as the global hub of cutlery craftsmanship dates back to the birth of the Samurai sword. Known for its pristine waters and high-quality soil, this city drew countless skilled swordsmiths who produced blades with razor-sharp precision and unparalleled strength. Today, the skilled craftsmen in Seki have carried on the tradition of producing blades that are unbreakable, unbendable, and exceptionally sharp.
Kurenai is meticulously manufactured in Seki by the artisans of Sumikama Cutlery. These skilled craftsmen have been at the forefront of Japan's knife industry for over a century.
The skilled Japanese artisans who carefully forge each Kurenai knife have drawn inspiration for the design of the knife from the elegance of the Samurai sword. The choice of black and red colors further accentuates and celebrates the Japanese cultural roots of Kurenai. Boasting the enchanting pattern of a burning flame, the Kurenai blade is a conversation starter in any kitchen.
Constructed from 33 layers of Damascus steel, Kurenai knives are exceptionally durable, allowing for effortless slicing with just the weight of the knife itself. This precision slicing helps the user of the knife to avoid breaking the cells of the food, enhancing the taste and freshness of the food. This translates to an enjoyable cooking experience – both for chefs and the average person.
Designed to be rust-proof and forged to last decades, Kurenai is a true masterpiece for both chefs and everyday households.
Kurenai launched on Kickstarter on August 23. Having raised a total of 3,180,500 JPY, Kurenai has already raised double its initial funding goal. This support from the Kickstarter community is a true celebration of the spirit and craftsmanship of Japanese kitchen knives.
Support the Kickstarter campaign today and bring the timeless artistry of Kurenai to life.
About Kurenai
Kurenai is a genuine Japanese kitchen knife that combines the sharpness, functionality, and beauty of the Samurai sword to make cooking enjoyable for anyone. Designed by skilled artisans in Seki – home of the Samurai sword – Kurenai carries on the city's legacy of unbreakable, unbendable, and exceptionally sharp blades. Renowned for their exceptional durability and unrivaled sharpness, Kurenai kitchen knives are designed to be passed down from generation to generation.
Media Contact
Company Name: Kurenai
Contact Person: Reimi Kojima
Email: Send Email
State: Tokyo
Country: Japan
Website: https://www.kickstarter.com/projects/douzo/kurenai