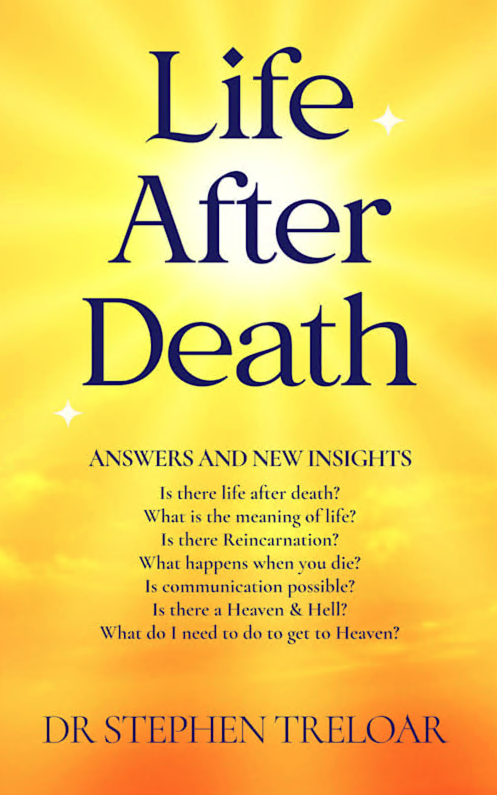 In response to growing curiosity about the afterlife, Dr. Stephen Treloar presents a groundbreaking opportunity to embrace new perspectives and broaden understanding in his latest work, "Life After Death - Answers and New Insights."
Life After Death Publications is thrilled to announce the launch of Dr. Stephen Treloar's transformative book, "Life After Death - Answers and New Insights." This exceptional non-fiction piece avoids imposing the author's viewpoint, opting instead to juxtapose diverse evidence, empowering readers to gain an enriched comprehension of the captivating enigma of life after death. Dr. Treloar's remarkable accomplishment lies in furnishing unbiased material, objectively examining the timeless queries of existence without allegiance to any particular belief system.
Commending the book, The International Foundation of Afterlife Research Editorial Committee states:
"Embark on an unparalleled journey transcending the confines of life itself through Dr. Stephen Treloar's pioneering tome, 'Life After Death –Answers and New Insights.' With unparalleled profundity, exhaustive research, and unwavering commitment to authenticity, Dr. Treloar presents an extraordinary contribution to metaphysics, granting readers a mesmerizing peek into the enigmatic cosmos that awaits beyond earthly existence."
Within "Life After Death," Dr. Stephen draws upon years of dedicated afterlife research, skilfully interweaving existing arguments. The result is an opportunity for readers to engage with profound inquiries about the afterlife, the potential existence of heaven and hell, post-mortem communication, and other topics that traverse religious boundaries. The book refrains from advocating a particular stance, instead equipping readers with a framework to evaluate these perspectives, enabling the formation of personal opinions on subjects that have occupied human contemplation for centuries.
Further review lauds "Life After Death – Answers and New Insights" as an unparalleled contribution to comprehending the afterlife, poised to establish itself as a seminal work in the field. More than a mere arrangement of words, this book beckons readers to embark on a soul-transforming odyssey. "Whether you're a seasoned scholar, a spiritual seeker, or simply enticed by the mysteries beyond, this book will captivate your intellect and ignite your soul."
The book also considers reincarnation, near-death experiences (NDE), The Meaning of Life, Grief and Grieving, Communication with the Afterlife, whether there is a Heaven and Hell, and how one gets to Heaven.
Dr. Stephen Treloar's "Life After Death - Unveiling Answers and New Insights" is now accessible in Kindle and Paperback/Hardcover formats. To acquire a copy, kindly visit:
Amazon Link or explore further at LifeAfterDeath.au
Media Contact
Company Name: Life After Death
Contact Person: Dr. Stephen Treloar
Email: Send Email
Country: Australia
Website: www.lifeafterdeath.au