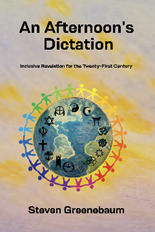 "Many would say God, but then…Who or what is God? Others would say there is no God, but there is a moral force in the universe, and then argue over the nature of that moral force. Still others would embrace the idea that there is a sacred 'something' that we should cleave to, without placing any name on it. Then, being the rather arrogant humans that we are, we would argue about it, often passionately, sometimes violently. Who's right? If our religions and spiritual traditions are languages for speaking to and about the sacred—languages that keep changing over time and circumstance—then, as there is no one 'right' language, there is no one 'right' answer to how we speak to and about the sacred."
- excerpt from An Afternoon's Dictation
In 1999, Steven Greenebaum grabbed a pen and paper, and after a lifetime of demanding answers from God, found himself writing what he could only describe as revelations. The three pages of text brought him some peace, but it also brought more questions.
He knew he would spend the rest of his life seeking to understand what happened that day, and what those revelations truly meant.
After years of religious studies, he found himself pulled further and further toward an Interfaith approach to religion, a type of faith that applies to all, whether they believe in God or not.  
Finally, after establishing the Living Interfaith Church and publishing several books, Greenebaum is sharing not just the revelations he received at the beginning of his Interfaith journey, but what he has made of them.
This is a book that pulls together Greenbaum's life's work. He is no prophet. He is simply a man on a journey of faith, sharing his own struggle to understand the unknowable. His belief is that, regardless of faith, we are all from one source, and thus we all can find a home in faith.
Firebird Book Awards honorable mention
London Book Fair winner
Steven Greenebaum is the founder of the Living Interfaith Church. In addition to his work as an Interfaith minister, he has written many books, including Practical Interfaith, The Interfaith Alternative, and One Family: Indivisible, and Seeking Balance in an Unbalanced Time.  His drive and passion is to promote oneness and aid humanity through social and environmental justice.
Available on pre-order at Amazon and Barnes & Noble
Media Contact
Company Name: MSI Press
Contact Person: Betty Lou Leaver, Managing Editor
Email: Send Email
Phone: 831-578-0290 (phone), 831-886-2486 (fax)
Address:1760-F Airline Hwy
City: Hollister
State: CA 95023
Country: United States
Website: http://msipress.com/shop