Del Mar, CA - The Ramsey Art Gallery, located on the third level at the Del Mar Plaza, is excited to announce the book release of S.H.E. Share Heal Empower, Volume Two, on June 4th. The book, written by Shannon Hogan Cohen, presents twenty-two stories of women from diverse cultures and ages who share their heartfelt journeys of discovery, resilience, and perseverance.
Hogan Cohen's book celebrates the power of storytelling as a tool for healing and inspiration for women of all ages and circumstances. The stories in S.H.E. Share Heal Empower, Volume Two, are accompanied by artwork specifically created for each chapter, providing an added dimension to the powerful narratives. The author states, "I am thrilled to bring this new volume to readers and to continue my mission of honoring the stories of women from all walks of life. Through their words, we can all find connection and empowerment and make a difference in the world together. All stories matter.
"S.H.E. Share Heal Empower, Volume Two, is more than just a book. It is a collection of stories that inspire, motivate, and connect women from all walks of life. From a Southern California Gen Alpha to an eighty-year-young Moroccan filmmaker, every storyteller in the book has been exclusively paired with artwork created just for her story. The author has provided a personal introduction to each chapter, which lends a unique subtext and an inviting tone to the book. This variation and nuance of voices create a perfect harmony of storytelling that empowers readers to embrace their vulnerabilities and powers.
All proceeds from the sale of S.H.E. Share Heal Empower, Volume Two, support the S.H.E. Foundation, an organization founded by the author dedicated to empowering and educating women across all ages and cultures, transcending race, religion, ethnicity, and politics.
The book release event at the Ramsey Art Gallery in the Del Mar Plaza on June 4th from 2 - 5 pm promises an unforgettable experience. Guests will be able to meet Shannon Hogan Cohen and several storytellers featured in the book. There will be a book signing and exclusive readings from the book. In addition, attendees can view the beautiful artwork accompanying each story and meet the talented local artists who illustrated them. The book is also available on Amazon in paperback & e-book formats.
For more information about S.H.E. Share Heal Empower, Volume Two, and the S.H.E. Foundation, please visit www.sharehealempower.com. To attend the book release event and support the local storytellers and artists, see the Del Mar Plaza's website for more information at www.delmarplaza.com or Ramsey Art at www.ramseyart.com.
Contact: Shannon Hogan Cohen
(805) 889-1115
About Shannon Hogan Cohen
Shannon Hogan Cohen is a writer, speaker, and advocate for women's empowerment. She founded the S.H.E. Foundation, a non-profit organization that provides educational and support services to women and girls. Ms. Hogan Cohen is also the author of the book S.H.E. Share Heal Empower, Volume One. She passionately believes in storytelling's power to heal and inspire, believing that sharing our stories allows us to connect deeper and build a more compassionate world. She lives in Del Mar, CA.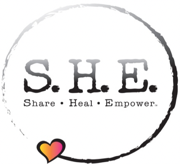 Media Contact
Company Name: Deckle Way Press
Contact Person: Shannon Hogan Cohen
Email: Send Email
Phone: (805) 889-1115
Country: United States
Website: www.sharehealempower.com