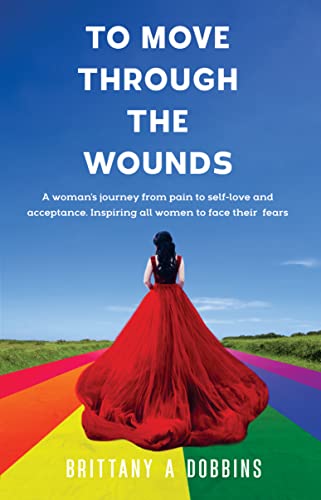 "To Move Through the Wounds" by Brittany A. Dobbins has been released worldwide. This autobiographical, 123-page book is both a memoir of the author's experiences and a self-help guide that taps into struggles that women of all backgrounds face. By sharing her personal journey, she encourages women everywhere to speak up about their experiences with domestic violence, sexual assault, and trauma of all kinds – not only for broader social awareness about these critical issues, but also to begin the process of true healing. In vulnerable and honest language, Dobbins addresses fear, pain, and lasting emotional damage while also providing an inspirational, hopeful outlook toward the future. She aims to use her own story as a means of empowering survivors, showing the inherent bravery all women share and sparking discussion about the difficult social realities they face. 
By combining the deeply personal with broad advice about mental health, self-acceptance, and courage, the author has crafted an intense, moving reminder that women are not alone in their trauma. 
To Move Through the Wounds (ISBN: 9798218039134) can be purchased through retailers worldwide, including Barnes and Noble and Amazon. The paperback retails for $10.99 and the ebook retails for $0.99. Review copies and interviews are available upon request. 
About the book:
My Book is a love letter to all women who are survivors of domestic violence, and sexual assault. It is an autobiography of what I went through as a child to now. The book describes all the emotions, feelings, and events that became a journey of pain, self-love,and acceptance. It details my struggles with mental health and the taboo topics we tend to overlook because we are too scared to identify with or even discuss them in public or in private with our significant others, family members, and friends. It's an intense and heartbreaking look at reality and addresses several experiences within the realm of trauma. I wanted to show how flawed women are, transforming the typical narrative of "women who cry wolf" into a lesson for men and society that we are to be believed. We are survivors in every way. The bravery of women is in each and every one of us.This book is really made for women of all ages and generations, the Gloria Steinem's of the world, the Rosa Parks, the Serena Williams', the Meghan Markle, the Harriet Tubman, the law-breakers, the Me Too Movement Women, and for all the little girls who grew up to become fighters like I did and many other inspiring women.Aside from my book being an autobiography, it is first and foremost a trauma self-help book for women who have experienced every kind of trauma there is. I felt a need to help women through their own pain. I suffered immensely. I didn't want other women or little girls out there to suffer the same way I did or even when I have my own child one day. So, this story is for all of you. I hope you enjoy my journey and know that you are not alone. Keep fighting. 
About the author:
Brittany Dobbins is a writer and aspiring author who has always dreamt of writing a powerful and beautiful novel that empowers women. She is a brave and courageous survivor of domestic violence and sexual assault. Brittany is also a fierce feminist and activist for women who have experienced trauma. She hopes that her story will inspire all women who deserve to have a voice and speak the truth.
Media Contact
Company Name: MindStir Media LLC
Contact Person: Jen McNabney
Email: Send Email
Phone: 800-767-0531
Address:1 New Hampshire Ave Suite 125
City: Portsmouth
State: NH
Country: United States
Website: https://mindstirmedia.com/