Cryptocurrencies or Gold? Why Not Both?
August 18, 2021 at 15:51 PM EDT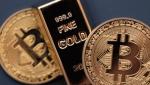 Investors seeking alternative assets may find that both digital currencies and gold exchange traded funds have a place in everyday investment strategies. In the recent webcast, Can Bitcoin Join Gold at the Alternative Asset Table?, Frank Holmes, CEO of U.S. Global Investors and Executive Chairman...