Consultants call for reimagining police departments nationwide, ask for help from the apparel industry.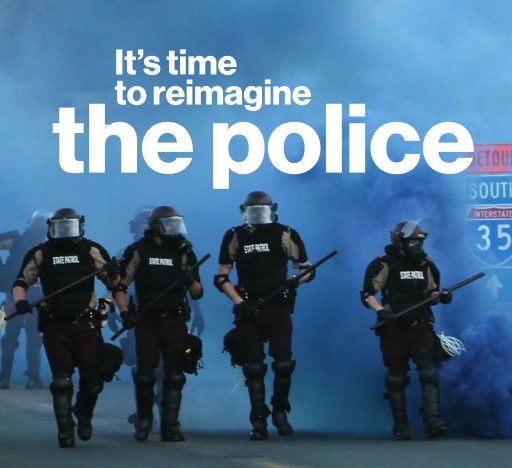 PORTLAND, Ore. - September 24, 2020 - (
Newswire.com
)
​​​CreateGood, a marketing and branding creative "think tank," has used design thinking to rebrand Police departments nationwide. The team has also challenged sporting apparel manufacturers to step-up and donate their research and design resources to help redesign and "demilitarize" the Police. They believe the Police "brand" escalates confrontations with the communities they serve. Police uniforms are currently designed by uniform industry manufacturers.
"Nike and adidas make money from people of color by selling shoes and apparel," says strategist Jerry Ketel. "And we find it odd that these industrial giants have been largely quiet about the issue of police brutality and militarization. They've made nice ads about BLM, but they can make a real difference. If they choose."
Since the 1990s, over $5 billion of surplus military equipment has been transferred to police departments. "Over the years, our Police have become more menacing looking, "states Ketel. "The vehicles are now all black. And so are the uniforms, it's almost like our police forces want to become Batman."
The marketing and branding firm has made recommendations to make the Police look less like an army and more like a professional community service. "The police deserve respect," Ketel asserts, "But they also need to respect the communities they serve."
Design recommendations include making the vehicles white, making the uniforms lighter blue, with emergency color accents. The firm believes that police forces can take design cues from sporting teams instead of the military. "This is where the apparel industry can help. They have the resources to research and discover the most effective approach," says Mr. Ketel. "What we do know is that military-style uniforms increase brutality." CreateGood points to a recent Fast Company article that cites research on the effect of clothing on the wearer. The report suggests clothing effects attitude and that a militarized uniform makes police officers more violent.
In addition to clothing and vehicles, the team looked at the naming of the Police. They assert the word Police itself is outdated and doesn't reflect the needs of our communities. "We think they should be called Peace Officers and Protectors," they say.
CreateGood recommends that Police Departments become part of a more massive emergency services structure. "Police Departments are too siloed and cut off from the rest of the community," Ketel says. "They need to be integrated to include social services." CreateGood thinks that including social workers on domestic disputes and similar police calls can be more effective. A pilot program in Dallas, TX, reports good results when they send a social worker and a Police officer. "Why not have social workers and police officers mingle more as well?" questions Ketel. "Emergency Services should be thought of as a system or a toolbox. You don't always use a hammer. Other tools can be used as needed."
Related Links
Reform the Police Medium Post
Why outfitting police in military uniforms encourages brutality
Press Release Service by
Newswire.com
Original Source:
Rebranding the Police: Changing the Structure, Uniforms and Name to Make Policing Safer