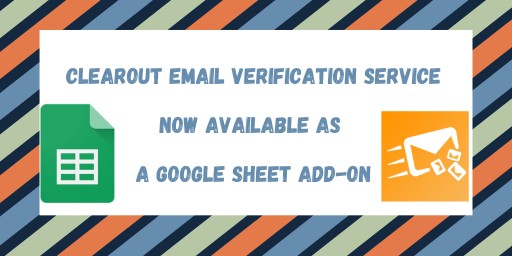 DELAWARE, Ohio - August 6, 2020 - (
Newswire.com
)
​​​Clearout for Google Sheet, an email verification add-on, provides verification of bulk email addresses directly on Google Sheets. Save your time and money by avoiding the use of any data management tool or service.
Clearout, a smart email tester, is now available as a Google Sheets add-on, a unique feature currently unavailable on any other email verification tool. The add-on aims at increasing user productivity by reducing the extraneous efforts on the maintenance of data.
Emails have always been the most reliable and time-tested channel of engagement for businesses. Now with the enormous impact of COVID-19 on the worldwide economy, the use of emails has multiplied many times in every field of every industry. One good thing in this situation is that users understand the role and importance of email verification to bring a positive outcome through their email marketing campaigns.
The indisputable response of users towards Clearout has kept us satisfied, but there were a few cases that made us realize that the needs of the users were not limited to verification of the data; maintenance was quite a big task too. Let's look at some of the cases to understand the necessity of Clearout for Google Sheets.
Issues like verification of the same list more than once, misplacing verified data, and miscommunication within the team while sharing the data were gaining weight. That is when Clearout for Google Sheets came into the picture.
GnanaPrakash (GP), the founder of Clearout, shares his delight: "Since the very beginning, our goal has been to ease the task of the users. With COFS, a user can avoid complications of uploading, downloading and running between the list, plus save the money usually spent on expensive data management tools."
Now that the Clearout for Google Sheets add-on is live, people can install this email verification Google Sheets add-on through the G Suite Marketplace, maintain all their data in one place and verify them in real-time as per their requirement. No confusion, complications, or waste of resources. In fact, the wide range of Google Sheet add-ons available can make Google Sheets a one-stop solution for all your email marketing needs.  
About Clearout
Clearout is an advanced email validation and verification service with 98%+ accuracy, faster turnaround, and ease-of-use features. It has been declared as a leader by G2, with over 400 million+ emails already verified; more than 15 million emails IDs are verified per day to remove abuse, spam traps, temporary and invalid addresses and help multi-sized businesses to capture the legitimate prospects, keeping away all negative aspects that can hamper emails from getting delivered. Also, Clearout's email verification integrations with all major ESPs, CRM, and marketing platforms help to automate the verification process. Clearout has established an international presence with 15K+ clients and with multiple cloud deployment options for enterprises to provide best-in-class security.
Press Release Service by
Newswire.com
Original Source:
Clearout Email Verification Service is Now Available as a Google Sheets Add-On