Tickers: XTSX:NCI, PINX:NYWKF
Tags: #Telecommunications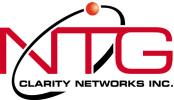 Toronto, ON - TheNewswire - July 8, 2020 - NTG Clarity Networks Inc. (TSXV:NCI) (OTC:NYWKF), announces its first quarter results for the period ended March 31, 2020 (all figures in Canadian Dollars).
The following outlines the events that occurred in Q1 2020:
- On February 3, 2020, after the required Stock Exchange (TSX) review, NTG's shares resumed trading.
- On March 11, 2020, the World Health Organization (WHO) declared COVID-19 to be a global pandemic. Countries restricted travel, closed non-essential businesses, and asked that people stay home. NTG closed all offices and asked staff to work remotely.
- On March 20, 2020, due to the global economic situation and the inability of NTG to renew its Directors and Officers insurance, the Corporation announced that the two independent Board members and one other Board member resigned from NTG's Board. Mr. Ashraf Zaghloul, Chairman and CEO, and Kristine Lewis, Director and President are the two remaining directors of NTG.
Consolidated revenue for the three months ended March 31, 2020 was $2,474,766 compared to $3,616,344 for the same period in 2019 and is made up of product-related revenue and professional services. Professional service revenue continues to be an important strategic source of revenue for us, given its generally recurring nature (77%). The contribution of product-related revenue increased to 22% in Q1 2020 as we work to make product sales a more balanced part of NTG's revenue stream, however the revenue mix varies from quarter to quarter. Much of our professional services revenue arises from our product sales.
The gross margin for Q1 2020 was $887,409 or 36% compared to $1,583,959 or 44% for the same period in 2019. We continue to work in all regions to optimize the cost of sales for our revenue.
G&A expenses for the three months ended March 31, 2020 were $596,720 compared to $584,195 in Q1 2019. The small increase was due to End of Service costs for terminated employees in KSA.
Selling expenses for the three months ended March 31, 2020 were reduced to $273,289 compared to $398,995 in Q1 2019. We have worked to reduce selling costs in Q1 2020. Some technical personnel were re-assigned to projects and tradeshows and marketing events were cancelled.
For Q1 2020, NTG recorded a net loss of $598,736 as compared to a net income of $304,719 in Q1 2019. This loss for both operating segments was substantially attributable to the foreign exchange resulting from the stronger US dollar. In all, the exchange loss contributed $545,045 towards our $598,736 loss for the period.
Working capital as at March 31, 2020 was a deficit of $5,475,931 compared to a deficit of $4,490,883 at December 31, 2019.
Income Statement Highlights for the Three Months Ended March 31, 2020 and 2019
March 31, 2020

March 31, 2019

REVENUE

$

2,474,766

$

3,616,344

COST OF SALES

1,587,358

2,032,385

GROSS MARGIN

$

887,409

$

1,583,959

Operating Expenses

870,009

983,190

Foreign Exchange Loss

344,830

148,691

Other Expenses

71,091

254,814

Net (Loss) Income before taxes

$

(398,521)

$

197,264

Other - Exchange (loss) gain on translation

(200,215)

107,455

Net (Loss) Income after Taxes

(598,736)

304,719

per share (basic)

$

(0.01)

$

0.01

per share (fully diluted)

$

(0.01)

$

0.01
June 30, 2020

December 31, 2019

Current Assets

$

2,575,438

$

2,588,976

Current Liabilities

$

8,051,369

$

7,079,859

Long-Term Debt

$

7,100,712

$

7,100,712

Shareholder's Equity

$

(12,699,821)

$

(12,102,151)
Outlook
We anticipate the COVID-19 pandemic will continue to have an impact on our customers and operating activities. We continue to adjust to changing circumstances. We had two positive announcements subsequent to quarter end:
- On May 27, 2020, NTG announced it had received a renewal of work for a project for one of the major banks in the Gulf area. The project value is about $1.5M. This is for a one-year extension with the potential of additional work.
- On June 1, 2020, NTG announced it had received a renewal of resource work for one of the major Telecom Operators in the Middle East. This one-year extension is valued at approximately $725,000.
At the time of publishing of this report, NTG's offices have re-opened with the Egypt office starting a gradual return with enhanced health and safety protocols. Employees working at customer sites are following customer's protocols for working onsite or remotely.
About NTG Clarity Networks Inc.
NTG Clarity Networks' vision is to be a global leader in providing networking solutions. As a Canadian company established in 1992, NTG Clarity has delivered networking, IT and network enabled application software solutions to network service providers and large enterprises. More than 300 network professionals provide design, engineering, implementation, software development and security expertise to the industry's leading network service providers and enterprises.
Forward Looking Information
Certain statements in this release, other than statements of historical fact, are forward looking information that involves various risks and uncertainties. Such statements relating to, among other things, the prospects for the company to enhance operating results, are necessarily subject to risks and uncertainties, some of which are significant in scope and nature.
These uncertainties may cause actual results to differ from information contained herein. There can be no assurance that such statements will prove to be accurate. Actual results and future events could differ materially from those anticipated in such statements. These and all subsequent written and oral forward looking statements are based on the estimates and opinions of the management on the dates they are made and expressly qualified in their entirety by this notice. The Company assumes no obligation to update forward looking statements should circumstances or management's estimates or opinions change.
The TSX Venture Exchange does not accept responsibility for the adequacy or accuracy of this release.
For Further Information:
Kristine Lewis, President, NTG Clarity Networks Inc.
Ph: 905-305-1325
Fax: 905-752-0469
Copyright (c) 2020 TheNewswire - All rights reserved.