Tickers: XTSX:NCI, PINX:NYWKF
Tags: #Telecommunications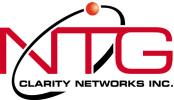 Toronto, ON - TheNewswire - May 28, 2020 - NTG Clarity Networks Inc. (TSXV:NCI) (the "Company"), a leader in delivering network, IT and infrastructure solutions, today announced that, as previously announced on April 28, 2020 and relying upon the blanket exemptions issued by provincial securities commissions due to the COVID-19 outbreak, it expects to file its annual financial statements for the year ended December 31, 2019 and related management's discussion and analysis ("MD&A") on or about June 10, 2020. The Company also expects to file its interim financial statements and related MD&A for the three months ended March 31, 2020 on or about July 8, 2020.
The Company confirms that there have not been any material business developments since April 28, 2020, the date the Company announced it was relying on the blanket exemptions, other than as disclosed in the Company's previous news releases.
Certain statements contained in this press release constitute forward-looking information. These statements relate to future events or future performance. The use of any of the words "could", "intend", "expect", "believe", "will", "projected", "estimated" and similar expressions and statements relating to matters that are not historical facts are intended to identify forward-looking information and are based on the Company's current beliefs or assumptions as to the outcome and timing of such future events. Actual future results may differ materially. In particular, this press release contains forward-looking information with respect to the anticipated timeline for the filing of continuous disclosure documents and the impact of the COVID-19 pandemic on the Company's activities. Various assumptions or factors are typically applied in drawing conclusions or making the forecasts or projections set out in forward-looking information. Those assumptions and factors are based on information currently available to the Company. The material factors and assumptions include the nature and scope of public health restrictions, the availability of regulatory exemptions, the availability of key personnel, general economic conditions, market conditions, access to capital and competitive conditions. The Company cautions the reader that the above list of risk factors is not exhaustive. The forward-looking information contained in this release is made as of the date hereof and the Company is not obligated to update or revise any forward-looking information, whether as a result of new information, future events or otherwise, except as required by applicable securities laws. Due to the risks, uncertainties and assumptions contained herein, investors should not place undue reliance on forward- looking information. The foregoing statements expressly qualify any forward-looking information contained herein.
Neither TSX Venture Exchange nor its Regulation Services Provider (as that term is defined in the policies of the TSX Venture Exchange) accepts responsibility for the adequacy or accuracy of this release.
For further information contact:

Email: KLewis@ntgclarity.com
Copyright (c) 2020 TheNewswire - All rights reserved.