The new update of Wondershare Recoverit now provides free advanced media recovery features as well. It supports all the popular video formats and different recovery modes. Users can recover 10 media files of any size for free from a system's native storage or any other external storage unit.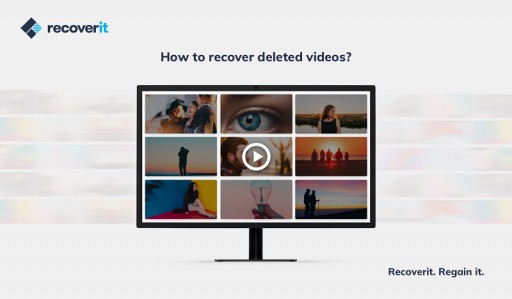 SHENZHEN, China - March 12, 2019 - (
Newswire.com
)
Wondershare has been a pioneer in data recovery for years, and its latest tool (Recoverit) has proved the same. The tool has recently released a dedicated support for free recovery for Windows and Mac. It runs on a sophisticated data recovery algorithm, which yields one of the highest success rates in the domain. With the new update, the company expects to gain more users and retain their existing leads at the same time. Now, users can recover up to 10 media files for free without any size limit.
Recoverit by Wondershare is a user-friendly tool that claims to recover data under different conditions. Some common scenarios that it supports are accidental video deletion, data loss caused by malware attack, corrupt file storage, external data source file recovery, Recycle Bin recovery, and more. Apart from performing data recovery on their computer's internal drive, users can also recover deleted videos from SD card, USB, external hard drive, etc. 
The data recovery application can perform different types of scans. Users can either go with the normal scan (that takes less time) or perform a deep scan. While the deep scan would take more time, the results generated are also detailed. Following are some of the major features of Wondershare Recoverit video recovery tool.
Recoverit provides a free recovery option of up to 10 media files (no size limit).
The recovery tool has an intuitive and user-friendly interface. It can recover the lost, deleted, and inaccessible videos under different scenarios.
Users can achieve video recovery of different formats like MOV, VLC, MP4, M4V, F4V, 3GP, and so much more.
Apart from videos, it can also support audio recovery as well as other files like photos, documents, emails, zipped folders, etc. It supports the recovery of more than 1000 different file formats.
The interface provides a preview of the recovered data. This lets its users verify the recovered files and then recover them to a safe location selectively.
  It can perform data recovery through two different scanning methods. Also, it supports recovery on an internal storage or any other connected external data source.
The tool has one of the highest data recovery success rates in the industry. The new update has now made it easier for its users to recover deleted and lost videos in no time. Angela, who is one of the users of Wondershare Recoverit has said, "I tried Recoverit after some of my videos from a trip were lost. After a quick scan, the tool was able to retrieve most of my data. I previewed it and saved it to a secure location. All of this was done in minutes, without any technical assistance."
Since the application is quite easy to use, it allows its users to perform data recovery as per their convenience. There's no need to visit a dedicated repairing center or take the assistance of technical support. The application can recover videos shot on drones, camcorders, video cameras, and other devices as well.
The application runs on all the leading Windows and Mac systems. The Windows versions are supported by XP, Vista, 7, 8, and 10. The Mac application is supported by macOS X 10.8 to 10.14 as of now.
About Wondershare Recoverit
Wondershare Recoverit has more than 5 million users in over 160 countries, making it one of the most popular and widely used data recovery tools in the world. Wondershare has been active in the data recovery domain since 2003. The company is known to develop one of the first data recovery tools for smartphones. With a presence in global cities like Tokyo, Vancouver, and Shenzhen, the company is focused on research and developing innovative utility tools.
Press Release Service by
Newswire.com
Original Source:
Wondershare Recoverit Now Supports Free Media Recovery Options