Winner of Two Gold, Three Silver Awards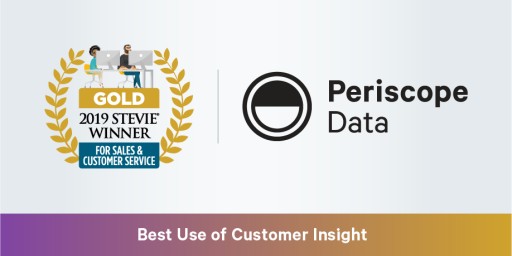 SAN FRANCISCO - February 26, 2019 - (
Newswire.com
)
Periscope Data, the world's leading analytics platform for data professionals, has been honored as a winner in five categories of the Stevie® Awards in acknowledgment of its world-class customer solutions team. The award wins include:
Gold in "People's Choice" award for Favorite Customer Service team
Gold in the "Best Use of Customer Insight" category
Silver in the "Front-Line Customer Service Team of the Year" category
Silver in the "Customer Service Department of the Year" category
Silver in the "Customer Service Management Team of the Year" category
The Stevie Awards for Sales & Customer Service are the world's top honors for customer service, contact center, business development, and sales professionals. More than 76,000 votes were cast worldwide to select the People's Choice winners, while winners in other categories were determined by the average scores of more than 150 professionals worldwide in seven specialized judging committees.
Periscope Data has experienced tremendous growth as a leader in BI and analytics, and its solutions team has expanded quickly to keep pace. In the past year, the team built out a dedicated professional services unit, centralized its internal knowledge base, invested in community development and spent hundreds of hours learning new computing languages to better assist customers, all while maintaining a 97 percent chat rating and sub-five-second response time.
"Our customer solutions team truly stands out from the crowd and plays a significant role in the continued adoption of our platform," said Tom O'Neill, Co-Founder at CTO of Periscope Data. "This team does far more than customer support – they are full-fledged data analysts. They guide our less mature customers on how to get started with data analysis and help more mature customers tackle complex problems in SQL, Python, and R. We're honored by this recognition from the Stevie Awards to celebrate our team's excellent work."
"All of the Stevie Award winners should be very proud of their achievements. Independent professionals around the world have agreed that their accomplishments are worthy of public recognition," said Stevie Awards President and founder, Michael Gallagher.
Learn more about the Stevie Awards for Sales & Customer Service at www.StevieAwards.com/Sales.
About Periscope Data
Periscope Data is an end-to-end BI and analytics platform for anyone looking to answer complex questions with data. Business professionals and data experts use Periscope Data every day to connect all of their data sources, analyze, visualize and share insights. The platform offers the fastest time to insight, unmatched power, and the flexibility to meet the demands of every part of the business. Periscope Data is trusted by more than 1,000 customers, including Adobe, Crunchbase, EY, Flexport, and ZipRecruiter
About the Stevie Awards
Stevie Awards competitions receive more than 12,000 entries each year from organizations in more than 70 nations. Honoring organizations of all types and sizes and the people behind them, the Stevies recognize outstanding performances in the workplace worldwide. Learn more about the Stevie Awards at www.StevieAwards.com.
Contact: Frank Bauch , marketing@periscopedata.com
Related Links
Periscope Data
Related Images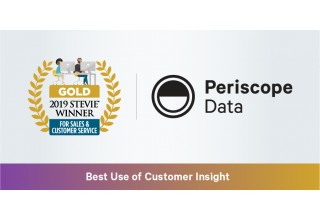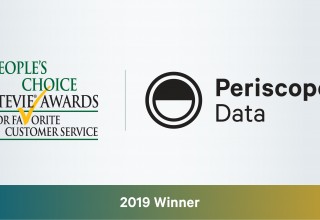 Press Release Service by
Newswire.com
Original Source:
Periscope Data Honored by Stevie® Awards for Customer Solutions Excellence