Brian Harmon, Senior Executive formerly with Trend Micro, Palo Alto Networks, Agari and Illusive, Joins Acreto Advisory Board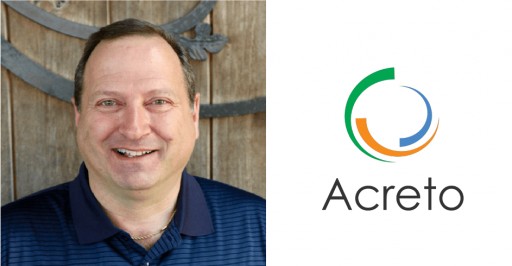 JERSEY CITY, N.J. - February 26, 2019 - (
Newswire.com
)
​Brian Harmon, former VP of Sales for Palo Alto Networks with a performance history of leading rapid-growth sales efforts, has joined award-winning startup Acreto IoT Security's Advisory Board. Harmon is working closely with Acreto's management team on market strategies to provide advanced and comprehensive protection for the world's most vulnerable systems - Internet-of-Things (IoT) technologies. 
Brian Harmon has spent the last 30 years as a senior sales and marketing executive building profitable growth in the security, technology services and telecommunications industries. Leading the charge at Palo Alto Networks, Trend Micro, Agari, and Illusive Networks, Brian has a reputation for over-performance, building and leading exceptional sales teams, and steering go-to-market strategies.
"Having previously worked with Babak Pasdar, I am excited to rekindle a winning formula by joining the Acreto team," said Harmon. "Acreto's technology and approach to solving the vast areas of critical risk in IoT environments are simply elegant. From a cyber-security perspective, Acreto is uniquely purpose-built to encompass all threat vectors in a manageable way -- one that traditional security just can't address. It's remarkable to see this level of innovation to further business-enable an already exploding IoT space."
IoT technologies are slated to grow to 50 billion by 2021 -- comparatively, this is six orders of magnitude larger than the ubiquitous mobile phone market. IoTs have also introduced a new compute dynamic known as "dependency compute," where the owners of the IoT, its network, its dependent application and infrastructure as well as the IoT and application managers, may all be third-parties to one-another. Current security methods and tools are completely ineffective to protect this wholly new compute model.
"Brian's expertise in developing and nurturing adoption for emerging technologies is unparalleled," said Babak Pasdar, Acreto's CEO and CTO. "I'm excited to be working with Brian again since those early days at Palo Alto Networks and thrilled to welcome him to Acreto. We look forward to benefiting from his profound knowledge and experience."
IoTs have transformed how companies create, operate and sell, and are being embedded into anything and everything. However, hackers are actively exploiting these vulnerable devices because today's legacy security tools are just not viable and cannot adapt to secure these highly distributed platforms. The Acreto team, with the addition of Brian Harmon, continues to rethink and innovate cyber-security that elegantly addresses the IoT security crisis.
About Acreto IoT Security
Acreto delivers advanced security for IoT Ecosystems, from the cloud. Securing any technology, on any network, anywhere, Acreto addresses the IoT security crisis driven by IoT platforms that are distributed, resource-challenged and consist of many diverse and unlike technologies. The company is led by an experienced management team with multiple successful cloud security innovations. Learn more at https://acreto.io or @acretoio.
Contact:
Alexandra Puchala
Manager, Marketing and Public Relations
Related Links
Acreto IoT Security
Acreto Ecosystem Security
Press Release Service by
Newswire.com
Original Source:
Brian Harmon, Former Palo Alto Networks Sales VP, Joins Acreto