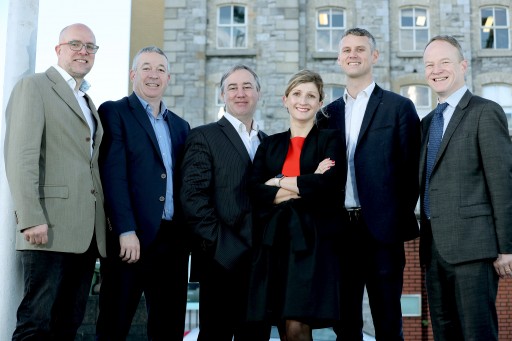 DUBLIN - December 20, 2018 - (
Newswire.com
)
Technologies and Services that enable the rapid deployment of next generation Internet of Things (IoT) solutions are at the heart of Danalto, a Trinity College Dublin spin-out that today announces a seed investment of €750,000 led by Atlantic Bridge. 
The investment has been made by the Atlantic Bridge University Fund, a €60m investment Fund investing specifically in companies built from world-class Irish research, together with Enterprise Ireland through its High Potential Start-Up Programme. The investment will be used to grow Danalto Engineering, Sales and Customer support teams in Ireland, and expand market reach into global enterprises.
Danalto is founded by David McDonald (ex Vice President at Intune Networks), Tom Farrell (ex Chief Technology Officer at Intune Networks) and Albert Baker (ex O2 and Eir mobile). This expert team is delivering scalable IoT connectivity solutions based on Low Power Wide Area Networks (LPWAN), a connectivity standard ideal for private enterprises or smart city deployments. Danalto will service a global market on course to grow by 34% CAGR for the next decade, supporting the connection of over 6 billion IOT devices by 2025. 
Deploying IoT solutions at massive scale is challenging as it requires complex integrated systems combining device security, data integrity and assured connectivity. With an expert team and core innovation in device geolocation verification and peer identity management, Danalto is an ideal technology partner for enterprises wishing to deploy IoT applications at scale. Danalto is supporting the evolution of new business models that will further drive the IoT adoption.
Following the Danalto team's successful delivery of the Pervasive Nation (www.pervasivenation.ie) innovation testbed driven by SFI-CONNECT, a Science Foundation Ireland Research Centre for Future Networks and Communications, the team is already actively providing full end-to-end managed services to enterprises. These include food processing, cold-chain warehousing and telecom operators (Three Ireland). Danalto has been awarded several public contracts for the delivery of next generation low energy geolocation technologies, as well as Small Business Innovation Research challenges and several Smart City projects associated with infrastructure protection and security.
Danalto is building an extensive Intellectual Property portfolio in low energy IoT devices and systems. The Company is working in partnership with several leading Irish Research Centres and Universities (Trinity College Dublin and Dublin City University) to build, strengthen and evolve these core capabilities through the commercialisation of research funded by Enterprise Ireland.
Commenting on the announcement, David McDonald, Founder & CEO, Danalto, said "I am delighted to announce this major first step for the business and to have such credible investment partners backing the company. The Internet of Things market is in its infancy and we look forward to driving this market over the coming period so that Enterprises can cost-effectively gain more and better insight into their business operations.  Furthermore, through the right technology assets, Danalto's low energy network technologies can be leveraged to provide economical solutions to massive IoT logistics, tracking and identity challenges."
Helen McBreen, Investment Director, Atlantic Bridge, commented; "I am pleased to welcome danalto to Atlantic Bridge's growing portfolio of early stage companies emerging from Irish research institutions. This investment will enable the Company to accelerate expansion outside Ireland and deliver complex IoT networking solutions and services to global enterprises in key verticals such as agriculture, logistics and smart cities."  
Niall McEvoy, Manager High Potential Start-Ups ICT Accelerate, Enterprise Ireland, said "Danalto's achievements to date are built on its ground-breaking technology which has widespread potential to provide differentiated services in the IoT ecosystem. The founding team's global ambition is supported by technical knowledge, deep networks and leadership experience and Enterprise Ireland will continue to work closely with the company as it grows and scales in new markets."
Leonard Hobbs, Director of Trinity Research and Innovation, Trinity College Dublin, said "On behalf of Trinity College Dublin, I would like to congratulate Danalto in reaching this important milestone in their development as a Trinity spin out company. We are delighted to see that David and his team are making great strides in translating the world class research from the University into leading edge technologies in the emerging "Internet of Things" market. We are excited to see that they are already operating at an international level and we look forward to watching them grow globally in the months and years ahead."
ENDS
For further information:
Albert Baker - COO
+353 86 814 5904 or albert@danalto.com
About danalto:
Danalto is a leading provider of next generation IoT services and technologies for massive scale low energy IoT applications. Our mission is to make IoT service and technology adoption and deployment easy for enterprises everywhere.
About Atlantic Bridge
Atlantic Bridge is a European Growth Technology Firm which invests in high growth technology companies and accelerates the scale up of these companies by applying its proprietary Bridge Model into the US, Middle East and Chinese markets. The Firm has investment teams, offices and extensive networks in Dublin, London, Palo Alto, Munich, Muscat and Beijing. Atlantic Bridge is focused on investments in high growth and disruptive sectors and such as AR/VR, Artificial Intelligence, Computer Visioning, Robotics, Machine Learning, Enterprise Software and IoT. Visit abven.com
About Enterprise Ireland
Enterprise Ireland is the Irish State agency that works with Irish enterprises to help them start, grow, innovate and win export sales in global markets. Enterprise Ireland partners with entrepreneurs, Irish businesses, and the research and investment communities to develop Ireland's international trade, innovation, leadership and competitiveness. In this way, we support sustainable economic growth and regional development, and help create and sustain employment in Ireland. www.enterprise-ireland.com
About Trinity College Dublin
Trinity is committed to supporting industry — from start-ups to SMEs to MNCs, from short term projects to long term on-going collaborative projects. In a national or international context, we work collaboratively with industry stakeholders and agencies to share infrastructure and expertise, tackle industry relevant research challenges, problems, or address grand challenges. Trinity Research & Innovation is the unit within College that manages intellectual property, supports campus companies and builds external relationships to facilitate academic-industry research collaborations. The aim is to ensure transfer of technology and knowledge from Trinity to external entities for societal and economic benefit.    
Press Release Service by
Newswire.com
Original Source:
Danalto to Accelerate IoT Technology and Service Delivery