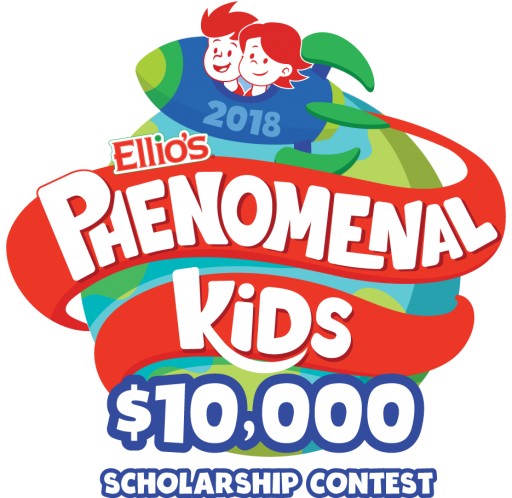 MOUNT LAUREL, N.J. - August 13, 2018 - (
Newswire.com
)
After a successful first run of the promotion in 2017, Ellio's Pizza is kicking off the 2018 Phenomenal Kids Scholarship Contest on Aug. 15.
The program invites parents and legal guardians to write a 500- to 1,500-character submission, highlighting what makes their child phenomenal for a chance at winning a $10,000 scholarship. The contest is open to applicants with children from ages 6 through 12, and guardians with more than one eligible child are encouraged to submit an entry for each minor. Key pillars for content guidelines include these topics: Academic Achievement, Creativity, Active & Happy, and Community Involvement.
During last year's submission period, the contest received over 1,100 submissions, resulting in 10 finalists who submitted short videos showcasing their phenomenal kid to the voters and the Ellio's Pizza community. Fans voted for their favorite submission online, and 12-year-old Sara M. – who is a cancer survivor, an animal lover, a budding performer and a non-profit activist from Dresher, Penn. – was voted the winner of the $10,000 scholarship. The second-prize winner was awarded an all-expense-paid trip to Washington, D.C., to visit the museums of the Smithsonian Institution with her family.
This year, the team behind Ellio's Pizza looks forward to continuing the opportunity of impacting the lives of families they serve.
"Ellio's Pizza got its start in school cafeterias in the 1960s, and we see Phenomenal Kids as a way for us to give back to those families and their children who have supported us all these years," says Bill Whalen, executive vice president of Dr. Oetker USA, LLC, the parent company of Ellio's Pizza. "Together, we can celebrate and support outstanding kids in our communities."
This year's winner will receive the $10,000 scholarship, and the second-prize winner will have a chance to take his or her family on a kid-focused weekend getaway to a select city.
"Phenomenal Kids is more than discovering a scholarship winner," says Melissa Vesci, brand manager for Ellio's Pizza. "It's all about the reassurance and investment in our future generation."
Submissions open August 15 at www.ellios.com/phenomenalkids, and applicants have until November 15 to enter. After the finalists are selected, voting will be open to the public from November 28 through December 13. The scholarship winner will be announced soon after the voting is complete.
The 2018 contest is open to residents of Alabama, Connecticut, Delaware, District of Columbia, Florida, Georgia, Illinois, Maine, Maryland, Massachusetts, New Hampshire, New Jersey, New York, North Carolina, Ohio, Pennsylvania, Rhode Island, South Carolina, Tennessee, Texas, Vermont, Virginia, West Virginia and Wisconsin.
To learn more about Ellio's Pizza and how to enter this year's promotion, beginning on August 15, visit www.ellios.com/phenomenalkids.
ABOUT DR. OETKER
Established in 1891 with the launch of Germany's first baking powder, today Dr. Oetker carries out a legacy rooted in the belief that "quality is the best recipe" and a commitment to building a sustainable presence in the countries in which it does business. Dr. Oetker USA, LLC produces and distributes a variety of dessert mixes, baking ingredients and frozen pizzas (Virtuoso, Ellio's). Dr. Oetker USA, LLC is a subsidiary of the family-run Oetker Group. In 2016, worldwide Dr. Oetker sales were $3 billion. For more information, please visit www.oetker.us.
###
Media Contact:
Altimese Curry
Phone: 843-837-0479
Email: Acurry@bfgcom.com
Related Links
Ellio's Phenomenal Kids Scholarship Contest
Press Release Service by
Newswire.com
Original Source:
Ellio's Pizza to Host Second Annual $10,000 Phenomenal Kids Scholarship Contest