A new Infographic based on data gathered from over 120m API calls in 2016 shows 50% still have persistent issues.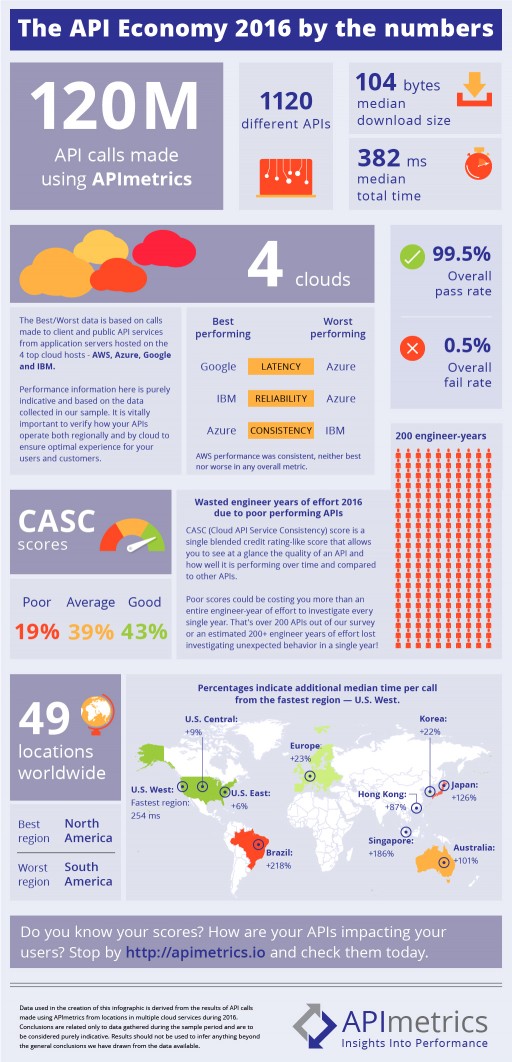 SEATTLE, WA - April 19, 2017 - (
Newswire.com
)
An APImetrics study of 100 million samples shows that more than half the APIs in use have serious issues that could compromise companies and consumers, the company reported today.
"What this shows is that while the number of APIs continues to grow, their quality has not kept pace with that growth," said David O'Neill, CEO and Founder of APImetrics. "If companies fail to identify these issues and fix them, it could lead to growing consumer dissatisfaction that damages their reputation."
APImetrics first reported on the state of APIs in 2013, and found that in any given week more than half would fail at some point. But at the time, there was no way to determine whether or not the errors would impact consumers.
"Since then, we have developed our CASC measurement system. So now we're able to take a more intelligent and detailed look at APIs and their flaws, and how they may affect end users," he said.
The company has used CASC to study over 1,100 APIs that were called over 120 million times in 2016 in 49 locations around the world, and from the four most popular cloud hosting services.
"What shocked us is that the results were far worse than we expected," he said. "Not only did over half of all APIs have issues, but those issues caused the APIs to fall well below best practice standards. In other words, those issues do affect the consumer – and can be deadly to a company's bottom line."
"You wouldn't operate an API without having the right data regarding its availability and stability — the same is true for the API industry, and the folks at APImetrics have those numbers," said Kin Lane, the API Evangelist.
Another notable result of the study was the impact of geography on the results. For example, API calls made from South America can take three times as long as the same call made from California.
"The APImetrics Infographic is purely a snapshot of what we've seen across all locations, APIs and clouds during 2016, the largest sample of its kind ever conducted," he said. "In coming weeks, we'll be releasing a more detailed report on the impact of location and cloud, specifically by location and region."
Get the Infographic at the APImetrics website: http://apimetrics.io/2017/04/17/infographic-shows-50-api-calls-still-issues
About APImetrics
APImetrics offers the industry's leading and only intelligent, analytics-driven API performance solution built specifically for the enterprise. By interfacing with all current and legacy API protocols, APImetrics help CIOs, customer success teams, developers and vendors know if their APIs are performing as designed. Monitoring is supported by analytics and fully customizable downtime alerts to help deliver the actionable intelligence needed by the enterprise to meet service level agreements and customer expectations. APImetrics is currently being used by a variety of companies, including Nokia, First Utility, 247 Entertainment and Microsoft. The company is headquartered in Seattle, WA. More information is available at www.APImetrics.io.
Press contact to David O'Neill, +1 206 972 1140 david@apimetrics.com
Press Release Service by
Newswire.com
Original Source:
APImetrics Three-Year Study: More Than Half of APIs Have Problems That Could Affect Customers [INFOGRAPHIC]