Fort Worth CVB leverages integration to provide a personalized visitor experience using location-based content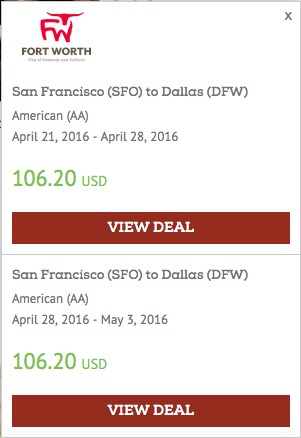 Austin, TX - April 19, 2016 - (
Newswire.com
)
​Get Smart Content, a leading cross-channel personalization platform, has today announced an integration with FareCompare, which offers travel data products that help destination marketers increase tourist arrivals. Fort Worth Convention & Visitors Bureau (CVB) is currently using Get Smart Content's FareCompare integration to provide website visitors with a more personalized experience, delivering the best upcoming flight deals to DFW Airport on the homepage, based on each user's specific origin location.
"Get Smart Content is committed to providing Destination Marketing Organizations (DMOs) with a simple way to leverage data to provide a truly personalized website experience," said Jim Eustace, Founder and CEO of Get Smart Content. "The FareCompare connection allows our customers to leverage our geolocation data to display the highest-scoring travel itineraries, thereby serving their visitors with a customized and relevant experience."
Through the FareCompare integration, Get Smart Content customers can easily create fly-ins or modals on the website to visually display the best upcoming trips. The deal detection system at FareCompare calculates a score for 17+ billion available itineraries per day and provides each client with deep customization opportunities to configure how its best trips are selected.
Fort Worth CVB recently went live with FareCompare's flight deals content and presented on the functionality of the Get Smart Content integration at the recent Simpleview Summit. At the event, marketing statistics manager, Matt Clement, and interactive producer, Jake Sillavan, discussed how the connected platforms allowed Fort Worth to provide a significantly enhanced user experience by being able to better target and segment their most relevant visitors and offering them most geo-relevant flight data.
About FareCompare
Headquartered in Dallas, FareCompare provides travel shopping technologies for consumers at farecompare.com, the trusted source of 6 million global users every month. More information about the company's travel data products, available to DMOs as well as travel marketers and suppliers, is available at www.farecompare.com/b2b.
About Get Smart Content
Based in Austin, Texas, Get Smart Content solves the mystery of who is coming to your website so you can serve the relevant content that drives conversion. Through behavioral and demographic segmentation, Get Smart Content allows you to understand your audience, both known and anonymous, so you can serve the personalized content that resonates. Get Smart Content is venture-backed by Origin Ventures and counts dozens of destination marketing organizations as customers. For more information visit getsmartcontent.com.
Contact Info:
mwohl@getsmartcontent.com
Press Release Service by
Newswire.com
Original Source:
Get Smart Content Announces Integration With FareCompare's Travel Deal Data