Ted Sundquist went through years of the football grind while playing high school football and eventually playing 4 years as a fullback for the United States Air Force Academy. He is no stranger to head injuries and because of that he has made it his mission to find a way to develop and train football players at all levels without subjecting them to repeated head contact. The merger of The Football Educator and VRStudios of Seattle Washington makes that mission a realty.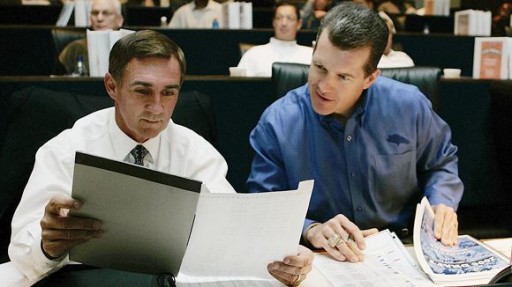 Denver, Colorado - December 17, 2015 - (
Newswire.com
)
"I hit the ground and instantly a stinging pain shot straight between my temples.  I opened my eyes and the ground tipped sideways.  Everything was tinted in bright yellow.  It was one of the scariest moments of my life."
Ted Sundquist knows the consequences of concussions.  For years he pounded heads with defensive players as a fullback for the United States Air Force Academy.  Then later he watched as the players he handpicked in the NFL battled with their own symptoms of this debilitating injury.
Sundquist was the General Manager of the Denver Broncos from 2002-2008, and was an executive with the club for 16 seasons, winning Super Bowl championships in 1997 & 1998.
"It's the greatest game in the world," Sundquist said.  "But if we don't find ways to protect our players of all ages from catastrophic brain injuries brought on by repeated head trauma, there won't be very many left playing the sport in the future."
And so he made it his mission to find a way to develop and train football players at all levels without subjecting them to repeated head contact play after play after play.
Sixty to Seventy-Five concussions occur for every 1,000 games/practices, and 10 percent of all college football players will sustain some degree of brain injury.  Furthermore, players with brain injuries are six times more likely to sustain new injuries as reported by the College Football Assistance Fund.
Enter Virtual Reality.
Sundquist has merged his Denver based company The Football Educator with a rising star in the industry, VRstudios out of Seattle, WA.
"VRstudios has pioneered a game-changing technology in our wireless headset that allows users to physically move around even run and jump within the physical capture space. This actual capture space is featureless, but the user perceives the sights and sounds of a vivid, richly detailed virtual world," said Charles Herrick, CEO of VRstudios.
"The sense of realism is dramatically enhanced by the user's ability to naturally, physically move around in this virtual world, and interact with very realistic virtual objects such as a real football. Through a variety of innovative navigation capabilities, the user can experience the sense that the virtual space is far, far larger than the actual physical capture space.  Just like a regulation football field."
Sundquist told us that the wireless platform utilized by VRstudios will be a complete "game changer" in the way VR is integrated into sports training for the future.
"Our full-motion, wireless VR training tool is designed to reduce the number of devastating injuries from ever happening by exposing ALL players to the most realistic game and practice situations, creating mind/body repetitions that just can't be duplicated under the current restrictions placed upon coaches regarding full contact scenarios."
Sundquist went on to say, "It's been said that to become an expert at anything you need 10,000 hours of repetition.  Our football trainer will help create those coveted repetitions for players that otherwise come up short.  That just won't happen for Quarterbacks without the dynamic of throwing the actual football."
Research showed none of the startups that have recently hit the football market offer any wireless solution, nor the ability to dynamically interact with the virtual playing field. 
Sundquist appears to have found the perfect teammate in VRstudios, and in an industry estimated to be worth a $150 billion within the next five years.
"We're committed to the players, coaches, and fans of football to make the game a much safer experience.  This is the most realistic representation of the game that you'll ever see.  John Madden would be proud!"
To learn more about VRstudios and their ground breaking work in Virtual Reality www.VRstudios.com
Interested investors may contact Ted Sundquist at ted@thefootballeducator.com
Contact Info:
The Football Educator
Press Release Service by
Newswire.com
Original Source:
Former NFL GM Ted Sundquist Is Making Football Safer Through VR Simulation Training