Barton Rouge, LA - Anyone who is facing accusations of sex crimes can seek prompt legal assistance from Louisiana's respected lawyer, David E. Stanley, APLC.
Not everyone accused of a sex offense is guilty of doing so. While sex crimes are unfortunately widespread, fraudulent accusations of sexual assault are also not uncommon. Mr. Stanley is a Reliable Sex Crimes Defense Attorney who can defend anyone facing such accusations. Any sex crime accusation requires a comprehensive investigation to rule out the possibility of false accusations and rights violations.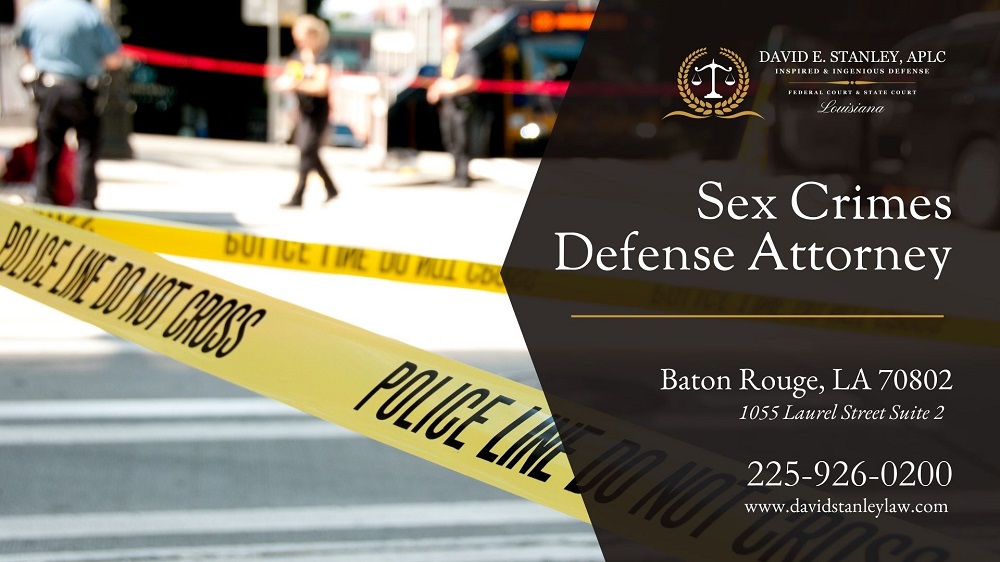 In Louisiana, many different types of conduct may result in a person being charged with a sex crime. Any criminal act that involves sexual activity or contact is considered a sex crime. First-degree rape, second-degree rape, and third-degree rape, as well as sexual battery, second-degree sexual battery, oral sexual battery, aggravated crime against nature, molestation of a juvenile, indecent behavior with juveniles, possession or production of pornography involving juveniles, and human trafficking, are all examples of sex crimes as defined by statute.
Bigamy, prostitution, pandering, enticing persons into prostitution, obscenity, obscene devices, voyeurism, and video voyeurism are all examples of felony sex crimes. However, many others with varying degrees of seriousness are classified and punished in their ways.
Mr. Stanley is the kind of sex crime defense attorney who works tirelessly to defend his client's interests and secures the most favorable outcome possible in every case. The law firm of David E. Stanley, APLC, is prepared to take immediate action on sex crime charges leveled against clients. He understands how quickly these matters can snowball and escalate.
He will vigorously defend anyone against false allegations and fight to protect their legal rights. He also understands the value of tact and discretion. All that being said, those who hire Mr. Stanley can expect compassion, respect, and protection of privacy and legal rights.
Mr. Stanley is well-versed in dealing with witnesses who falsely testify. Clients can avoid spending unnecessary money by working with a skilled sex crime attorney.
Mr. Stanley's practice includes not just sex crime defense in Louisiana but also appeals cases involving drug crimes, firearms and weapons crimes, public corruption, murder by vehicle, violent crimes, white-collar fraud, and financial crimes.
Those who wish to speak with a Sex Crimes Defense Attorney may contact David E. Stanley, APLC, at 225-926-0200. The law office is at 1055 Laurel Street, Suite 2, Baton Rouge, LA 70802.
###
For more information about David E. Stanley, APLC, contact the company here:

David E. Stanley, APLC
David Stanley
225-926-0200
1055 Laurel Street #2, Baton Rouge, Louisiana 70802, United States