Vancouver, British Columbia--(Newsfile Corp. - June 28, 2023) - First Hydrogen Corp. (TSXV: FHYD) (OTC Pink: FHYDF) (FSE: FIT) ("FIRST HYDROGEN" or the "Company") announces that it has now finalized the land option agreements with the City of Shawinigan. The Company's senior management met with Shawinigan Mayor Michel Angers, city and government representatives as well as several strategic partners (Vitrine Technologie-Éducation (VTÉ), CÉGEP de Shawinigan, Centre de Formation Professionnelle, Hydrogène Québec and Investissement Québec) in order to share its green hydrogen vision for the future of Quebec and North America energy transition.
First Hydrogen plans to produce up to 35MW of green hydrogen using advanced electrolysis technology and distribute the hydrogen within the Montreal-Quebec City corridor for use with the Company's hydrogen-fuel-cell-powered vehicles (FCEV) as well as supporting other hydrogen-fuelled vehicles and applications in the region. The FCEVs are planned to be assembled in Shawinigan for distribution throughout North America in combination with the Company's Hydrogen as a Service product offering. The assembly factory will be designed for an annual production of 25,000 vehicles per year when at full capacity and will represent a major boost to green technology jobs in the region.
The global light commercial vehicle market is projected to reach $752 billion (U.S.) by 20301, increasing at a compound annual growth rate of 5.1 per cent during the forecast period (2022 to 2030). First Hydrogen is targeting the commercial van market and light commercial vehicle sector to support fleet operators to move away from fossil fuels and invest in zero-emission transport. As target dates for zero-emission approach, growth for zero-emissions vehicles is predicted to accelerate. Government and industry incentives will further boost market progress and it is expected to develop more as zero-emissions technology improves and is rolled out at scale.
The Company's FCEV has accumulated 6,000 kilometres on United Kingdom roads, including mileage around London's M25 motorway. The data logging supports vehicle range simulations, which exceed a 500 km range. The vehicle is currently performing with excellent efficiency, including both urban, extra-urban (which includes driving at higher speeds) and highway operations. First Hydrogen's LCV fuel consumption figures seen in many driving scenarios are under two kilograms per 100 km, and in mostly urban driving this is 1.5 kg/100 km.
In addition to being aligned with the Quebec Government's Green Hydrogen and Bioenergy Strategy, First Hydrogen's plans exhibit a strong synergy with the future Energy Transition Valley Innovation Zone, Hydrogène Québec and the Hydrogen Research Institute (IRH) of the University of Quebec at Trois-Rivières.
Balraj Mann, Chairman & CEO of First Hydrogen stated, "This is a great day for First Hydrogen. Shawinigan is well positioned with its green energy resources, industrial community and growing energy economy. The established regional education network will allow us to create the required skills of tomorrow so instrumental in our business development success. We wish to thank the City of Shawinigan for their ongoing support for this exciting project."
Michel Angers Mayor of Shawinigan stated "The City is very happy with this new step with First Hydrogen. The Company's interest in Shawinigan demonstrates the credibility and influence of our city in the field of green energy and its components. First Hydrogen will add its expertise to that of many companies and research centers already present in the territory."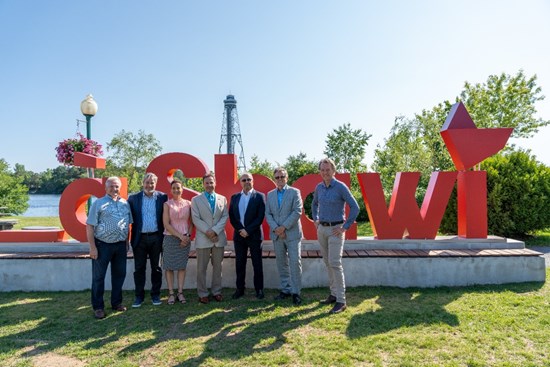 DeeBee Motion

To view an enhanced version of this graphic, please visit:
https://images.newsfilecorp.com/files/8330/171540_def733924411e90d_001full.jpg
From left to right: Jean-Yves Tremblay - municipal councilor Shawinigan, François Morin-VP Corporate and Business Development First Hydrogen, Jacinthe Campagna - municipal councilor Shawinigan, Michel Angers - Shawinigan Mayor, Balraj Mann - Chairman, Group CEO and Director First Hydrogen, Robert Campbell - CEO for Energy First Hydrogen, Luc Arvisais - Director, Economic development Shawinigan.
1https://straitsresearch.com/report/light-commercial-vehicle-market
About First Hydrogen Corp. (FirstHydrogen.com)
First Hydrogen Corp. is a Vancouver and London UK-based company focused on zero-emission vehicles, green hydrogen production and distribution and supercritical carbon dioxide extractor systems. The Company has designed and built hydrogen-fuel-cell-powered light commercial demonstrator vehicles ("LCV") under two agreements with AVL Powertrain and Ballard Power Systems Inc. The LCV will have a range of 500+ kilometres. These vehicles are currently being trialed with an initial 16 fleet operators in the United Kingdom. At the same time, the company has launched its bespoke vehicle design phase which will develop its fleet of proprietary zero-emission vehicles. First Hydrogen is also developing refueling capability working with FEV Consulting GmbH, the automotive consultancy of FEV Group of Aachen Germany. The Company is also pursuing opportunities in green hydrogen production and distribution in the UK, EU and North America.
On behalf of the Board of Directors of
FIRST HYDROGEN CORP.
"Balraj Mann"
Chairman & Group CEO
Contact:
Balraj Mann
First Hydrogen Corp.
604-601-2018
investors@firsthydrogen.com
Cautionary Note Regarding Forward-Looking Statements This news release contains information or statements that constitute "forward-looking statements." Such forward-looking statements involve known and unknown risks, uncertainties and other factors that may cause actual results, performance or achievements, or developments to differ materially from the anticipated results, performance or achievements expressed or implied by such forward-looking statements. Forward-looking statements are statements that are not historical facts and are generally, but not always, identified by words such as "expects," "plans," "anticipates," "believes," "intends," "estimates," "projects," "potential" and similar expressions, or that events or conditions "will," "would," "may," "could" or "should" occur.
Forward-looking information may include, without limitation, statements regarding the operations, business, financial condition, expected financial results, performance, prospects, opportunities, priorities, targets, goals, ongoing objectives, milestones, strategies and outlook of First Hydrogen, and includes statements about, among other things, future developments and the future operations, strengths and strategies of First Hydrogen. Forward-looking information is provided for the purpose of presenting information about management's current expectations and plans relating to the future and readers are cautioned that such statements may not be appropriate for other purposes. These statements should not be read as guarantees of future performance or results.
The forward-looking statements made in this news release are based on management's assumptions and analysis and other factors that may be drawn upon by management to form conclusions and make forecasts or projections, including management's experience and assessments of historical trends, current conditions and expected future developments. Although management believes that these assumptions, analyses and assessments are reasonable at the time the statements contained in this news release are made, actual results may differ materially from those projected in any forward-looking statements. Examples of risks and factors that could cause actual results to materially differ from forward-looking statements may include: the timing and unpredictability of regulatory actions; regulatory, legislative, legal or other developments with respect to its operations or business; limited marketing and sales capabilities; early stage of the industry and product development; limited products; reliance on third parties; unfavourable publicity or consumer perception; general economic conditions and financial markets; the impact of increasing competition; the loss of key management personnel; capital requirements and liquidity; access to capital; the timing and amount of capital expenditures; the impact of COVID-19; shifts in the demand for First Hydrogen's products and the size of the market; patent law reform; patent litigation and intellectual property; conflicts of interest; and general market and economic conditions.
The forward-looking information contained in this news release represents the expectations of First Hydrogen as of the date of this news release and, accordingly, is subject to change after such date. Readers should not place undue importance on forward-looking information and should not rely upon this information as of any other date. First Hydrogen undertakes no obligation to update these forward-looking statements in the event that management's beliefs, estimates or opinions, or other factors, should change.
NEITHER TSX VENTURE EXCHANGE NOR ITS REGULATION SERVICE PROVIDER (AS THAT TERM IS DEFINED IN THE POLICIES OF THE TSX VENTURE EXCHANGE) ACCEPTS RESPONSIBILITY FOR THE ADEQUACY OR ACCURACY OF THIS RELEASE
To view the source version of this press release, please visit https://www.newsfilecorp.com/release/171540