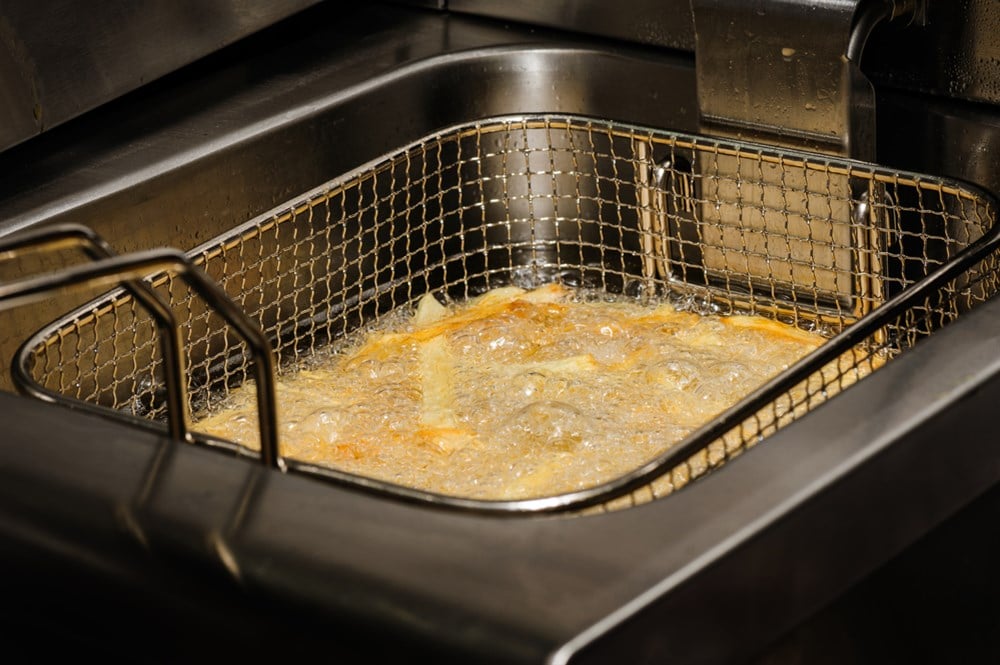 Wondering how to invest in Miso Robotics stock? 
You aren't alone — Miso Robotics has some exciting automation projects in the pipeline and has raised plenty of cash from venture capital investors. 
But if you're having trouble finding a Miso Robotics stock price chart on MarketBeat, don't fret — it doesn't exist yet. Company shares aren't yet available to public investors. 
This article will help you learn what's in store for this innovative company, when it should go public and how accredited investors can still get their hands on some Miso Robotics shares.
What is Miso Robotics?
Have you ever dreamt about having a robot butler who cooks your meals?
Well, Miso Robotics has thought about it. It made it a reality with its modular frying robot named (of course) Flippy.
Miso Robotics is a Pasadena-based automation technology company focused on solutions for kitchens and restaurants. "Where AI meets culinary innovation" is the firm's tagline, and it has stuck true to its mission with four operational products: Flippy, Chippy, Sippy and CookRight.
Major U.S. restaurant chains like White Castle and Chipotle Mexican Grill (NYSE: CMG) already use products like Flippy and Chippy. Additionally, Miso Robotics stocks several current accolades from tech publications, including back-to-back Most Innovative Company awards from business magazine "Fast Company" and the 2022 Startup of the Year award from Hackernoon. It also recently announced a partnership with sanitation savants Ecolab Inc. (NYSE: ECL), and the most recent funding rounds put the Miso Robotics valuation around $500 million.
Can You Buy Miso Robotics Stock?
The Miso Robotics stock symbol isn't one you'll find on any brokerage app or stock research outlet. Despite its artificial intelligence innovations and robotics progress, the company is not available on public exchanges. 
Miso Robotics is a privately held company, which means shares are only available to accredited investors during various series funding rounds. Series rounds are designated by letter, meaning investors in the first funding round receive Series A shares, then Series B shares in the second round, and so on. If you're an accredited investor, you may have some avenues to buy Miso Robotics stock, but traditional investors currently have no path.
Should You Buy Miso Robotics Stock?
An AI robotics stock like Miso Robotics will be a hot commodity in any market, but should you buy it? 
The answer depends on your goals and risk tolerance as an investor. Accredited investors typically have higher risk tolerances than the retail crowd, which makes private companies with innovative stories like Miso Robotics attractive. However, promising technology can prove unprofitable and private company financials are always more opaque than their public counterparts. If you're an accredited investor, thoroughly research companies like Miso Robotics before putting any capital to work.
When Will Miso Robotics Have its IPO?
When will Miso Robotics go public? The answer is something only company executives know. The company has had several funding rounds financed by venture capital and private investors, plus a recent additional funding agreement with Ecolab. As of this writing, there are no current rumblings about an upcoming IPO, so retail investors interested in Miso Robotics must carefully watch company news and actions for hints about a potential public offering. 
How to Buy Miso Robotics Stock as an Accredited Investor
Accredited investors don't need to wait for a Miso Robotics IPO to buy company shares. Miso recently announced a new $5 million funding round filled in only nine days, but accredited investors can still find opportunities to buy in by contacting the firm directly.  
Note that accreditation doesn't mean access to easy winners. Accredited investors usually have a tremendous amount of capital at their disposal and can better manage the risks of private companies. Private investments may produce big winners, but information is often opaque, shares are illiquid, and the risk of failure is high.
How to Buy Miso Robotics Stock as a Retail Investor
You'll have fruitless results if you're a retail investor searching for a Miso Robotics stock price on your brokerage app. Miso Robotics is not currently available to public retail investors as a private company. Only accredited investors who can capitalize on private funding rounds can access a Miso Robotics investment. Retail investors must wait until the company announces an IPO on public exchanges.
5 Related Robotics Stocks to Invest in
Miso Robotics might not be publicly traded, but plenty of other robot technology stocks with promise are available to retail investors. Here are five companies worth a glance if you want exposure to the robotics and AI sector.
Rockwell Automation Inc.
Rockwell Automation Inc. (NYSE: ROK) is one of the oldest companies in the robotics industry, with roots tracing back to 1903. With a market cap nearing $35 billion, Rockwell is also one of the biggest public robotics companies in the world. The company has two exciting divisions investors should pay attention to: Intelligent Devices, which offers made-to-order industrial products and software and control, with hardware and software solutions for infrastructure, network security and information technology.

Emerson Electric Co.
Emerson Electric Co. (NYSE: EMR) is another legacy engineering company making new strides in robotics and AI. Founded in 1890, Emerson has a $55 billion market cap and products in multiple industries like oil and gas, automobiles, food and beverage, mining and life sciences. The company's automation solutions segment sells measurement instruments, industrial equipment and process control systems.

Gentex Corp.
Gentex Corp. (NASDAQ: GNTX) manufactures automotive supplies and accessories. Its main product line is dimmable rearview mirrors for commercial, industrial and personal vehicles. It also offers fire protection systems in commercial and residential buildings, plus specialty windows for airlines and airplane manufacturers. GNTX has a $7.5 billion market cap and has operated out of its Zeeland, Michigan headquarters since 1974.

Intuitive Surgical Inc.
You can't mention robotics without discussing the healthcare industry, and Intuitive Surgical Inc. (NASDAQ: ISRG) has been a leader in this space since its formation in 1995. The company produces the da Vinci Surgical System, a robotic surgeon assistant platform. The da Vinci machine has mechanical arms and a 3D camera system that allows for more precise and minimally invasive operations, reducing recovery times, scarring and overall outcomes. ISRG has been one of the sector's biggest success stories, and its market cap is currently above $100 billion.

Symbiotic Inc.
Symbotic Inc. (NASDAQ: SYM) specializes in automated warehouse solutions, using robotics and artificial intelligence to increase storage and inventory efficiency. Based in Wilmington, Massachusetts, the company has a global client base, which includes major grocers and retailers like Albertsons, Target Corp. (NYSE: TGT) and Walmart Inc. (NYSE: WMT). Symbotic has a $20 billion market cap and currently boasts "buy" ratings from seven analysts, with a consensus price target of $50, with an upside projection of nearly 35%.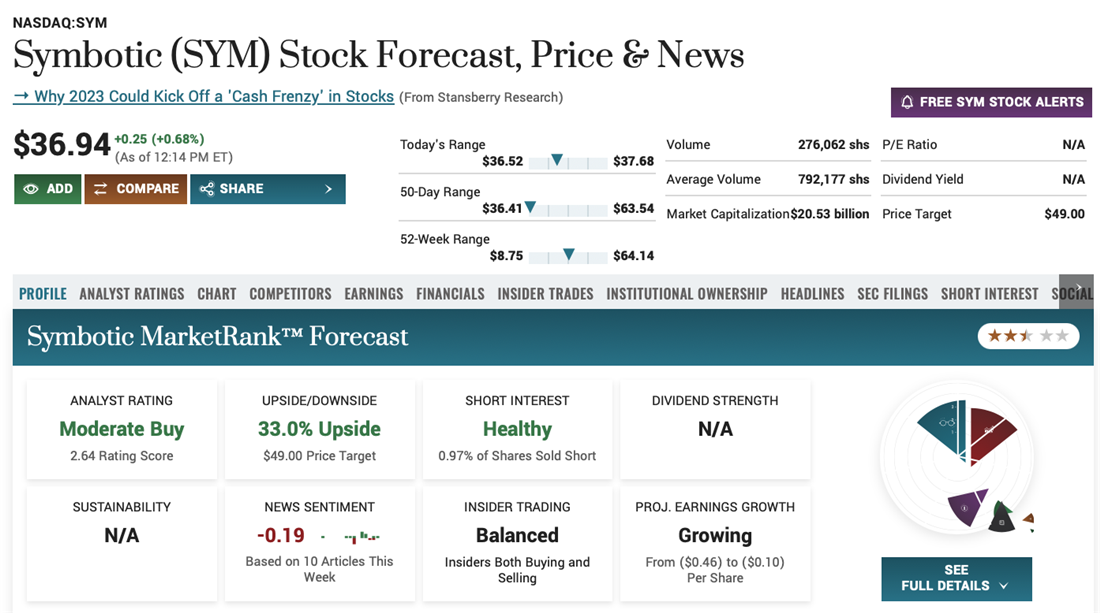 5 ETFs with Exposure to Robotics
Is Miso Robotics a good investment? Like any individual stock, an investment in a single firm always carries more risk than a basket of assets. If you want exposure to the robotics sector but don't want to pick stocks, plenty of ETFs and mutual funds can meet your needs. 
Thematic ETFs carry higher expense rates than broad-market ETFs, and you'll need to research the holdings and fund objectives beforehand. And don't expect to find high dividend payouts with these funds, either. However, ETFs are great investment vehicles for volatile sectors like AI and robotics. Here are five of our favorite robotics funds:
First Trust Nasdaq Artificial Intelligence and Robotics ETF
First Trust Nasdaq Artificial Intelligence and Robotics ETF (NASDAQ: ROBT) is one of the top ETFs in the robotics sector, with over $400 million in assets under management (AUM) and a moderate expense rate of 0.65%. The fund invests in robotics and AI companies worldwide, with 58% U.S. stocks, 12% Japanese stocks and the rest distributed across Europe, North America and Asia. The fund holds 106 stocks in total and pays a 0.31% dividend yield.
Global X Robotics & Artificial Intelligence ETF
Global X Robotics & Artificial Intelligence ETF (NASDAQ: BOTZ) is the biggest ETF with a robotics and AI theme. Since its launch in 2016, the fund has amassed over $2 billion in AUM and trades over one million shares per day on average. The expense rate of 0.68% is slightly higher than ROBT, but the fund has more international holdings, including Japanese tech giant Keyence Corp. (OTC: KYCCF) and Swiss manufacturer ABB Ltd. (NYSE: ABBNY). Over 65% of the stocks reside in the tech or industrial sector.
ROBO Global Robotics & Automation ETF
The ROBO Global Robotics & Automation ETF (NYSE: ROBO) is one of the veterans of the space is ROBO, which began trading in 2013 and currently has more than $1.3 billion in AUM. ROBO is the most expensive fund on our list, with a hefty 0.95% expense ratio, but it is also the most internationally diverse. Only 42% of the holdings are domestic companies, and it focuses more on the industry's machinery and equipment companies. Companies mentioned above, like Symbotic, Rockwell Automation and Intuitive Surgical, are also among the fund's holdings.
VanEck Robotics ETF
VanEck Robotics ETF (NASDAQ: IBOT) is the newest entrant to this market sector, having launched on April 5. In its first few months of operation, the fund amassed nearly $3 million in assets and has a variety of domestic and international holdings. One of the best perks is the expense ratio of 0.47%, one of the lowest you'll find with a tech-themed ETF. With its investment approach, IBOT focuses on semiconductors and software, and nearly half of its holdings are information technology.
iShares Robotics and Artificial Intelligence Multisector ETF 
iShares seems to have an ETF for everything, so naturally, it has a quality robotics ETF with a diverse group of holdings and a fair expense ratio (0.47%) in iShares Robotics and Artificial Intelligence Multisector ETF (NYSE: IRBO). 
The fund has more than $470 million in assets and has more exposure to Taiwan, South Korea and Hong Kong than most other funds on our list. Just under 52% of the holdings are American companies, including AI behemoths like NVIDIA Corp. (NASDAQ: NVDA) and Meta Platforms Inc. (NASDAQ: META). You'll also get a dividend yield payout of 0.61%, higher than most robotics ETFs.  
Investing in Miso Robotics Isn't Possible Yet, but Many Options Exist in this Industry
If you ask, "Should I invest in Miso Robotics?" the answer depends on investor status. Only accredited investors can access the company's various private funding rounds. However, the robotics industry has some serious tailwinds thanks to AI, and investors have many different vehicles where they can put some capital to work. When that Miso stock price finally hits the market, you can research it here on MarketBeat.