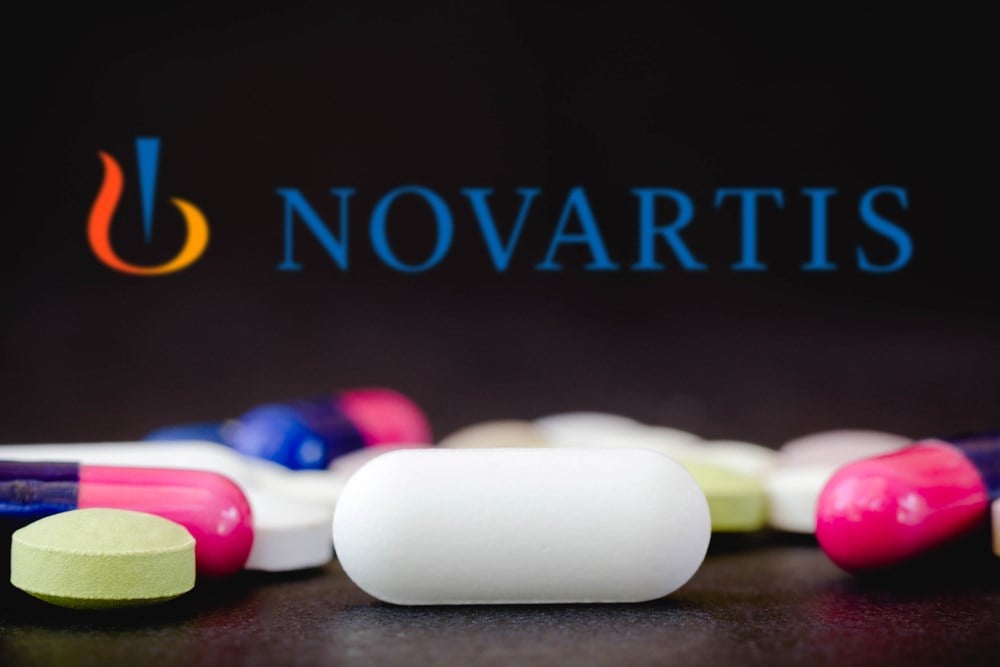 If you're looking to jump onboard a rocket, forget Jeff Bezos and Richard Branson. Shares of Swiss pharmaceutical giant Novartis AG (NYSE: NVS) catapulted 5.11% in the past week and 17.47% in the past month.
The big price moves follow news that its Kisqali breast-cancer treatment, combined with endocrine therapy, successfully cut the probability of relapse in patients in early stages of the disease. 
The results were announced after a three-year clinical trial. 
Clearly, as the market has shown, the potential for this new use of Kisqali is, to borrow a phrase, kind of a big deal.
"While most patients are diagnosed and treated early with the aim to cure breast cancer, the risk of cancer returning, often as metastatic disease, peaks within three years after diagnosis, but never goes away completely," said Dennis J. Slamon, MD, lead investigator on the clinical trials, in a statement. 
"Extremely Encouraging" Results
"There is a critical need for new, well-tolerated options that keep patients cancer-free without disrupting quality of life," he said, adding, "It is extremely encouraging that this study met its primary endpoint."
As you can see using MarketBeat analyst data for Novartis, Deutsche Bank upgraded its rating on the stock following the announcement, boosting it to hold, from sell. 
With a market capitalization of $207 billion, Novartis qualifies as a mega-cap. Because it's based outside the U.S., it doesn't qualify for S&P 500 membership, although it's a significant component of the MSCI EAFE Index, as tracked by the popular iShares MSCI EAFE ETF (NYSEARCA: EFA). This ETF is a staple for investors seeking non-U.S. developed-market exposure for portfolio diversification. Novartis is one of the top 10 holdings in the market-cap-weighted index.
Like many big pharmas, Novartis has a long history of profitability, due to a portfolio of products with strong sales, and which is constantly updated with new treatments, or new uses for existing treatments, as we're seeing with Kisqali. 
Although Novartis reports first-quarter results on April 25, new uses of Kisquali haven't received regulatory approval, and are not yet commercialized, meaning this development won't affect results. 
Factoring In Success
However, analysts who cover the stock have been following the clinical trials, and some had already factored the probability of success into their valuation models.
"Since Kisqali had shown strong efficacy in the metastatic setting, we already had higher expectations that the drug would work well in the earlier adjuvant setting," wrote Morningstar's Damien Conover, referring to additional cancer treatments administered after primary treatments, to reduce the risk of reoccurrence. 
Nevertheless, Conover added, "The important data is likely to expand Kisqali's label into the large adjuvant setting, showcasing the solid innovation that is core to Novartis' wide moat."
Novartis' best-selling drug is Cosentyx, which is used to treat several autoimmune diseases, including psoriasis and psoriatic arthritis. 
Positive News From Regulators
The company also had more good news recently. On March 31, European regulators gave a positive opinion recommending approval of Novartis' drug Entresto for a new use: Treating a symptomatic chronic heart failure condition in pediatric patients. It's also developing a number of gene therapies aimed at patients with rare and life-threatening neurological genetic diseases. 
When it released first-quarter results, Novartis said it expects net sales for 2023 to show low to mid-single digits growth. 
In addition to increasing its dividend by 3%, Novartis announced a new three-year share repurchase program, in which the company will buy up to 10% of its own shares. 
Novartis is a company with a lot of moving pieces, not surprising, given its size. It's undergoing a major restructuring that it says could slash around $1.5 billion in costs by next year. That restructuring includes spinning off its generics business unit, Sandoz. 
Given enthusiasm about the new usage for Kisqali and the potential to expand its sales, the dividend increase, and the stock repurchase program, there's a lot for investors to like, especially those with a longer-term view geared toward more stable, income-generating stocks.