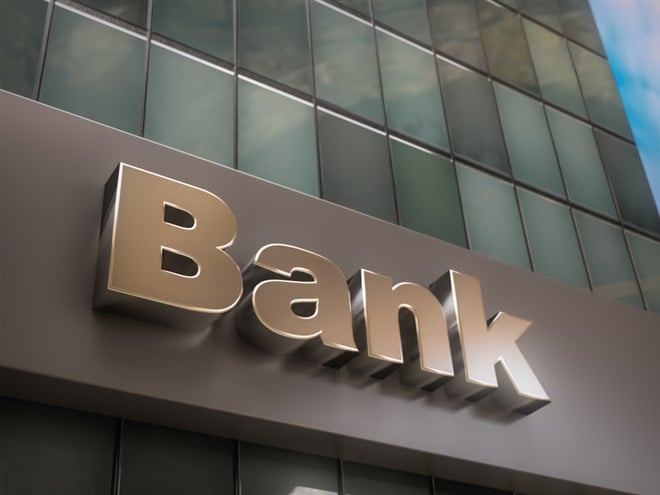 First, it was Silicon Valley Bank. Then Signature Bank. First Republic Bank is assumed to be the next domino to fall in the evolving U.S. banking crisis. 
Whether higher interest rates or company mismanagement are to blame, one thing is clear — people are concerned. Worried about the security of their deposits, Americans second-guess their bank choice. At the same time, fear of contagion has investors making a run on bank stocks.
The Dow Jones U.S. Regional Banks Index fell another 19% last week, bringing its 2023 swoon to almost 30%. SVB Financial and Signature Bank no longer trade on the Nasdaq, while First Republic Bank is down more than 80% year-to-date.
While all regional bank stocks have been dragged lower by the crisis, few are likely to go out of business. Plenty of questions remain about consumers' deposits and ability to obtain a loan. Falling interest rates and rising recession odds also don't bode well for banks' profits. 
But at some point, when the dust settles, fundamentally sound banks with diversified revenue sources and sturdy balance sheets will be viewed as investment opportunities. For this reason, Wall Street analysts have been cautious about mass downgrades and appear to be methodically evaluating regional banks on a case by case basis.
Is Hancock Whitney Financially Sound? 
Hancock Whitney Corp. (NASDAQ: HWC) is a traditional full-service bank with a branch footprint that spans five southern states — Mississippi, Alabama, Louisiana, Florida and Texas. It also runs a loan business in Nashville and an investment management group in the NYC metro region. As of December 31st, the company held over $29 billion in customer deposits and had a loan book north of $23 billion. The balance sheet contained $2.1 billion in debt, but nearly 90% of it was short-term. With $565 million in cash, Hancock Whitney is in a solid liquidity position even if the economy goes south.
The mid-cap stock generated a 15.7% return on equity (ROE) last year, comfortably ahead of the industry average. Although lower rates could certainly weigh on profits, they could also be a boon to the bank's mortgage refinancing business. 
Last week, sell-side research group D.A. Davidson lowered its price target on Hancock Whitney to $46 but maintained a Buy rating. Two other firms downgraded to Hold but set targets of $44.50 and $50. If the stock claws its way back to $50, the gain would be 40%.
Will Synovus Bank Survive the Banking Crisis?
On March 14th, UBS started coverage of Synovus Financial Corp. (NYSE: SNV) with a Neutral rating and $33 target. Although this represents more than 20% upside from the stock's St. Patty's Day close, the more encouraging angle is that others haven't budged from their buy ratings. As the dust settles, more rating actions could follow. But for now, the five analysts that called Synovus a Buy after its fourth-quarter earnings report are holding firm. 
The reluctance could stem from the fact that the Georgia-based bank has been in business for 135 years. It has survived many crises and recessions in that period and will probably come out relatively unscathed yet again. 
At year-end, Synovus had almost $50 billion in deposits from retail and commercial customers and a $43 billion loan portfolio consisting mostly of commercial real estate loans. Combined with historically strong credit quality metrics and relationships that span generations, customers aren't likely to line up at Synovus ATMs anytime soon. An impressive 18.9% ROE is more reason to believe Synovus will be synonymous with recovery.
Is Valley National Bank Stock Oversold?
Wall Street has yet to chime in on Valley National Bancorp (NASDAQ: VLY) since the banking crisis began — which is good. With the New Jersey-based regional bank dipping below $10 for the first time since the pandemic plunge, investors have taken the silence to mean an opportunity. Valley National has been one of the most volatile bank stocks in recent days, and with analysts' price targets still in the $11 to $15 range, the activity makes sense.
Another reason Valley National is in relatively good shape is the market in which it operates. The nearly 100 year-old bank caters to affluent retail and commercial customers in the greater Manhattan area, which makes it somewhat recession-proof. It also has a presence in Florida and Alabama and just wrapped up an interesting buyout of the U.S. division of Israel's Bank Leumi. 
A successful M&A strategy and strong organic loan growth track record make Valley National a winner. When many peers suffered lower profits in 2020, the company eked out EPS growth en route to accelerated growth in 2021 and 2022. A P/E ratio of 8x and Price-to-book ratio below 1x should limit this stock's downside valley.