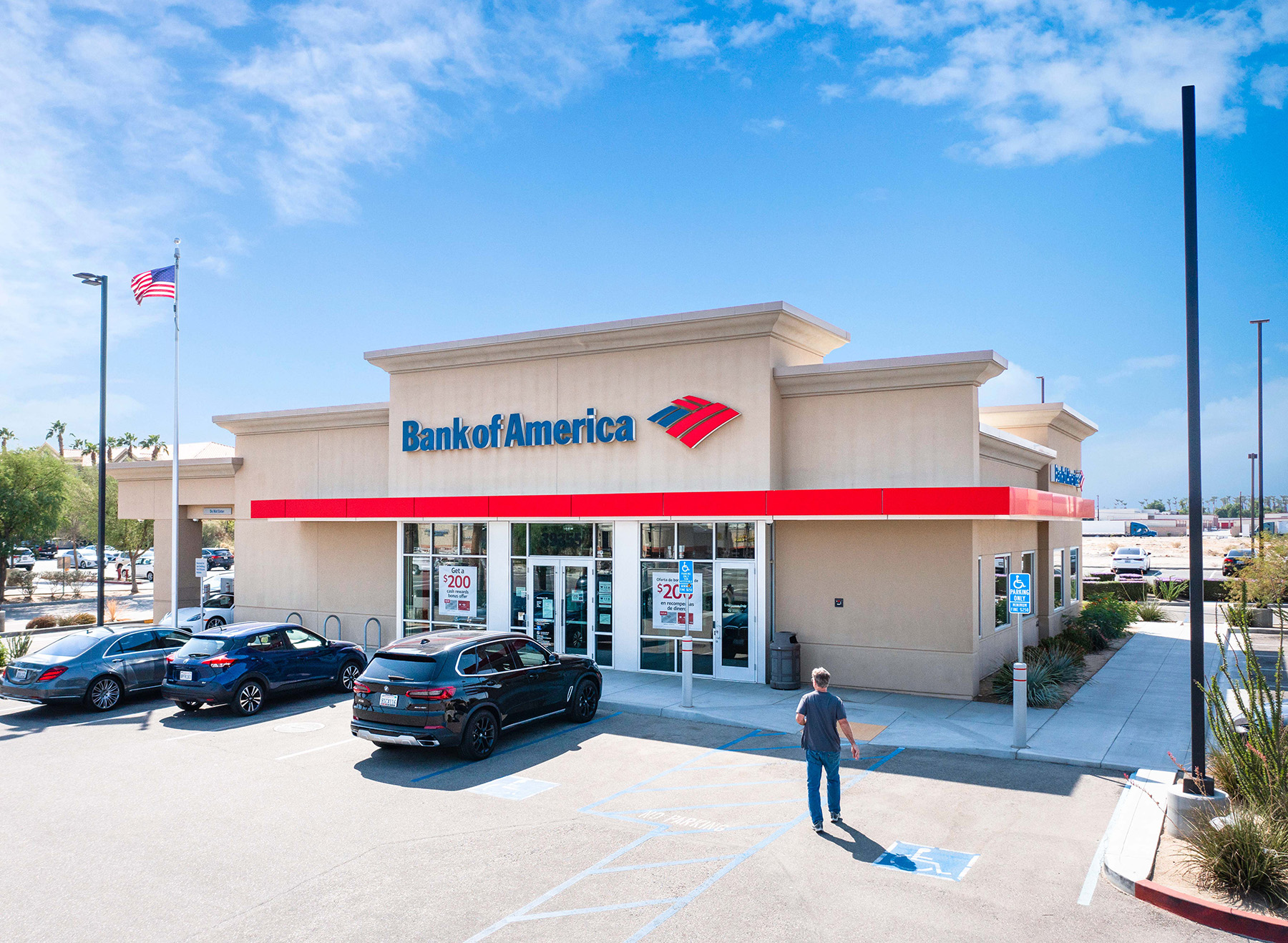 The sale represents a record-low cap rate for a single-tenant Bank of America sale in California in 2023.
PALM DESERT, Calif. -- Hanley Investment Group Real Estate Advisors, a nationally recognized real estate brokerage and advisory firm specializing in retail property sales, announced today that the firm has arranged the sale of a 2015-new construction, single-tenant property occupied by Bank of America in Palm Desert, California. The sale price was $2,875,000 for the absolute triple-net ground lease. The sale achieved a record-low cap rate for a single-tenant Bank of America sale in California in 2023.
Hanley Investment Group's Executive Vice Presidents Bill Asher and Jeff Lefko represented the seller, a private investor based in Los Angeles. The buyer, a private investor based in Riverside County, California, was represented by Tyler Rollema at The Klabin Company in Torrance, California.
"We generated multiple qualified offers within initial weeks of launching formal marketing of the property, ultimately finalizing a deal with an all-cash buyer in a 1031 exchange, residing in close proximity to the property," highlighted Asher. "Based on the competitive bidding environment we created, we negotiated a timely due-diligence period that commenced from the signed letter of intent to help provide the seller with a higher level of certainty of the buyer's commitment to purchase the property."
Asher adds, "We closed escrow at over 97% of the asking price and achieved a record-cap rate for a single-tenant Bank of America sale in California in 2023."
The 3,515-square-foot, freestanding Bank of America sits on 0.70 acres and has a drive-thru. The property is located at 39355 Washington Street, at the hard-corner, signalized intersection of Washington Street and Market Place, and benefits from excellent exposure and visibility on Washington Street, one of the major north/south corridors in the Coachella Valley (46,350 cars per day).
The property is also strategically located across the street from Sun City Palm Desert, a 1,600-acre gated community featuring 5,000 homes and 9,000+ residents, and is ideally positioned one block from the Interstate 10 (107,750 cars per day) entrance/exit for Washington Boulevard. Interstate 10 is a primary east/west arterial connecting Los Angeles to San Bernardino County, Riverside County, and Phoenix, Arizona. Retailers in the area include Stater Bros., EOS Fitness, Rite Aid, DaVita Dialysis, Del Taco, McDonald's, Starbucks, Taco Bell, and Walgreens.
Palm Desert is the geographic center of the Coachella Valley, a fast-growing region of Southern California, and is one of the most affluent areas in Riverside County, with an average household income of over $110,000 within a three-mile radius of the property. The property is adjacent to the planned Mirasera mixed-use development, which is expected to consist of up to 1,756 residential units, a 200-room hotel, 187,300 square feet of retail, and 228,700 square feet of business park space. Between 2000 and 2021, the area experienced a 65% increase in population within a three-mile radius.
The Coachella Valley is home to four casinos and over 130 golf courses. Coachella Valley is also known for its events: the Coachella Valley Music and Arts Festival, the largest music festival in the world, with over 250,000 attendees; Stagecoach, the second largest music festival in the world, attracting over 85,000 attendees; and Riverside County Fair and National Date Festival, with over 315,000 attendees.
"The demand for long-term corporate net-leased investments with strong real estate fundamentals has continued to remain steady this year despite the current economic climate," said Asher. "These types of assets are still selling at a premium due to the lack of quality assets in today's market."
About Hanley Investment Group
Hanley Investment Group Real Estate Advisors is a real estate brokerage and advisory services company with over a $10.4 billion transaction track record that specializes in the sale of retail properties nationwide. Our expertise, proven track record, and unwavering dedication to putting clients' needs first set us apart in the industry. Hanley Investment Group creates value by delivering exceptional results through the use of property-specific marketing strategies, cutting-edge technology, and local market knowledge. Our nationwide relationships with investors, developers, institutions, franchisees, brokers, and 1031 exchange buyers are unparalleled in the industry, translating into maximum exposure and pricing for each property. With unmatched service, Hanley Investment Group has redefined the experience of selling retail investment properties. For more information, visit www.hanleyinvestment.com.
Media Contact
Company Name: Hanley Investment Group Real Estate Advisors
Contact Person: Bill Asher, Executive Vice President
Email: Send Email
Phone: 949.585.7684
Address:3500 East Coast Highway, Suite 100
City: Corona del Mar
State: California
Country: United States
Website: https://hanleyinvestmentgroup.com/