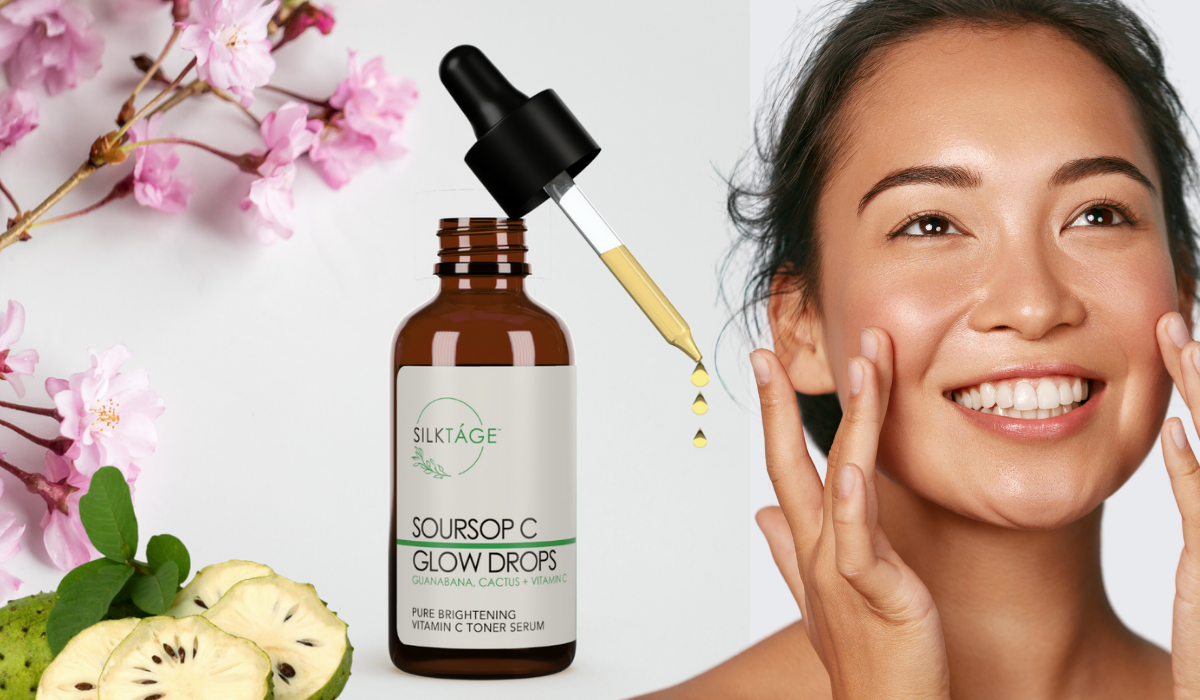 The new collection by Silktáge, a beauty brand by established stylist, Robin Emtage, is set to rejuvenate the skin, scalp, and hair in the most natural of ways.
Silktáge has launched its new collection - a range of Soursop-infused beauty products to enhance the skin's natural glow and hair's natural vitality. Made from Soursop extract, a remarkable fruit rich in vitamin C (ascorbic acid) and believed to kill or prevent the formation of cancer cells, this recent development makes Silktáge the world's first beauty brand to develop handcrafted Soursop-based products. 
Enriched with therapeutic organic nutrients, vitamins, omega fats, antioxidants, and phytonutrients, her new Soursop Glow collection will allow established stylist Robin Emtage to elevate and celebrate multicultural, natural beauty rituals by honoring her Caribbean heritage. Inspired by the health and beauty remedies concocted by her grandmother's use of natural ingredients such as Soursop and Aloe Vera, Robin witnessed the transformational effects of such natural therapies firsthand as a child.
Silktáge combines ancient wisdom, cultural rituals, and natural ingredients with modern formulas to give radiant, glowing skin and strong, healthy hair to women of all ethnicities. Robin committed herself to learning more about holistic care and natural beauty solutions that were highly effective and beneficial to the body and the planet. This ultimately led to the foundation of Silktáge.
Scientifically known as 'Annona muricata', Soursop, also called Guanabana, is a tropical fruit native to South America and The Caribbean. It is especially high in antioxidants, and anti-inflammatory properties can be found in both the fruit and the leaves. Regular use of Soursop-infused products can help treat eczema, rosacea, aging skin, hyperpigmentation, dandruff, and hair loss and promote the destruction of free radicals, which can protect the skin and cells from environmental oxidative damage.
The addition of Soursop is now providing Silktáge with an exclusive element that further restores, rejuvenates, and revitalizes skin glow and hair health with each application. Silktáge's new Soursop blends are completely free from silicones, parabens, chemicals, preservatives, artificial fragrances, GMO, and animal testing, making it a truly natural, clean, and vegan beauty collection.  
The Soursop collection consists of products that offer gentle exfoliation, hydration, anti-aging, brightening, and rejuvenating benefits, targeting all skin and hair types. These include:
Soursop C Glow Drops: A vitamin C toner serum that offers an immediate remedy for brightening dull skin.
Soursop C Glow Polish: A water-activated powdered cleanser mask that penetrates the skin for a spa-like exfoliation.
Soursop Tea Scalp Tonic: A serum made from nutrient-rich Soursop that moisturizes the scalp to promote much-needed renewal and restoration.
Rosehip Seed Oil & Soursop Oil: A powerful blend of organic rosehip seed oil and soursop oil that hydrates and brightens a user's complexion.
Apart from Soursop, some of the other natural and organic ingredients include Aloe Vera, Argan Oil, Avocado Oil, Bakuchi, Bhringaraj, Camellia Oil, Coconut Oil, Castor Seed Oil, Green Tea Extract, Guava Extract, Hibiscus Petals, Jojoba Oil, Monoi Oil, Moringa Oil, Neem Extract, Nopal Cactus, Rosehip Oil, Sesame Seed Oil, Turmeric, Vitamin C (Ascorbic Acid), and a full range of therapeutic essential oils. 
Robin Emtage was quoted as saying, "I believe a healthy lifestyle isn't just about what you eat. It's also about what you put on your skin, body, and hair. You get the same benefits from natural products that you get from products loaded with chemicals that only give an artificial glow instead of nutrients. We are committed to using only safe, pure and clean ingredients that are healthy for the body and the planet."
About Silktáge
Founded by established stylist Robin Emtage, Silktáge takes an organic global approach to beauty. It was built on the simple belief that the world's most ancient beauty secrets are still its most powerful and effective. Each product is handcrafted and grounded in purity, highlighting Silktáge's promise of a clean, truly natural, and exotic collective proven to deliver age-defying benefits and supreme hydration for the ultimate natural radiance and glow.
Media Contact
Company Name: SILKTÁGE
Contact Person: Robin Emtage
Email: Send Email
Phone: (888) 812-3158
City: Beverly Hills
State: California
Country: United States
Website: www.Silktage.com